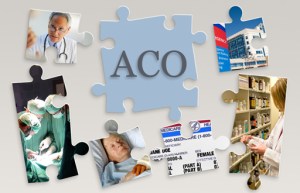 Accountable care organizations take up only seven pages of the massive new health law yet have become one of the most talked about provisions. This latest model for delivering services offers doctors and hospitals financial incentives to provide good quality care to Medicare beneficiaries while keeping down costs.
Exactly how ACOs would work in practice remains to be seen, though that hasn't stopped the health care industry from embarking on a frenzied quest to create them as quickly as possible.
KFF Health News is covering the formation and regulation of ACOs with an eye on health care's future.
Here's a list of resources we have on the subject.
---



KFF Health News Original Stories

FAQ On ACOs: Accountable Care Organizations, Explained
By Jenny Gold
This latest model for delivering services offers doctors and hospitals financial incentives to provide good quality care to Medicare beneficiaries while keeping down costs. Here is a brief guide to what we know about ACOs so far.
---
Insurers Clash With Hospitals And Doctors Over ACO Rules, Jan. 10, 2011 
By Jordan Rau
The new health law encourages doctors, hospitals and insurers to team up in treating patients, but these groups already are at odds as they urge the government to set rules protecting their financial interests.
---
Health Care Interests Push To Make ACOs Pay Off For Them, Oct. 11, 2010
By Phil Galewitz and Jenny Gold
A new model of care encouraged by the health law – accountable care organizations – has set off a feeding frenzy among industry groups intent on getting a slice of the action, or protecting their own financial interests.
---
Feds Reassure Hospitals, Doctors On Cooperation Through ACOs, Oct. 5, 2010
By Phil Galewitz
BALTIMORE – Federal Trade Commission Chairman Jon Leibowitz told a meeting of 300 health industry representatives Tuesday his agency would explore an "expedited review process" for hospitals and doctors looking to determine if new partnerships they form to provide care would violate antitrust laws.
---
As They Consolidate, Hospitals Get Pricier, Sept. 26, 2010
By Julie Appleby

For patients, an ACO could mean swifter referrals from primary doctors to specialists when needed, with less time spent tracking down test results. Those with chronic illnesses, such as asthma or heart disease, would be closely tracked, and those who are hospitalized would suffer fewer readmissions for preventable problems.
---
ACOs: A Quick Primer, July 17, 2009
By Phil Galewitz
The House bill calls for a three-to-five year Medicare pilot project to see if ACOs-which don't exist yet–can lower costs and improve care. Each ACO would be operated by a group of doctors and hospitals which would be paid by Medicare to care for all the health needs of at least 5,000 elderly or disabled people.
---

News Summaries of ACO issues
Research Roundup: Surgery And Health Costs; ACOs and Independent Doctors; Stroke's Long-Term Effects; Improving Low-Income Care, Dec. 23, 2010 
Deals, Expansions And ACOs Mark Hospital Sector Activity, Dec. 10, 2010
Justice Department Offers Expedited Antitrust Review For ACOs, Dec. 2, 2010
Health Care Models: Accountable Care Organizations, Medical Homes, Nov. 30, 2010
ACOs Raise Hope But Also Questions, Nov. 29, 2010
5 Questions: Should A Hospital Develop An ACO?, Nov. 10, 2010
Hospital Group And Physicians Looking At ACOs, Oct. 28, 2010
---
The Health Reform (Almost) Everyone Loves, Oct. 14, 2010
By Michael Millenson
Come with me to the land of happy health reform. It is a place where Republicans and Democrats find common ground, a place where physicians, hospitals and health insurers sit together as partners, a place where criticism is respectful, not rancorous. It is the world of Accountable Care Organizations (ACOs).