It's too early to know how much individual health insurance policies will cost once the online marketplaces created under the Affordable Care Act launch Jan. 1. But that hasn't stopped experts and interest groups from making predictions.
The latest analysis comes from the Society of Actuaries. It's attracting attention because of the group's expertise and nonpartisanship. What actuaries do for a living — predicting future expense based on multiple squishy factors — is at the core of figuring out what will happen under Obamacare.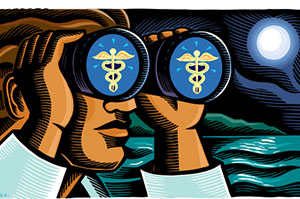 Thanks to subsidies and the requirement that everybody get insurance or pay penalties, the society forecasts that the number of people covered by individual polices will double to 25.6 million by 2017.
Getting the headlines was the forecast that insurer costs — medical claims per policyholder — will soar, on average, 32 percent for the individual market in 2017, with wide variations among states. That's not the same thing as saying prices consumers pay for policies will rise 32 percent. But if claims are higher, insurers generally charge more.
Opponents of the health overhaul seized on the figure to suggest the law could really be called the Unaffordable Care Act. The Obama administration says the study leaves out factors that will restrain what plan members actually pay, including more competition among insurance companies.
Kaiser Health News reporter Jay Hancock talked to experts to learn what it means for the consumers the health law was meant to help.
Q: What's predicted to drive up costs?
A: Many of those seeking coverage in online marketplaces — known as exchanges — are expected to be older and sicker. They'll have more incentive to buy policies, and they'll tend to increase claims paid by insurers.
On the other hand, "young and healthy people are less likely to be interested in insurance, because they're less likely to find value," said Kristi Bohn, a consultant for the Society of Actuaries who worked on the report.
The penalty for not having insurance is likely to be far less than the cost of coverage. The fewer young or healthy people who sign up, the higher the costs per plan member.
The authors also made assumptions about how many employers will cancel their plans. Companies with sicker workforces are predicted to be more likely to end employer-based coverage and steer people toward exchanges.
Q: I get insurance at work. Were they talking about my insurance claim costs?
A: No. This report was just about people who buy on the individual insurance market, currently under 10 percent of the country, though that's expected to go up as the law kicks in. The vast majority of Americans get insurance through work or through government programs (Medicare, Medicaid, the military).
Q: Does the study predict health insurance premiums will go up 32 percent by 2017?
No. First, it's only forecasting the individual insurance market. That's where millions of Americans newly covered under the ACA are expected to find policies. The report says nothing about costs for employer-based health insurance.
Equally important, the 32 percent forecast is for medical expenses paid by insurers, not what insurers will charge in premiums, and not what consumers will pay.  
Q: But if medical claims go up, shouldn't insurance prices also go up? How much difference could there be?
A: In the individual market designed under the health law, quite a bit, say supporters. The ACA limits insurer profits and also gives government regulators oversight of rate increases, both of which could hold premiums down.
Even if sticker prices rise, an important feature of the health law is subsidies for people to buy insurance, through tax credits for those with lower incomes. So what many newly-insured people actually end up paying themselves won't be the same as what the insurance company bills.
Thanks partly to subsidies, "many people buying individual coverage today will see decreases in costs," said Larry Levitt, senior vice president at the Kaiser Family Foundation. (Kaiser Health News is an editorially independent program of the foundation.)
Insurers who end up signing lots of sicker members will also be partly reimbursed for several years by a reinsurance pool designed to lower their risk. That will lower their expenses, and it wasn't accounted for by the SOA study.
Q: Does it matter where I live?
A: Yes. The report found huge variability, based on geography. While the estimated increase would be 62 percent for California by 2017, in New York state, the report estimates claim costs would drop by almost 14 percent. 
Q: Will health plans offer the same coverage in 2017 that they do now?
A: That's another reason the 32-percent headline could be misleading. Thanks to ACA minimum coverage requirements, benefits will be more generous starting next year. So what insurers pay in claims can expected to be higher, too.
"The number of people who are underinsured has grown dramatically over the last decade," said Sara Collins, a vice president at the Commonwealth Fund. "One reason claims might be a lot lower now is the benefit package is so crummy."
The health law was intended to shift spending into the commercial insurance system that is now outside it: high out-of-pocket costs for those in low-benefit plans; uncompensated emergency-room care; patients paying in cash, and so forth. Moving those costs under the insurance umbrella increases insurance-based spending.
Q: The idea of the insurance exchanges is to create competition, isn't that supposed to lower costs? 
A: Yes. The idea behind state health exchanges is that insurers will compete for business by pressing providers for discounts and passing part of the savings to members. The actuary study didn't account for that kind of competition.
"Every insurer I've talked to says they're building lower-cost networks that they plan to use for their exchange plans," said Levitt.
Q: Does this mean costs in the health exchanges aren't a concern?
A: No. Many consumers will pay more in premiums to get more in benefits. The high cost of medicine could mean that, even for those getting big subsidies, affordability will be an issue.
Many consumers "will be moving into a really fully insured product for the first time, so there may be a higher cost associated with getting into that market," Health and Human Services Secretary Kathleen Sebelius said this week.