>> Can't see the audio player? Click here to listen to audio of this story.
Yolanda Farrell lay mostly paralyzed in a nursing home, unable to feed or dress herself, when her homeless daughter persuaded her to move out.
Linda Maureen Raye, who relatives say had been living in her car with her dog, used her mother's Social Security to pay for a one-bedroom Riverside, Calif. apartment and took over as Farrell's sole caregiver in 2010.
Over the next two years, according to police and court records, Raye took her elderly mother to the doctor once. As her mother's health declined, Raye stopped cooperating with a nurse sent to advise her on preventing bedsores.
Yet in 2012, Raye was hired officially: She began collecting about $900 a month from taxpayers under the state's in-home care program for poor people, according to law enforcement authorities.
By the end of that year, Farrell, an 85-year-old former real estate underwriter who loved to travel, had died of septic shock resulting from severe bed sore infections. Originally charged with murder, Raye, 60, pleaded guilty to elder abuse in September and was sentenced to 11 years in prison.
"She essentially neglected her to death," said Riverside Police Det. Christian Vaughan, who investigated the case.
California's frail elderly and disabled residents increasingly are receiving care in their own homes, an arrangement that saves the government money and offers many people a greater sense of comfort and autonomy than life in an institution. Yet caregivers are largely untrained and unsupervised, even when paid by the state, leaving thousands of residents at risk of possible abuse, neglect and poor treatment, a Kaiser Health News investigation found.
The move from nursing-home to in-home care is part of a massive shift across the nation, driven by cost-cutting and patient preference. In California, at least four times more elderly and disabled residents receive in-home care than live in nursing facilities – a rate that is only expected to rise as baby boomers age.
Many families either provide care for relatives without compensation or pay out of pocket for caregivers they find through word-of-mouth, referral agencies or private companies. But a growing number of elderly and disabled people have incomes low enough to qualify for state-funded care under the In-Home Supportive Services program, or IHSS – the same one that paid Raye to care for her mother.
California's $7.3 billion IHSS program is the largest publicly funded caregiver program in the nation. The caseload has more than doubled since 2001 and now serves about 490,000 low-income clients throughout the state.
Working behind closed doors for an average of about $10 an hour, these caregivers carry immense responsibility but are subject to little scrutiny, according to law enforcement officials, elder abuse investigators, senior care experts and court records. Their lapses sometimes lead to preventable injuries and death.
Many clients are too feeble or afraid to complain or ask for assistance. "We don't know how many times Yolanda cried for help," Det. Vaughan said.  "She didn't have a voice. She was deprived of that."
Kaiser Health News' investigation into the IHSS program found that:
* Training for caregivers is minimal and mostly optional. California doesn't require training for everyone – even in CPR, first aid or preventing injuries. By design, IHSS is not a medical program and caregivers are supposed to confine themselves to tasks such as feeding, dressing or bathing. But some become ad hoc nursing aides, helping to dress wounds and manage medications. The state requires caregivers receive training and authorization from physicians in these cases, but only about one in nine caregivers receives it, officials say.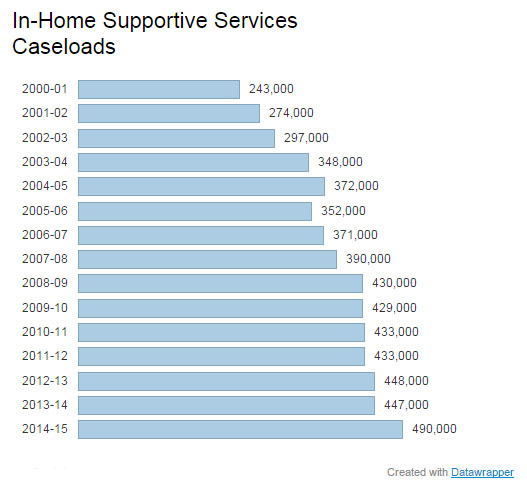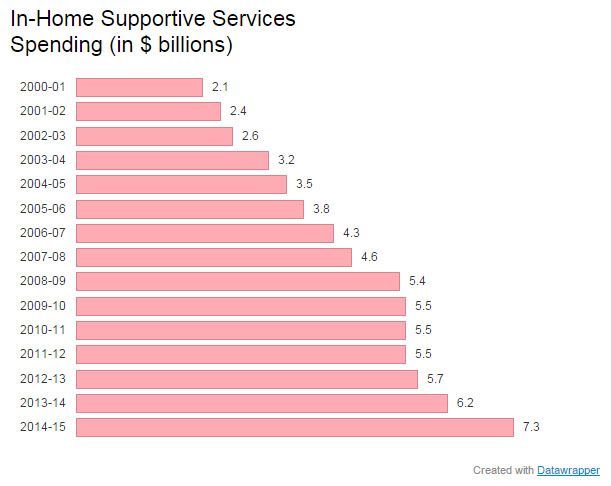 * Most clients in California, 73 percent, are related to their caregivers, up from 43 percent in 2000. The arrangements assume an inherent trust between client and caretaker – a trust that can go awry when the relationships are dysfunctional, abusive or financially driven. While many states allow some paid family caregiving, most prohibit spouses from taking the job and some bar relatives entirely. California has no such restrictions.
* Screening, though improved in recent years, has potentially dangerous gaps. State law requires criminal background checks and bars people from becoming caregivers if they have been convicted of certain crimes, such as elder and child abuse. But the IHSS program leaves the hiring to clients and gives them wide latitude. Felons convicted of robbery, rape or assault can be paid caregivers if their clients get a waiver from the state.  In the past four years, more than 830 people have received such waivers for caregivers convicted of serious offenses. "They can have criminal records, they can have drug addiction," said Susan Strick, a prosecutor with the Los Angeles City Attorney's office. "That's a problem."
* Few incidents of abuse and neglect by IHSS workers are documented because authorities aren't looking for them. County social services workers are supposed to check on the clients once a year on the state's behalf but are not primarily focused on the quality of care provided. Their main job is to determine whether clients are receiving the proper number of hours of care and whether their needs have changed. And because social workers are assigned hundreds of clients each, their visits are frequently brief – as short as 30 minutes a year.
Counties are also supposed to report to the state "critical incidents" –potential neglect, abuse or self-harm requiring immediate action. But reporting practices vary widely, yielding puzzling results. In fiscal year 2012-2013, for instance, not a single critical incident was reported among the 235,000 clients in Los Angeles, Orange and San Diego counties, the three largest in the state. That same year, smaller Sacramento County reported 1,688 incidents – accounting for most of the problems reported statewide.
"There is no evidence indicating that Sacramento County has a disproportionately higher number of critical incidents than other counties," a Sacramento county spokeswoman said.
Beyond statistics such as these, nearly all records of IHSS are confidential. So unless a caregiver is criminally prosecuted, the details of any alleged mistreatment are unavailable to the public.  Prosecutors and experts on elder abuse say only a small fraction of problems come to light. When they do, it is sometimes too late.
Neglect and abuse by paid home caregivers happens "far more regularly than we know," said Paul Greenwood, a national expert in elder abuse and a prosecutor with the San Diego County District Attorney's office. "We are still scratching the surface."
Eileen Carroll, deputy director of the California Department of Social Services, which runs IHSS, said the program "works very well for people who are capable and able to self-direct." She acknowledged that more problems can arise when clients are older than 85, for instance, or have dementia.
In general, she said, the state tries to ensure that clients are receiving the services they need safely in their homes without compromising their independence.
The state recently has made improvements to its quality assurance program and has clarified reporting standards for critical incidents, she said.  But mandating training or increasing oversight further could fundamentally change IHSS from a program based on the consumers' social needs to one based on their medical needs, she said.
"It's a slippery slope," she said. "I don't think it is in our interest to force recipients and providers to do anything."
Clients Are The Bosses
The In-Home Supportive Services program has its roots in the 1950s, when a small group of polio patients was moved out of Rancho Los Amigos Hospital, a rehabilitation center in Downey. Officials recognized that it would be less expensive for people to be taken care of in their homes, and the March of Dimes began to pay for domestic help.
The current in-home care program, created by the state legislature in 1973, retained the historical emphasis on supporting clients' autonomy. The state pays the bills, but the elderly or disabled resident is the boss – responsible for hiring, firing, supervising and training the caregiver.
To be eligible, most clients must qualify for Medi-Cal, the state insurance program for the poor, and be over 65, blind or disabled. They also must show a need for help in the home.
Many swear by the program.
"I get to continue making choices," said Margaret Belton, 82, who receives help seven days a week from IHSS caregivers at her Pasadena apartment. "When you go into a nursing home, you lose your ability to make decisions."
Belton, a former nurse with arthritis, diabetes, thyroid problems, hip and knee replacements and a history of falls, said she appreciates being able to train her own providers.
But for others, supervising a caregiver can be a struggle. That is especially true when clients are very old, severely physically or mentally impaired or when the employees are family members with whom clients have difficult relationships.
The IHSS program can be a "perfect scenario for elder or dependent abuse," said Julie Batz, staff attorney at Legal Assistance for Seniors in Oakland. The clients may trust the providers because they share a history or because they assume that the government has screened and trained them, she said, but "that is not necessarily true."
Toni Giusto, 54, said she trusted Yvonne Belanger, her domestic partner of many years, with her life. The Oakland woman hired Belanger as her IHSS caregiver in 2000, after an abscess in her neck left her paralyzed from the waist down. Giusto said she needed help with everything – eating, bathing, sitting up.
Instead, Giusto said Belanger locked her in a room. "She wouldn't give me water or nothing," she said. Belanger didn't take her to the doctor, even when she developed bed sores that attracted maggots, Giusto said. Belanger sprayed bug poison on her to get rid of them, according to court papers.
Responding to a call from Giusto's sister, police came to the house in 2010 and found Giusto with 23 open sores and an abdomen swollen from waste backed up in her bowels, according to court papers. Belanger was convicted of elder abuse and sentenced to county jail. She died last year.
"I was so trusting," said Giusto, who now lives in a rehabilitation facility in Alameda. "I never thought she could do this to me."
For some clients, choosing a caregiver is less about trust than about mutual need. The parents of Erica Aguirre, now 29, knew she had a drug problem. But they needed help and she needed money, so they applied to IHSS and hired her.
For about two years, Aguirre said, IHSS paid her to care for her 72-year-old mother, Guadalupe, who has asthma, diabetes, high blood pressure and depression, and her father, Jesus, 69, who has heart problems, diabetes and early dementia.
Guadalupe Aguirre said she and her daughter soon had arguments that ended in yelling and hitting. "I thought she was going to be different than she was," the mother said in Spanish.
In 2012, Erica Aguirre was charged with physically and verbally abusing her mother. She was convicted and sentenced to 60 days in county jail and drug treatment, according to court documents.
In an interview at the family's home in South Los Angeles, Erica Aguirre said she is a recovering drug addict and also suffers from depression and anxiety. Despite that, Aguirre said she followed doctors' instructions and tried to help her parents. She said she quit working as an IHSS caregiver before her criminal case began.
"I tried my best as a caregiver," she said. But "I wasn't the appropriate one."
Deborah Doctor, a legislative advocate at Disability Rights California, said there is nothing to suggest that the IHSS program fosters abuse or that people are less safe at home than they would be in an institution. The best way to ensure a high quality workforce is to pay caregivers better – not to increase regulation, she said.
"I am sure there are some bad actors but the efforts to quantify that have never come up with anything more than a minuscule perspective," Doctor said.
Focus on Fraud
Martin Hernandez, an IHSS social worker in Los Angeles County, has a tough job.
He has about 440 active cases, including people with multiple sclerosis, diabetes, mental illness and a history of strokes. He is generally expected to visit each client once a year, though occasionally he sees someone who hasn't been visited in two years.
Even once a year is "not enough to tell who is being harmed and who is not being harmed," he said. "It's very hard unless a neighbor calls or you see some kind of physical evidence."
His colleague, Gloria Daniels, said she has an even higher caseload – 493 clients. "The program is so big that it appears nobody knows what to do," she said. "We are being told it's quantity, not quality."
In Los Angeles County, the most populous county in the nation, social workers have an average of 265 clients each. Under their union contract, their caseloads aren't supposed to exceed 249. Above that, workers can't be held to the usual disciplinary standards. But other counties have even higher ratios – in Riverside County, case workers average about 500 clients each.
There are no statewide standards for how many cases a social worker can carry. Carroll said in some smaller counties workers have caseloads as low as 7. In the areas with high caseloads, she said, the state has been urging counties to hire.
"We do want to see cases become better balanced," she said.  "We do want to see [clients] assessed every year."
During their visits county workers focus much more on possible fraud than on quality of care, statistics suggest. From 2008 through 2012, workers in the five most populous California counties – Los Angeles, San Diego, Orange, Riverside and San Bernardino – reported 960 cases of fraudulent overpayment to caregivers. During that same period, the workers reported a total of 32 "critical events" – potential neglect, abuse or self-harm.
The state has another limited quality assurance program that aims to ensure clients are safe and that county workers are following proper procedures. Inspectors conduct "desk reviews" of case files and other documents, along with a very small number of home visits. In 2013, just 3.8 percent of IHSS cases were reviewed under the program.
Since last summer, more desk reviews and unannounced visits are taking place, Carroll said.
Case workers – and caregivers – are required by law to report suspected abuse or neglect. But IHSS officials and family members mostly depend on another state agency, Adult Protective Services, to investigate those concerns.
This agency is also spread thin and has limited powers, according to state records and interviews. Even if workers suspect abuse or neglect, they generally can't remove an adult from the home without his or her permission.
"We cannot force anybody to accept our services," said Stacey Lindberg, program manager of Adult Protective Services in Orange County. "It is heartbreaking."
Suffering In Seclusion
The result, in some cases, is prolonged abuse and neglect by IHSS caregivers. Examples can be found in court records throughout the state.
In Fresno, a 26-year-old woman, disabled by a severe spine condition, hired her brother and his wife as IHSS caregivers. Police and prosecutors say the couple, Joe and Denise Roman, didn't turn her in bed, and her tissue broke down so much that metal rods in her spine became exposed. She died and the caregivers were convicted in 2011 of abusing her.
In Lake Isabella, Kern County, Joseph McCoy was a paid caregiver over many years for his 90-year-old grandmother, who raised him. McCoy left her unattended, and officials discovered her stuck to her sheets with gruesome bedsores in a fly-infested room, according to prosecutors. She died shortly afterward. McCoy was convicted in 2012 of elder abuse.
"This was a really, really horrible case," said Michelle Domino, Kern County deputy district attorney. "She had clearly been left neglected for some time."
In Yolanda Farrell's case, relatives say they are stunned that Linda Maureen Raye even was able to become a paid caregiver for her mother. Farrell was unable to walk and had very limited use of her arms as a result of a bout with polio years earlier. Linda Maureen Raye had longstanding emotional problems, her brother Terrence said. She'd tried to take care of her mother in the past but always found herself overwhelmed. "My mom would always try to believe that she was better," he said.
Linda Maureen "went behind our backs and convinced my mom that she would be better off being taken care of in a private residence with her," Terrence Raye said. Later, he said, Linda Maureen told him that she needed the IHSS funds as well as Farrell's Social Security money.
Terrence Raye said she wouldn't allow him to visit his mom, or even talk to her, so he called police and adult protection authorities. They interviewed his mother in Linda Maureen's presence, he said, and told him they found nothing wrong.
The last time he saw Farrell was at Riverside Community Hospital, where she had arrived sickened from ulcers that went to the bone.
"My mom was old enough and in bad [enough] health never to recover," he said.
KHN's coverage of California is supported in part by the Blue Shield of California Foundation and The California Endowment. KHN also receives support from The SCAN Foundation for coverage of aging and long-term care issues.