As the shortage of primary care doctors worsens in the U.S., experts are carefully tracking the interest of today's medical students and residents in primary care, to see if a new generation of family doctors might be emerging. By 2020, the Association of American Medical Colleges predicts that the country will be short 45,000 primary care physicians.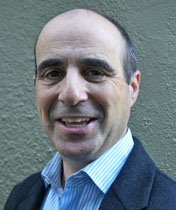 So far, the signs are encouraging. For the second year in a row, family medicine residency programs had a record enrollment rate (2011 saw an increase of 11 percent over 2010). An additional 100 slots were also added to meet the rising demand.
Some say the focus on primary care in the federal health overhaul law, called the  Affordable Care Act, deserves much of the credit for rising interest in family medicine. Dr. Andy Bindman, professor of medicine at the University of California, San Francisco medical school (UCSF) and chief of general medicine at San Francisco General Hospital, says he's seen a significant change in his students' attitudes toward primary care. He spoke recently with Kaiser Health News reporter Jenny Gold in San Francisco. This is an edited version of that conversation.
Q: What have you noticed about residents and medical students and their choice to study primary care?
A: We're really struck by the number of applicants we had this year, as well as the enthusiasm they have for primary care. In all honesty, in the last few years, we've really struggled sometimes. There has always been a core group of students who've had this interest, but their mood has been a bit somber, and sometimes you see them self-reflecting about whether they're actually making the right choice when some of their colleagues were going into other specialties. But this year, we really saw a pretty significant uptick in the number of applicants.
Q: Can you give me a sense of the numbers?
A. Our number of applicants [for primary care residencies and fellowships] increased in the range of 20 to 25 percent. We are also increasing the size of our residency program at SF General from 18 to 24 primary care positions per year. So, we're hopeful this is the beginning of a trend.
Talking to some of the younger UCSF medical students, it's very clear that primary care is on a path to perhaps getting another look by some students who weren't otherwise thinking about it. I think we've given them, maybe through the ACA and some of the discussion that's been associated with it, new enthusiasm and reasons to believe that there will be the rewards associated with that career choice that many of them wanted to make in the first place.
Q: Do you think this has to do with the two-year increase in Medicaid reimbursement rates for primary care doctors, even though it will time out before these medical students and residents go into practice?
A. I don't know that it's any one thing in particular. I think what was impressive under the ACA was that there are actually several things that were built into it. There was the reauthorization of [the federal grants to support primary care residents] and I think many students are cognizant of National Health Service loans that can help them pay back medical school loans. I think they're aware probably in a more general sense that payment is going up both in Medicare and Medicaid for primary care. Somehow that signal has reached them.
Q: Is it also a desire to be in public service?
A. I think that's another element. Primary care has always had the strongest connection with public service and a public health agenda. Clearly the ACA is, in part, about trying to think about our role as a community in providing care for everyone. I think that primary care probably embodies that more than any other specialty.
Q: What are you teaching your residents and medical students about the new role of primary care doctors?
A. We are pointing out some of the provision changes that are going on. I think we're also talking to them about some of the delivery system changes underway, like the accountable care organizations and the role of primary care medical homes.  So we're really trying to help them see that primary care may again become the foundation of how the delivery system is organized. And I think many of the students are excited about that.
Q: Can you tell me about any students in particular who have chosen primary care?
A. I recently met with a woman who's in our internal medicine residency. She first came to talk to me and told me she wanted to do a fellowship in a subspecialty area — endocrinology.
But then when we spoke a bit more, it became clear that she really had a lot of interest in public service, public health and improving quality. As we started to talk more about the ACA and some of the ways that primary care is going to be supported by it, she wrote me back about two weeks after that visit to say that she had dropped her plans to apply for the subspecialty training in endocrinology and now wanted to pursue a primary care fellowship instead.
I think there may be something starting to happen where some of the students and trainees are thinking about how they want to impact the health care system.  We'll see. It's a small sample size at this point, but I'm certainly very hopeful it's the beginning of a trend.