HARTFORD, Conn. — In the past decade, most states have turned Medicaid over to private plans with hopes they could control costs and improve care. Nearly half of the 60 million people in the government program for the poor are now in the managed care plans run by insurance giants such as UnitedHealthcare and Aetna.
But Connecticut, the "insurance capital of the world," is bucking the trend.
On Jan. 1, Connecticut will jettison its private health plans from Medicaid, the state-federal health insurance program. Instead of paying the companies a set monthly fee to cover the health costs of more than 400,000 children and parents, the state will assume financial responsibility.
State officials say the firms, including Hartford-based Aetna, did not fulfill their promise of lower costs and better care.
"Connecticut has a 15-year history with managed care organizations and there has been a diminishing confidence in the value of what they are providing," said Mark Schaefer, the state's Medicaid director. "Their measured performance is not impressive."
Connecticut's decision stands out at a time when a growing number of states are requiring more people in Medicaid to join managed care plans — Florida, Texas, and California are among nearly two dozen states planning expansions in 2012.  Whether it turns out to be a blip in the industry's growing control of Medicaid, as many argue, or the beginning of a backlash, officials in other states are watching closely. In any case, the reversal of the trend in the insurance industry's home base has given managed care critics a rare, if mostly symbolic, victory. 
'Point Of Ammunition'
"There is a cadre of people who hate for-profit health care, and this is another point of ammunition for them to point to and say that if they came to this determination in the insurance capital of the world, how can it be such great shakes," said Joel Menges, a health care consultant who has worked with the state.
Connecticut, which has more of its residents employed in the insurance industry than any other —  2.1 percent, or more than 71,000 people, according to the U.S. Census —  is betting its employees, working with a private nonprofit company, can ensure Medicaid patients get better care at lower cost. The state will return to paying doctors and hospitals for each service they provide.  Officials say they plan to use some of the millions that went to health plans' profits and administrative costs to increase pay to primary care doctors to improve care. 
Connecticut is only the second state to drop its for-profit managed care plans in about a decade.  Oklahoma moved away from using private plans in 2005, and officials there say they have no regrets.  "While achieving very encouraging marks in both member satisfaction and quality, the cost per member has grown at a very low average annual rate of 1.2 percent over the last five years," said Mike Fogarty, Oklahoma's Medicaid director.
Managed Care Contracts Totaled $800M
The Connecticut Medicaid managed care business was worth more than $800 million this year to Aetna, UnitedHealthcare of Minnetonka, Minn., and Community Health Network of Connecticut Inc., a nonprofit.
Aetna officials defended their record, saying they held down costs while ensuring patients' access to care.  "We continue to see strong interest in managed Medicaid from states that are looking to meet the health needs of this vulnerable population without crippling their state budgets," said spokesman Matthew Wiggin.
Since the late 1980s, many states have been drawn to private health plans so they can shift insurance risk off state books and make Medicaid budgeting more predictable.  Plans typically get a monthly sum to cover a patient's health costs and aim to save money by focusing on preventive services and reducing the need for expensive emergency room visits.
Nationally, managed care plans oversee care for 27 million of the 60 million people enrolled in Medicaid, and control $150 billion of the $400 billion in Medicaid spending – numbers expected to increase due to state budget pressures and the influx of an additional 16 million people expected to be covered by the program beginning in 2014 under the health overhaul. 
Industry Denies Trend
"We do not see this as a trend," said Tyler Mason, a spokesman for UnitedHealthcare, which covers more than 3 million Medicaid recipients in 19 states. He noted many insurers have recently been awarded Medicaid contracts in states such as Kentucky, Louisiana and Texas, which "would clearly lead one to believe that national managed care organizations are faring well as states move away from fee for service."
But critics of managed care hope Connecticut's reversal will spur other states to look at alternatives.  New Haven Legal Assistance Association, an advocacy group for the poor, had complained for years that such health plans erected barriers to care and diverted too many resources to administration and profits. It pointed to a 2009 state-commissioned report showing Connecticut was overpaying insurers by nearly $50 million a year —about 6 percent of total expenses.
Other state reports found the plans were spending too little on health services and published networks of doctors which were misleading because many doctors refused to accept Medicaid patients when "secret shoppers" called for appointments. "All the reports showed the HMOs were not cheaper and presented a lot of access issues," said Ellen Andrews, executive director of the Connecticut Health Policy Project, a nonprofit research group based in New Haven.
State officials said they are planning to spend about the same amount on Medicaid next year while improving the coordination of care to an additional 150,000 people, including disabled adults and those in nursing homes who are also covered by Medicaid, but were not in managed care plans.
Physicians Positive
Doctors are mostly happy to see the state's experiment with managed care plans come to an end. Many had been frustrated with having to follow different rules for different plans. They also complained about payment delays and problems referring patients to some specialists.  While doctors should see little change in their base reimbursements in January, they will be eligible for up to $25,000 a year if they make their offices run more efficiently by doing things such as installing electronic records and hiring patient coordinators. Doctors will also be eligible for bonuses if they meet such goals as making sure children get annual dental checkups and adult diabetics receive annual eye exams.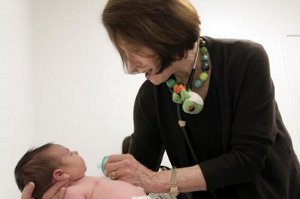 Elsa Stone, a North Haven pediatrician who had refused to contract with the state's two for-profit Medicaid plans owned by UnitedHealthcare and Aetna, cheered the decision.  '"I don't think there should be a profit motive in health care," she said. "I think all the health care dollars should go to care."
Heather Greene, 36, of Waterbury, Conn., has been on Medicaid for seven years, along with her husband and two children.  She said her Aetna plan did not make it easy for her to find a urologist, or for her daughter to find an ear, nose and throat specialist. She is cautiously optimistic. "I trust the state a little more than the plans, which are looking to make a profit and cut corners wherever they can."