Hundreds of hospitals are routinely performing a type of chest scan that experts say should be used rarely, subjecting patients to double doses of radiation and driving up health care costs.
In a double CT scan, patients get two imaging tests consecutively: one without dye and the other with dye injected into their veins. Providence Hospital in Northeast Washington and nearly one of every six hospitals in Virginia were among those performing double scans particularly frequently, according to the most recently published government data, from 2008.
Nationwide, hospitals performed double scans on 5.4 percent of Medicare patients who received chest CTs in emergency rooms or hospital radiology units where they were referred by their doctor. Those scans totaled 76,781 in 2008. The overall number was certainly higher, as patients with private insurance, Medicaid or no coverage also get double scans, but no one tracks the number.
Interactive Map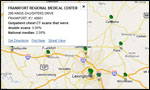 Experts say almost all chest problems can be properly diagnosed with a single scan. But some physicians, who order the tests, still value double scans for gathering the most information possible. Hospitals and radiologists are paid more for the double scans, so they have a disincentive to crack down on them.
"This is one of thousands of things we do every day in health care that cause more harm than good," says Rosemary Gibson, co-author of "The Treatment Trap" and editor of a series of articles on overtreatment in the Archives of Internal Medicine.
The government is taking a closer look at scans because imaging tests are among the fastest growing procedures in health care. Medicare's Hospital Compare website now publishes individual hospital rates of double chest scans, along with rates for several other kinds of imaging. Medicare doesn't restrict the use of double scans or penalize those who perform lots of them.
"Just making the information public is a fairly strong incentive" for hospitals to examine their rates, says Dr. Michael Rapp, director of quality measurement at the federal Centers for Medicare & Medicaid Services. "Hospitals pay really close attention to the quality data we publish."
Most hospitals used the double chest scans sparingly. The median rate was 2 percent of all Medicare patients who received chest scans, according to Hospital Compare data on 3,094 hospitals. But 618 hospitals performed the tests on at least 10 percent of Medicare patients getting a chest CT scan.
Ninety four of those hospitals performed double scans on at least half their patients getting chest scans. The highest rates "really raise a red flag," says Paul L. Molina, chief of chest imaging at the University of North Carolina School of Medicine.
While some hospitals are trying to discourage doctors from habitually ordering the tests, others say it's beyond their control because they don't usually employ the physicians. Michael Thompson, a Providence spokesman, said in an email that "the decision for the ordering or appropriateness of testing is determined by the ordering physician and not the hospital."
Outside of examining plaque in the arteries or checking for a tear or leak in the aorta – the major artery carrying blood out of the heart – there are few reasons to do a double scan, according to guidelines developed by the American College of Radiology.
Molina and other experts say some smaller hospitals without radiologists on staff may be doing the double scans just to make sure they get a full package of information before sending a patient home.
"Honestly, I can't think of any other potentially legitimate reason for doing both," Molina says. "The only other thing would be to perform more income generation."
The use of CT scans for all purposes – not just chest diagnoses – has tripled since 1993 to about 70 million scans in the U.S. annually, researchers say.  The scans' benefits are great. They allow physicians checking for cancer, heart disease, damage to arteries and blood clots to see inside the body with detailed, multi-dimensional pictures. But chest CT scans also expose patients to about 70 times more radiation than conventional X-rays. Having the combination CT scan can double that exposure, though some physicians say the latest generation of scanners operate with much lower radiation levels.
In Virginia, 11 of 73 hospitals had rates above 10 percent. In the District, only Providence had a rate higher than that: 48 percent of its patients received double scans. Maryland is the one state where hospitals are exempted from having to report their rates to Medicare; three hospitals, including Holy Cross in Silver Spring, voluntarily reported their rates and they were lower than the national median.
But some hospitals do many more. The hospital with the highest rate in the nation – Memorial Medical Center of West Michigan in Ludington – ran 89 percent of its Medicare chest CT patients through both scans in 2008. Patricia Ezdebski, the hospital's marketing director, says by educating physicians and their staff, the hospital reduced its rate to 42 percent last year. So far this year, she says, Memorial's double CT rate is down to 3.4 percent.
"Absent any governmental guidelines or board guidelines, physicians will use as much as testing as possible to get a good diagnosis and develop an effective treatment plan," Ezdebski says. "But with those guidelines, hospitals and providers can start to meet state and national benchmarks."
Some say double scans of the chest were performed more often in the late 1990s, but that the frequency dropped with the advent of newer and better scans – and growing concern about lifetime exposure of patients to exams using radiation.
"It's almost a legacy way of scanning the chest," which has been phased out in many places, says Chad Poopat, senior radiologist at Henry Ford Hospital in Detroit, which performs double CTs at the national rate. Dr. Thomas Gerber, a radiology professor at the Mayo Clinic, says he doesn't see any need to do double scans "in this day and age" given newer diagnostic technology.
Hospitals that do lots of double CT chest scans earn more. The combined hospital and radiologist fee for a double scan on a Medicare patient is $403, compared to $362 for a scan with contrast dye, and $245 for one without any dye. Patients have to pick up a third of those costs, amounting to $130 for a double scan and doctor fee.
Private insurers also pay more for double scans. Verisk Health, a Massachusetts company that analyzes claims data, says on average the combination scans costs $284, including the patient's portion. A single scan with dye costs $191; one without dye costs $153.
No one knows how many non-Medicare patients get double scans. HealthPartners, a nonprofit HMO based in Minnesota, says its rate of double CT chest scans was 7 percent in 2010. Like other commercial insurers, HealthPartners says it has increased oversight of imaging, giving doctors computer programs that help them choose the most appropriate tests.
Since Medicare started publishing the rates last year, many hospitals have been working harder to discourage the tests. In California, the data shook up executives at Redlands Community Hospital, where 73 percent of patients had the double scans in 2008, the highest rate in the state.
Now doctors ordering the combination tests have to explain why they want them performed, and then the request is reviewed by a radiologist, said Kathi Sankey-Robinson, a vice president at Redlands, located 70 miles from Los Angeles.
"We want to cause them to think and give us a reason why," she says. "If there's a good reason, we will go ahead. If not, we won't."
St. John Medical Center in Tulsa says it has sharply lowered its rates since 2008, when 80 percent of its chest CT scan patients received the double exam, according to Medicare data. A spokeswoman says 5 percent of patients now get both scans.
Still, some hospitals say there are good reasons for double scans. At Blue Ridge Regional Hospital in Spruce Pine, N.C., 89 percent of patients were given double CT scans in 2008, the second highest rate in the country. Spokeswoman Alison Granstaff said the hospital is in coal-mining country and had performed many exams out of an abundance of caution when checking for lung cancer.
Now the hospital has changed its protocols. Before a patient is given a scan a radiologist reviews the patient's records and determines if an accurate diagnosis can be made with a scan that only uses contrast, rather than doing one without contrast first.
Some radiologists say that when used properly, double scans can subject patients to lower doses of radiation than would a single one. Dr. James Jollis, professor of cardiology and radiology at Duke University School of Medicine, says the first scan, set at a low power level, helps doctors pinpoint where the problem is. The second scan doesn't have to cover the whole area and thus shoots far fewer images. Duke's rate of double scans was 3.4 percent.
Jollis expressed concern that Medicare's focus on discouraging double scans might backfire for some patients. "If my hospital is telling me I can no longer aim my CT because I'll get a mark on a website, then it will be more difficult to do lower radiation scans and there will be an incentive to take more images at a higher level," Jollis says.
Some hospitals are finding that physicians aren't embracing their efforts to clamp down on double scans. At Henry Ford Hospital, there are 25 guidelines for a chest CT scan. If a request doesn't seem to meet the protocols, the radiologist speaks with the referring doctor and the two decide on an approach.
"Generally speaking, the physicians are happy when we give them a call," says Poopat, the radiologist. But he says, "even now, 30 percent [of the chest CT requests] come in as double scans."