United Parcel Service got attention by dropping some working spouses from its health plan and partly blaming the Affordable Care Act. But UPS's move is only one among many changes in employer health insurance, most of them having little to do with the health law.
Employers are raising deductibles, giving workers health savings accounts that look like 401(k) plans, mimicking the health law's online insurance marketplaces and nudging patients to compare prices and shop around for treatments.
Together the moves could eventually affect far more consumers than the law's Medicaid expansion or health exchanges aimed at the uninsured and scheduled to open Oct. 1. Here's a rundown.
Q. The Affordable Care Act required fewer changes in employer coverage than in plans sold directly to consumers. Why are employers overhauling their benefits?
A. They cite rising costs. Although overall medical expenses are rising at the slowest pace in decades, they're still going up at twice the rate of inflation. Some analysts doubt the deceleration is permanent.
At the same time, employers say health law requirements such as covering dependents to age 26 and banning annual and lifetime limits on benefit payouts also increase their costs. However, some analysts portray what's going on as part a long-term trend of employer benefit redesign that has little to do with the health law.
Q. What are employers doing?
A. There are two themes. In trying to control their own spending, employers often are shifting health costs to employees. So the average annual deductible for an individual — what consumers pay before insurance kicks in — nearly doubled in the past seven years, from $584 in 2006 to $1,135 this year, according to the Kaiser Family Foundation. (KHN is an editorially independent program of the foundation.)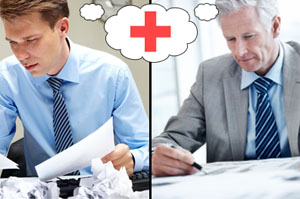 But employers aren't just making workers pay more. They're trying to make them think more about health-related expenses and behavior.
Companies such as grocer Kroger Co. pay only a fixed amount for particular drugs or procedures, giving patients incentive to shop around for the best price. IBM started giving rebates to workers who adopt healthy lifestyles. Penalizing smokers with surcharges is one of the few discriminatory measures the health act allows.
Q. All that will save employers money. Will it keep workers healthy?
A. The law requires insurance to pay for recommended preventive services without cost sharing. Even so, some worry that the increasing number of plans with high deductibles will cause consumers to avoid seeking treatment when they might need it. Many patients don't realize the deductible doesn't apply to preventive care.
At the same time, critics say the veil around the health industry's costs and prices makes smart shopping all but impossible. Companies such as Castlight are trying to change this by listing prices and information on quality in accessible ways, such as through smartphone apps and easily searchable web sites.
Q. How can workers afford the extra costs of higher deductibles?
A. Proponents of making patients share more costs and shopping — it's been dubbed "consumer-directed insurance" — say it's the best way to control the soaring medical spending that strains not just household budgets but corporate and government accounts, too. But some patients with high-deductible plans have trouble paying the bills when they seek care.
Key to giving consumers more responsibility are savings plans known as health savings accounts or health reimbursement arrangements that employees use to pay for the deductibles, co-pays and other expense.
Employers and workers fund the accounts with pre-tax dollars. Unlike the better-known flexible spending accounts for medical costs, money in HSAs can build up, earn investment returns and roll over from year to year.
Q. If having employees shop for doctors and hospitals makes sense, why not give them more power to shop for health insurance, too?
A. That's the idea behind "private exchanges," so called to distinguish them from the ACA's public exchanges that will sell subsidized coverage directly to individuals starting Oct. 1.
In both cases the consumer gets what's basically a voucher to buy coverage. With the public exchanges it's an instantly spendable tax credit. With private exchanges it's employer dollars.
Software guides the consumer through a menu of comparable plans and helps pick the best one for her. Companies steering workers to private exchanges include Darden Restaurants and Sears. IBM and other corporations are putting retirees into private exchanges.
Private and public exchanges are likely to have something else in common: plans with closed, narrow networks of doctors and hospitals that promise lower costs through discounts and better control of care.
Some see private exchanges and HSAs nudging aside traditional health insurance much as 401(k) plans replaced traditional pensions. Whereas employers used to promise health care and retirement income no matter the cost, increasingly they cap contributions for both benefits and let workers bear the risk.
Q. I heard Washington delayed the requirement for large employers to offer health insurance. How is that affecting coverage?
A. The delay is for one year, and most employers already offer coverage. The requirement applies to employers with at least 50 workers. Stores and restaurants, less likely to offer health insurance in the past, may be most affected. The coverage mandate doesn't affect workers who put in less than 30 hours a week, and some employers have talked about cutting hours.
Q. Are other companies following UPS in how they handle spouses and dependents?
A. UPS decided to stop covering working spouses if they have access to coverage at their own jobs. The health law does not require employers to cover spouses, but surveys show that only a minority of companies have implemented a UPS-style "spousal exclusion."
However, employers increasingly offer incentives to get spouses off their plans. They may charge workers extra if a covered spouse has access to other insurance, or they may pay bonuses when spouses are not on the company policy.
The health law does require large employers to offer coverage to dependent children as well as employees or pay a penalty.
Q. What are small employers doing?
A. The Affordable Care Act does not require companies with fewer than 50 workers to offer coverage. It does create online marketplaces, scheduled to open in October, for small employers to buy insurance similar to policies offered there for individuals. But the ability for small-business workers to choose from multiple plans will be delayed in most states until 2015.
Small employers are less likely to offer coverage. This year 57 percent of firms with 199 or fewer workers provided health insurance, according to KFF.