Breast cancer is extremely rare in young women. But when it does happen, it can be serious, even deadly. A little-noticed section in the health-care overhaul aims to raise awareness among young women and their doctors about the risk of breast cancer between the ages of 15 and 44.
The law directs the Centers for Disease Control and Prevention to create education campaigns that will focus on breast cancer and young women, and encourage healthful habits that promote prevention and early detection of the disease.
The law also provides grants to groups that support young women with breast cancer. And it directs the National Institutes of Health to develop new screening tests and other methods to prevent breast cancer in young women and improve early detection.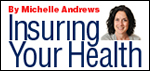 The law provides $9 million annually between 2010 and 2014 for these efforts.
Only about 10 percent of the roughly 250,000 women who receive diagnoses of breast cancer in a given year are younger than 45, according to the American Cancer Society.
Family history, ethnicity and genetics can all increase a woman's risk. When young women do get breast cancer, it tends to be more aggressive. The five-year survival rate for women given the diagnosis before age 40 is 83 percent, compared with 90 percent for other women, the American Cancer Society reports.
Advocates say younger women's lower survival rates also may be due in part to later diagnoses. With the likelihood of cancer remote, young women and their doctors sometimes take a wait-and-see approach when they discover a lump or other breast change.
When Robyn Haines found a lump under her arm last summer, she wasn't overly concerned, and she waited a few months before checking it out. The 28-year-old television newscaster eventually visited her gynecologist near her home in Cadillac, Mich., and her doctor said it was probably nothing but referred her for a mammogram and ultrasound "just to be safe." The results were inconclusive.
The doctor then sent Haines to a general surgeon, who wasn't particularly concerned, either. But he said that if the lump was uncomfortable, he could remove it.
Haines decided to go ahead with that surgery and says she was "extremely shocked" to learn last October that she had an aggressive form of breast cancer. Haines underwent a bilateral mastectomy and chemotherapy, continuing her morning anchor duties in a wig after her hair, eyebrows and eyelashes fell out. She's still undergoing breast reconstruction.
Haines says some of her concerns are different than they would be if she were older. Fertility, for example, is a big unknown at this point. "I did what I could to preserve it, but it could be an issue down the road," says Haines, who received a series of shots during chemotherapy intended to minimize effects on her ovaries.
Experts agree that there are no easy solutions for screening women younger than 40. Given the low incidence of breast cancer in this group, widespread screening with mammograms wouldn't be cost-effective, and young women's breast tissue is often too dense to be effectively evaluated by a breast X-ray.
In the absence of cost-effective, high-tech tools, an advocacy group recommends that young women speak up quickly if they notice a change in their breasts. "Be familiar with the look, feel and shape of your breasts, so that if something develops you're aware of it," says Stacy Lewis, vice president of programming for the Young Survival Coalition. "If you see a change, go see a doctor, and if you're told that it's probably nothing, go to another provider."
Although encouraging young women to learn more about breast cancer may be good advice, some experts caution that knowledge isn't always power.
"It's all a balance," says H. Gilbert Welch, a professor and researcher at the Dartmouth Institute for Health Policy and Clinical Practice. "You want people to be aware without making them feel more vulnerable to disease than they are." Especially for women between 15 and 25, Welch says, counseling about the dangers of smoking would be more productive. "You have to pick your battles," he says.
Experts say that the new law's most significant provisions relevant to breast cancer in younger women may be those that encourage further research. Since screening women before age 40 isn't practical, identifying young women who are at risk becomes all the more important, says Dr. Therese Bevers, medical director of the cancer prevention center at the MD Anderson Cancer Center at the University of Texas in Houston. "We've got to have a way of picking out the right young women," she says. "Otherwise we'll miss cases."