A new study gives ammunition to what health economists and health insurers have argued for years: When hospitals buy physician practices, the result is usually higher hospital prices and increased spending by privately insured patients.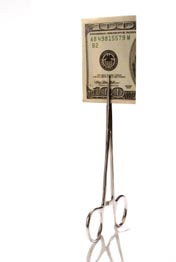 The study, published Monday in the journal Health Affairs, was based on an analysis of 2.1 million hospital claims from workers of self-insured employers between 2001 and 2007.  The analysis by Stanford University researchers found prices were most likely to increase when hospitals bought physician practices, as opposed to hospitals forming looser contractual relationships with physicians.
Hospitals have increasingly bought physician practices over the past decade, arguing it helps them coordinate care and control costs. But insurers and many economists say hospitals' main motivation is negotiating higher prices with insurers and building referrals to grow admissions.
The Affordable Care Act has accelerated the trend by encouraging the establishment of Medicare accountable care organizations that pay large groups of providers based on how well they control costs and improve quality.
The Federal Trade Commission has been watching the growing collaborations between hospitals and physicians, and until now has intervened to stop them only when one organizations controls so many physicians in one community that it is considered anti-competitive. Experts say the Stanford study could give the FTC ammunition to more closely examine and potentially block future hospital purchases.
"This study could be the evidence the FTC needs to challenge hospital physician practice acquisitions…that they believe have a strong prospect of leading to higher prices for consumers," said Paul Ginsberg, a professor of health policy at University of Southern California.
The American Hospital Association, which defends hospital acquisitions as good for patients, called the study outdated and said it did not look at the impact on physician prices or spending, only those of hospitals.
Caroline Steinberg, the association's vice president of trends analysis, said hospitals aren't buying doctors to drive up prices. "Hospital are integrating with physicians because it is a necessary way to engage physicians in innovative payment methods such as bundling payments for one service such as hip replacements and ACOs," she said.
Steinberg noted that such payment arrangements — which reward hospitals only if they contain costs — did not become common until after 2007. Linking payments to cost containment can serve as a counterbalance to make sure hospital-doctor arrangements don't drive up spending, she said. Insurers' greater use of so-called "narrow networks" of providers can also potentially thwart hospitals that try to increase prices by buying physician practices, she added.
Steinberg said many hospitals find it easier to buy doctors' practices because it's easier to stay within federal antitrust and anti-kickback laws.
The FTC won a victory in January when a federal judge blocked Idaho's largest hospital system from buying the state's largest physician practice, which would have given Boise-based St. Luke's Health System control over 80 percent of the doctors in Nampa, Idaho. The FTC fought the merger, arguing it would drive up physician prices. The federal judge ruled the hospital could improve quality by working closer with physicians without buying their practices.
"The message from the study confirms that when doctors and hospitals merge it may not be in consumers' best interest," said Daniel Kessler, a study co-author and law and health policy professor at Stanford. "We are not saying ACOs and integration are necessarily a bad thing but there is a potential downside and people should be aware of it and here is more evidence of it."