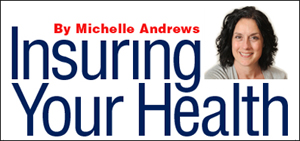 In an ongoing KHN feature, Michelle Andrews writes about the coming changes to health care.
Please send comments or ideas for future topics to questions@kffhealthnews.org
Read 2011's Insuring Your Health stories.
See Andrews answer your health insurance questions via video.
When Employers' Health Plans Disappear, Workers Often Have Few Options
December 31, 2012
For some people, the promise of employer-provided health insurance is reason enough to take a job or stay put in one. But unexpected events can undermine the security of on-the-job coverage.
Study Finds Coverage To Help Kick Smoking Can Be Tricky
December 17, 2012
Most people who smoke want to quit, and the 2010 health-care law is supposed to make it easier for them by requiring many insurance plans to cover smoking-cessation treatments, but do they?
When A Plan Overpays For A Service, Is A Patient Responsible For A Refund?
December 10, 2012
A patient received a letter informing her that her health plan had overpaid by more than $9,000 what it owed for the services of an assistant surgeon in her operation. What can she do?
Weighing A State Mini-COBRA Plan; Premiums Based On Pay
December 3, 2012
This week I answer readers' questions about picking an insurance plan when leaving a job, small-business health insurance coverage requirements under the Affordable Care Act and salary-based premiums.
Medical Questions About Gun Ownership Come Under Scrutiny
November 27, 2012
High-profile law in Florida banning doctors from asking patients about guns was overturned in the courts. But the health law restricts insurers, employers and HHS from asking.
Hurdle For Advocates Of Medical Marijuana: Insurance Coverage
November 20, 2012
Even as more states move to allow the drug for medicinal purposes, health insurance policies rarely cover its use.
High Deductible Plans Offer Low Premiums But Steep Risks
November 13, 2012
More employers are offering these insurance options, but they can leave workers paying thousands before coverage kicks in.
Dispelling Some Rumors About Medicare And The Health Law Limiting Care
November 6, 2012
Answers to readers' questions about whether some older seniors are denied access to surgeries and whether the health law restricts the number of prescription drugs for patients.
Consumer Advocate Cautions That State Rules Will Impact Scope of Health Law
October 31, 2012
Timothy Stoltzfus Jost discusses a report he co-authored for insurance commissioners about setting up the federal law.
States Prompt Insurers To Again Offer Child-Only Policies
October 23, 2012
Many companies stopped selling the plans that cover just children after the federal health law prohibited them from rejecting kids with preexisting medical conditions.
New Insurance Exchanges Specialize In Retirees' Needs
October 15, 2012
When employers drop coverage for former workers, they sometimes offer help in finding benefits.
Federal Retiree Weighs Whether To Keep FEHB Or Switch To Medigap 
October 8, 2012
Answers to readers' questions about federal workers' best deal on supplementing Medicare and signing up for Medicare if you're living abroad.
Insurance Dependents Can Face Special Challenges On Privacy
October 2, 2012
The health law may create challenges for dependents' medical confidentiality.
Open Season Brings Rising Premiums And More Expensive Dependent Coverage
September 25, 2012
As employees review health plan options for 2013, they can expect changes.
Nursing Homes Patients Often Sign Away Rights To Lawsuits
September 18, 2012
Among the many documents when entering is generally a mandatory arbitration agreement.
Shingles Vaccinations Not Covered For Some Medicare Beneficiaries
September 11, 2012
Answers to readers' questions about how seniors can qualify for coverage for the inoculations, whether parents are required to keep young adults on their plan and getting pregnancy care for dependents.
HHS Says Health Plans Cannot Discriminate Against Transgender People
September 4, 2012
In a letter, federal officials say employers, insurers and others cannot deny coverage or benefits based on "gender identity."
Health Law Has Gaps In Men's Care
August 27, 2012
At the urging of women lawmakers and advocacy groups, the overhaul provides coverage for some women's preventive care, but men's coverage is more limited.
New Scrutiny On Medigap Plans; Explaining Who Is A Dependent
August 21, 2012
Answers to readers' questions about changes to Medigap insurance and how plans determine who in a family is covered.
Many People Would Like To Know Their Risk of Developing Alzheimer's Disease
August 14, 2012
Current testing provides only limited information and is generally discouraged by experts. In addition, health insurance generally doesn't cover it.
Some Plans Deny Pregnancy Coverage For Dependent Children
August 7, 2012
Although group plans must cover workers and spouses who become pregnant, they don't have to extend that insurance to children.
Transportation Law Encourages Stricter Teen Driving Regs
July 31, 2012
States have cracked down on young drivers and tried to curb distractions, but safety experts say more still needs to be done.
Forget The Company Plan – Boss Wants You On Dad's Insurance
July 24, 2012
Employers can encourage young adults to forego the office's plan and instead join their parents' policy. 
Even After Changing Policies, Some Consumers May Get A Rebate
July 17, 2012
Readers ask for guidance on questions involving health insurance rebates, coverage for same-sex spouses and benefits for pregnancy.
New Obesity Guidelines Expected To Increase Coverage
July 10, 2012
U.S. Preventive Services Task Force recommends "intensive" intervention but it is not clear that employers and insurers will welcome the change.
Retail Health Clinics Expanding
June 26, 2012
President of MinuteClinic says his facilities help fill the void caused by a shortage of primary care doctors.  But they also help patients find physicians and coordinate care.
Workplace Clinics Expand Focus
June 19, 2012
Some big employers offer physical therapy, dental and vision exams, mental health counseling and even acupuncture and massage.
Mass. Biggest Insurer Tightens Rules On Painkillers
June 12, 2012
Blue Cross Blue Shield will require a review after 30 days to reduce addiction risks and keep the drugs from teenagers and others for whom they weren't prescribed.
New Screening Tool Could Increase The Use Of Virtual Colonoscopies
June 5, 2012
Medical experts seek ways to raise the number of consumers who get tested.
New Psychiatric Manual Could Impact Addiction Diagnosis
May 29, 2012
Guidelines could make it easier to address problems early.  But some experts worry about one of the new tools to evaluate addicition.
Trained Interpreters Can Help Avoid Medical Mishaps
May 22, 2012
Too often, however, hospitals and other providers can't afford to keep such services for people with limited English.
Some States Mandate Better Coverage Of Oral Cancer Drugs
May 15, 2012
The pills generally are considered a pharmacy benefit and can cost patients thousands of dollars while traditional IV chemo usually has cap on out-of-pocket costs.
Patients' Share Of Specialty Drug Costs Rising
May 8, 2012
Growth in spending on these expensive prescriptions, used for complex conditions such as MS and Crohn's disease, is far outpacing traditional drugs.
Some Insurers Deny ER Coverage To People Who Have Been Drinking
May 1, 2012
Laws in about half the states allow plans to restrict payments for medical services related to alcohol or drug use.
Travel Insurance Can Protect Your Health Or Wallet
April 24, 2012
For a few dollars you can buy travel health insurance coverage that protects you if you have to cancel or shorten a trip.
New Options Help Patients Seeking Out-Of-Network Care
April 17, 2012
Still, you can count on higher costs if you go to hospitals and doctors who haven't agreed to negotiated rates with your insurer.
Most Insurance Coverage Skimpy For Hearing Aids
April 10, 2012
These devices can easily run thousands of dollars but Medicare doesn't pay anything and other policies generally offer little.
Medicare Now Covers Annual Screening For Depression
April 3, 2012
The change in coverage comes as concern grows that mental health issues often go undiagnosed in the elderly.
Some Insurers Paying Patients Who Agree To Get Cheaper Care
March 26, 2012
In these programs, people who have been prescribed a diagnostic test or elective procedure earn a bonus when they opt to go to a less expensive facility than the one recommended by their physician.
Some States Limit How Uninsured Pay For High-Risk Insurance
March 19, 2012
They are concerned that such third-party funding may drive up the number of people seeking to join the pre-existing condition insurance plans.
Premium Rebates, Coverage Labels, Reduced Medicare Drug Costs Highlight 2012 Health Law Changes
March 13, 2012
Despite deep political division about the health overhaul, implementation marches on.
New Book Offers Checklists To Help Hospital Patients
March 5, 2012
Doctors and other care providers are increasing using checklists in their work, but one author has developed similar guides for consumers.
Insurers Open Stores For Health Plans
February 27, 2012
With more people buying insurance on their own, and more to come under the health law, insurers seek a retail strategy.
Insurance Coverage Might Steer Women To Costlier-But More Effective-Birth Control
February 21, 2012
Long-acting methods such as the IUD and the hormonal implant are nearly 100 percent effective and require no effort after insertion.  But birth control pills are about 92 percent effective.
Despite Doctors' Concerns, Deliveries At Home Increase
February 14, 2012
The numbers are still small but some women opt for home for the convenience and to save money.
Experts Divided Over Screening Children For High Cholesterol
February 7, 2012
Doctors say testing may identify some in need of treatment but could also lead to many youngsters being mistakenly labeled as at risk.
People In State High-Risk Insurance Plans Often Feel Left Behind
January 31, 2012
The federal health law set up new plans that are cheaper and more comprehensive than the older ones run by states but consumers need to go without insurance for six months to qualify.
Hospitals Seek To Attract Business With Patient Perks
January 23, 2012
The rewards range from free parking and gift-shop discounts to wellness seminars even social mixers.
Insuring Your Health: Some Doctors Allow Easy Access to Their Notes
January 17, 2012
The movement to give patients direct access to their health information has picked up steam.
The Health Law Goes Graphic
January 10, 2012
Advocate of health overhaul uses an unusual style to describe the federal law and its provisions.
Work Insurance Often Offers Coverage To Stop Smoking
January 3, 2012
Some companies are also penalizing employees who don't give up cigarettes by hitting them with higher health insurance premiums.