Nine Medicare Advantage plans scored top marks on the five-star government rating system for 2012, up from only three plans this year, according to new figures posted by Medicare Wednesday.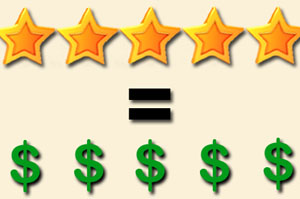 That's a small share of the 569 private Medicare plans, but it's a laurel much of the industry is now chasing. For the first time, Medicare plans will get big cash bonuses for higher scores, a new reward created by the 2010 federal health law.
The star ratings are part of a push by the Obama administration to increase the quality of care provided by private plans that contract with Medicare. The ratings are based on 36 measures, ranging from rates of hospital readmissions to the volume of consumer complaints a plan gets.
The administration has argued that Medicare Advantage plans cost more than traditional Medicare without providing better results for patients. The 2010 federal health law tried to remedy that discrepancy by cutting plan payments by $136 billion over ten years. But the star-rating bonus system restores some of those losses to high-performing plans.
Five-star plans will also have the ability to enroll members year-round, rather than only during Medicare's annual open enrollment period, which this year begins Oct. 15 and ends Dec. 7.
Gundersen Lutheran Health System's Medicare Advantage plan attained its first five-star rating this year and intends to take full advantage of that perk. Gundersen's chief financial officer, Gordon Edwards, said the Wisconsin-based plan will begin expanding into Iowa in January. The five-stars will allow Gundersen to gain members quickly—while competitors like Humana and UnitedHealth Group have to wait for next year's enrollment period.
Kaiser Permanente, the California based managed-care organization, operates four of the nine five-star plans. (Kaiser Health News is not affiliated with Kaiser Permanente.) The other five-star winners are a mix of smaller, regional plans.
"Everyone is taking this seriously," said Sarah Baker, of Health Dialog, a Boston-based insurance analytics firm that is advising plans on how to improve their ratings. Higher ratings now offer a "huge competitive advantage," she added.
United plans fell well short of five stars this time, but the company is trying to change that. United, the largest insurer by revenue, has set a goal of having all of its members – currently, 2.3 million seniors are on its rolls – in four star or better plans by 2014, said Dr. Rhonda Medows, the chief medical officer overseeing quality for the insurer.
That will be a big leap compared to current scores: In 2011, UnitedHealth Group averaged only 3.18 stars in its 68 Medicare Advantage plans, according to a Barclays Capital research note.
But, United is investing heavily in the ratings, said Medows, launching, for instance, a new Web tool that will let doctors track quality measures that can boost the scores. The results are already showing.  The portion of United members in 3.5 star-or-better plans increased by 10 percentage points this year, Medows said.
Overall, health plans boosted their ratings to 3.44 stars on average in 2012 from 3.18 stars this year, a senior Medicare official said in an interview. The official attributed the increase to the health law bonuses.
Beginning in January, plans with three stars or better, will get bonuses of 3 to 5 percent of their total Medicare payments.  In November, the Medicare agency expanded the bonus program well beyond what was required in the health overhaul law.
Today's ratings, based on 2010 data, are the first to reflect what plans have been up to since the health law passed.
The federal Medicare agency did not disclose the total value of the bonuses it will award next year, but an analysis of publicly available Medicare data suggests the 2012 bonuses will exceed $4 billion nationwide.
Given that many Medicare Advantage plans operate on a 3 percent profit margin, even the smallest available bonuses – an additional 3 percent for a three-star plan – are a huge boon, said John Gorman, of Gorman Health Group, a Medicare Advantage consulting firm. Health plans' quality improvement departments "moved from being a cost center to a potentially game changing profit center," he said.
For some plans, the bonuses are easing what would otherwise be painful cuts. Group Health Cooperative, a Seattle-based health system and insurer, achieved a five-star rating this year, up from 4.5 last year, and will get the highest possible bonus. Diana Birkett Rakow, a Group Health lobbyist, said without the bonuses, the health plan would have faced cuts of as much as 25 percent in coming years because of the health law. "I don't know what kind of choices we'd have had to make," she said.
Plans can use the bonuses to increase benefits available to their members or to reduce the premiums Medicare beneficiaries pay out of pocket, increasing their allure to prospective enrollees.
Star ratings were largely an afterthought to insurers before the health law passed. The rating system was put in place in 2007 to help consumers make more informed choices.
But the new cash incentives have commanded the attention of health plan executives.
Now "the stars equate to dollars," said Ann Marie Scimmacco, vice president of Fallon Community Health Plan in Massachusetts, and top executives are tuning into quality measures. "We have definitely heard that from the finance department, 'How can you get to five stars?'" she said.
Plans on the cusp of the top rating that didn't make the cut this year are not giving up. KelseyCare Advantage, a Houston-based plan affiliated with the Kelsey-Seybold Clinic, scored 4.5 stars in 2011 and 2012, the only plan in that market to do better than a 3.5 star rating.
Our goal next go-around is to be a five star rated plan," said KelseyCare president Marnie Matheny. "We've got initiatives built around every measure."