After three hours of difficult labor, the new mother had a vaginal injury unlike any that Dr. Michael Brown had seen before.  It wasn't life threatening, but it was uncomfortable.  The obstetrician turned to his computer and searched the medical literature.  Nothing relevant came up.
Then, he put in a request for an electronic consult with the Mayo Clinic, which has an affiliation agreement with his Grand Forks, N.D., hospital.  Within 24 hours, a Mayo obstetrician got back to him, telling him about a similar case he had consulted on in Duluth, Minn.
Brown treated the woman as recommended and three weeks later she had recovered.  "For a bread and butter obstetrician like me, it's amazing to feel that the Mayo Clinic has your back," says Brown, who's 62 years old and also the mayor of Grand Forks, a small city that hugs North Dakota's eastern border.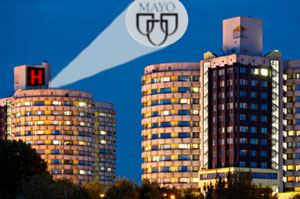 It's examples like this that the Mayo Clinic hopes to foster is as it rolls out a new strategy of affiliating with hospitals and health systems across the country, a response to a chaotic healthcare environment.
Capitalizing on its reputation for top notch medical care, Mayo previously relied primarily on patients traveling to its main campus in Rochester, Minn., as well as satellite campuses in Jacksonville, Fla., and Phoenix and Scottsdale, Ariz., and a regional health system it has built in ­­­­­­­­­­­­­­­­­Wisconsin, Iowa and Minnesota.
"Our model has been that the patients come to us," said Dr. John Noseworthy, Mayo's president and chief executive officer, at a February press conference.   "Increasingly, going forward … we also wish to extend the reach of the Mayo Clinic, taking our knowledge, taking our experience, and sharing it with others."
For new affiliates, that means getting quick access to consultations from Mayo specialists and to an electronic database in which clinic physicians share cutting-edge medical information, as well as periodic advice about how to improve operations, for an annual subscription fee.    
For May, "it's a very smart market preservation and expansion strategy in a reforming marketplace," says Daniel Zismer, director of the master of health administration program at the University of Minnesota School of Public Health.
The strategy could be risky, potentially diverting management's attention away from the clinic's core business and diluting the value of its sterling brand, says Allan Baumgarten, a Minneapolis healthcare consultant.  Yet business-as-usual is also risky in this era of health reform, notes Tom Cassels, executive director of research at the Advisory Board, a Washington, D.C., consulting company.
And Mayo isn't alone in seeing new opportunities.  Other well-known medical centers such as the Cleveland Clinic, M.D. Anderson Cancer Center in Houston and Geisinger Health System in Danville, Pa., have been pursuing a similar affiliation strategy.  "We're all striving to find the model of medical care that will be most effective for tomorrow," says Fred DeGrandis, head of the Cleveland Clinic's Community Physician Partnership and Quality Alliance.
Mayo has captured the most attention because it's been moving more aggressively than other systems in the past year, triggering speculation about the nature and extent of its ambitions.
Changes In The Marketplace
Across the country, hospitals and healthcare systems are buying up physicians' practices and merging and acquiring each other at an accelerating rate under the assumption that consolidation will help them survive and thrive. 
Some of those changes have been prompted by the federal health overhaul signed into law in March 2010.  Even if Republicans prevail in turning back that law, several health policy experts predict that this massive restructuring of the healthcare marketplace will likely continue.
That could have a negative impact on Mayo, which serves more than 1.1 million patients a year and relies on referrals from medical providers throughout the U.S.  With consolidation and a related trend — the creation of new medical networks that operate like managed care plans — providers may be less willing to continue sending patients to the clinic.   "When you look at Mayo's depth of sub-specialization, they need a vast market to draw patients from, and access to those patients is a concern right now," Zismer said.
But fear isn't driving Mayo's new strategy, executives insist.  They say the clinic wants to be a leader in the effort to get hospital and physician groups to work together more effectively to improve quality and lower costs. "It's all about how do we build a sustainable, high value health care system," Dr. Noseworthy says. 
With affiliations, which don't require significant capital investments, Mayo has plenty of money to invest in new medical services technologies, such as proton beam accelerators going up in Arizona and Minnesota, other experts note.
The vehicle for those affiliations is the year-old Mayo Clinic Care Network, which now includes seven members and is poised to expand further.  Current members are NCH Healthcare System of Naples, Fla.; Dartmouth-Hitchcock of Lebanon, N.H.; Altru Health System of Grand Forks, N.D.; Arizona State University Health Services of Tempe, Ariz.; Heartland Health of St. Joseph, Mo.; Kingman Regional Medical Center of Kingman, Ariz.; and Sparrow Health System of Lansing, Mich.
How The Network Operates
Affiliated physicians get the ability to consult electronically with Mayo specialists about patients who are difficult to diagnose or treat, usually within about 24 hours.  (Clinical information is shared electronically through a custom-designed, web-based system, and if physicians need to talk they do so.)  Essentially, these patients go to the front of the line, ahead of other people seeking Mayo Clinic consultations. Plans call for shortening the timeframe even further, and "we're working on real-time e-consults," says Mary Jo Williamson, the network's administrative director.
The relationships don't revolve around securing a steady stream of patients for Mayo from other health systems, officials say. "They haven't been aggressive about pushing referrals," says Brian Turney, chief executive of Kingman Regional, which has brought six Mayo-trained radiologists onto its staff since announcing the affiliation last October.
Altru Health System is actually sending fewer patients to Mayo's medical campus in Rochester, 400 miles away, than it had before the affiliation.  "We're bringing Mayo Clinic knowledge and expertise here instead of patients having to go there to get it," says Dennis Reisnour, chief planning executive of Altru, which owns an acute care hospital, a rehabilitation hospital and more than a dozen clinics in the Grand Forks region.
Choosing whom to affiliate with is important, and Mayo staff carefully vet candidates to determine if they're financially stable, well run, and if their values and medical culture are compatible.   While affiliates can advertise the relationship, they can't claim they're officially part of the Mayo Clinic.  (That designation is reserved for facilities Mayo owns and operates.)  Altru hopes the arrangement will allow it to remain independent and "continue to do better in a changing world without being owned by a bigger provider," Reisnour says. 
In exchange, "we would hope that they will think of us if a complex patient needs to leave the community," says Dr. David Hayes, medical director of the Mayo Clinic Care Network.
Also, affiliates get access to AskMayoExpert, an extensive Mayo-created database that includes so-called "care pathways" spelling out what should be done, when, and how for patients with various medical conditions.  And they receive consulting services from Mayo experts on matters such as improving patient satisfaction, creating better systems to monitor quality care, or building medical teams that collectively manage patients.
For example, Arizona's Kingman Regional Medical Center has started employing more physicians, and it wants them to better coordinate medical services.  Mayo pioneered integrated, team-based care, and several of its doctors are advising Kingman about strengthening physician leadership.
But collaborations work both ways, and Mayo stands to be benefit from them as well.  The clearest example of that is Mayo's recent affiliation with Dartmouth-Hitchcock, an academic medical center known for groundbreaking studies of varying medical practice patterns and their impact on the health of large populations.  Both organizations are members of the High Value Healthcare Collaborative, a group of major medical centers established last year to share data about medical practices and outcomes.
"We can help (Mayo) on the analytic side because our expertise is how you look at populations and measure outcomes, the value of care, and the cost of care. And they can help us learn about the science of execution in the delivery of healthcare," said Dr. James Weinstein, Dartmouth-Hitchcock's president and chief executive. 
Dr. Weinstein's view of the future and the potential of this collaboration is radical.  "My vision is that we're going to have 15 major (healthcare) systems in this country," he says.  "We can't support 5,000 hospitals, all of them doing their own thing."
Still unresolved is whether Mayo will join with its affiliates in accountable care organizations or other new structures being promoted under the federal health law to care for patients while assuming financial risk.   Officials say that's not the goal of the Mayo Clinic Care Network, but they don't rule out the possibility altogether.
"Let's face it: We don't know where this is going to go, but this gives us more flexibility in terms of figuring out how to work in this new environment," says Dr. Noseworthy, Mayo's chief executive. Of more immediate importance, he says, is "learning from affiliates and sharing with them our best knowledge" as new models of medical care are developed.
The point is echoed by the Cleveland Clinic as well.  With affiliations, that Ohio-based organization can expand its research efforts and clinical trials to a broader population, says DeGrandis, chair of its community partnerships.  "As you provide more and more service in a clinical area, there's more and more learning, and the opportunity to provide that care more effectively increases."