In Arizona, about 640,000 adult Medicaid recipients will lose coverage tomorrow for podiatry care, insulin pumps and most dental services. In Washington, D.C., in November, doctors who treat 250,000 Medicaid patients are scheduled to see their fees cut 20 percent.
These are some of the newest cutbacks in Medicaid as states grapple with surging enrollment — and spending — in the government health insurance program for the poor that covers nearly 49 million Americans.
Driven by the economic downturn, enrollment in the state-federal program rose by 8.5 percent in fiscal year 2010, which for most states ended in June, according to study released today by the Kaiser Family Foundation's Commission on Medicaid and the Uninsured. State spending on Medicaid jumped an average of 8.8 percent in 2010, the biggest increase in eight years and the second biggest jump in two decades, the study found. The growing costs for Medicaid come as the faltering economy has stripped state tax revenues.
Related Content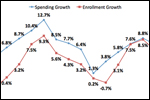 The 2009 economic stimulus, which provided an additional $87 billion in federal funding for Medicaid, prohibited states from tightening eligibility requirements. To save money, many states trimmed or eliminated so-called "optional" benefits — such as vision and dental services — and reduced reimbursements for doctors, hospitals and other medical providers.
The study, based on a survey of Medicaid officials in all 50 states, found 20 states reduced or restricted benefits in 2010. That's twice the number of states as in 2009 and the highest number since the survey started in 2001. Thirty-nine states cut or froze reimbursements for doctors and hospitals, up from 33 states in 2009. The efforts are continuing; 14 states have plans to cut benefits and 37 to restrict fees in 2011. Yet despite the fiscal concerns, this year, 41 states made it easier to enroll or stay enrolled in Medicaid and a few states, such as Colorado and Wisconsin, are expanding eligibility.
"The report shows the continued depth of the struggle to provide care during the deep recession," said Diane Rowland, executive vice president of the Kaiser Family Foundation and executive director of the Kaiser Commission on Medicaid and the Uninsured. (KHN is a program of the foundation.)
Peter Cunningham, a senior fellow at the Center for Studying Health System Change, a Washington think tank, said the cutbacks are driving down doctor participation. "There is no doubt that lowering rates to providers is going to affect the percent of doctors who accept Medicaid patients," he said. He added, however, providers' decisions about accepting Medicaid is also based on other factors, including whether they are paid in a timely manner and how much paperwork the program requires.
Rowland said that losing providers now will make it more difficult to attract doctors to care for the estimated 16 million additional beneficiaries that will be added when the program is expanded in 2014 under the health overhaul law. "Any erosion in Medicaid coverage now makes the hill steeper to climb in 2014," she said.
'Penny Wise And Pound Foolish'
Advocates for Medicaid recipients say they understand why states are cutting spending, but they argue that the moves eventually will lead to higher costs because people won't get preventive care or be able to avoid health complications.
"It's penny wise and pound foolish," Eddie Sissons, executive director of the Arizona Foundation for Behavioral Health, said of the state's plan eliminate numerous benefits for adults on Medicaid. She said Arizona's decision to stop paying for diabetics to get their feet checked by a podiatrist or be eligible for an insulin pump could cause patients to suffer needlessly from complications.
Officials in Arizona, one of the hardest hit states in the economic downturn, say they had no choice as they addressed a more than $2 billion shortfall in the state budget. "Arizona has been facing an unprecedented fiscal crisis for the past couple of years," said Jennifer Carusetta, chief legislative liaison for the Arizona Medicaid program, which cut $20 million of $9 billion budget. "This has placed the state in a position where there are only these types of difficult choices to be made."
Nationally, Medicaid pays about 25 percent less to doctors than Medicare does, according to a 2008 study in Health Affairs.
Washington, D.C., and 10 states pay Medicaid providers the same fees that they get from Medicare. But faced with a budget shortfall, the District has asked the federal government to approve its plan to lower fees. They expect to begin the new fee schedule Nov. 1.
"When we drop rates, we always worry that we lose providers," said Julie Hudman, director of the D.C. Department of Health Care Finance, which oversees the Medicaid program.
Doctors say that's just what will happen.
"I think it's a terrible idea," Dr. Peter Lavine, president of the D.C. Medical Society, said of the rate cuts. Lavine, an orthopedic surgeon, predicts the cuts could trigger many doctors to stop treating Medicaid patients and that hospitals serving large numbers of low income patients will suffer. "The premise of saving money or balancing the budget by sacrificing health care does not make much sense and is very short sighted."
The District's broad Medicaid eligibility rules — it covers anyone earning below 200 percent of the federal poverty level ($44,100 for a family of four) — is a key reason that just 6 percent of the District's residents are uninsured, the second lowest percentage in the nation.
Hudman said she resisted cutting any optional benefits because it would not have produced substantial savings.
'It's Just Mind Boggling'
In Louisiana, officials have cut hospital Medicaid fees by nearly 20 percent in the past 18 months.
"It's just mind boggling," said John Matissino, president and CEO of the Louisiana Hospital Association. He noted rates are now at 1994 levels. He said the rate cuts are causing hospitals to reduce services and staff. With predictions that 42 percent of state residents will be eligible for Medicaid after 2014, the hospital industry is worried how it will handle the influx. "It will be a horrible situation," Matissino said.
While the trims this year to Medicaid recipients and providers are not new, they become more difficult because they come on top of earlier cutbacks, said January Angeles, a policy analyst for the Center on Budget and Policy Priorities, a Washington research organization that researches policy and programs affecting low and moderate income people. She said the lower payment levels will make it harder for states to increase numbers of providers for the 2014 expansion.
To find cost savings and improve care, state Medicaid programs continue to turn to managed care companies, HMOs. In 2010, 13 states expanded managed care or mandated enrollment. In 2011, 20 states plan to take such steps.
But managed care has not been a panacea for Medicaid's financial woes. Tennessee, which was one of the first states to move to Medicaid managed care in the 1990s, was only able to avert major cuts by passing a hospital provider tax this year.
Unless the economy drastically improves, state Medicaid officials see more tough times ahead. "Unfortunately, these tough choices are not over," said Carusetta of Arizona. The state will need to identify an additional $1 billion in funding for the 2012 fiscal year in order to replace the loss of enhanced federal matching funds that are set to expire next June.