As the health law turned six Wednesday, federal officials proposed the expansion of a Medicare diabetes prevention program funded by the landmark measure.
The pilot program, developed and administered by the YMCA, helped Medicare enrollees at high risk of developing the disease improve their diets, increase their exercise and lose about 5 percent of their body weight.
Beneficiaries in the program, funded by an $11.8 million grant provided by the health law, attended weekly meetings with a lifestyle coach to develop long-term changes to their diet, discussed ways to get more physical activity and made behavior changes that would help control their weight and decrease their risk of Type 2 diabetes. Participants could also attend monthly follow-up meetings to help keep their new habits in place.
Compared to other beneficiaries also at risk of developing diabetes, Medicare estimated savings of $2,650 for each program enrollee over a 15-month period, more than enough to cover the cost of the program, according to the Department of Health and Human Services.
"Treating this disease isn't just a burden on families, it costs our nation $176 billion in direct medical costs every year," Department of Health and Human Services Secretary Sylvia Burwell said Wednesday.
Burwell said the intervention program could also save lives for people who aren't covered by Medicare. Some insurers and employers already offer similar programs to their employees and customers, and others could do so to help the 86 million Americans who have a high risk of developing diabetes, Burwell said.
This is the first preventive service program from the Center for Medicare & Medicaid Innovation that has become eligible for expansion within Medicare. The health law created the center to launch experiments that would change the way doctors and hospitals are paid, building networks between caregivers and training them to intervene before chronic illness gets worse.
According to the Centers for Disease Control and Prevention, one in three adults has prediabetes, a condition determined by blood glucose levels that are higher than normal but not high enough for a diabetes diagnosis. A recent study by researchers at the University of California, Los Angeles, found that nearly half of adults in California have either undiagnosed diabetes or elevated blood sugar levels that can lead to diabetes.
Individuals with prediabetes are at increased risk for developing Type 2 diabetes, a disease that develops in adults in which the body cannot effectively use the hormone insulin to regulate sugar. They are also at higher risk for heart disease and stroke. Many people with prediabetes develop Type 2 diabetes within a decade.
Diabetes is an expensive chronic disease that can be life-threatening. Nonetheless, the concept of prediabetes has been criticized by some medical experts, who dispute how often it advances to diabetes and argue that it is "medicalizing" large populations who may not move on to have those health problems.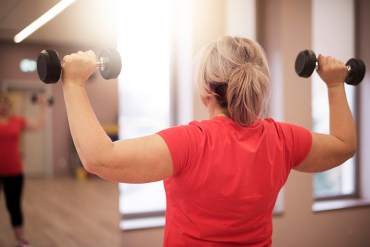 Burwell made her announcement Wednesday at the Anthony Bowen YMCA in Washington, D.C., which features rows of treadmills, exercise bikes and weights and a pool. The setting, Burwell said, is a reminder of the lifestyle changes needed to control Type 2 diabetes, which affects about 30 million Americans and causes two deaths every five minutes in America.
Edna Waller, 69, of New Castle, Delaware, said the program helped her lower her glucose levels and cholesterol and drop three dress sizes. What she's learned about diet and exercise has also helped her husband, who is a diabetic, improve his health, Waller said.
An analysis from the Center for Medicare & Medicaid Services' independent Office of the Actuary found that expanding the program would improve the quality of care without limiting Medicare coverage or benefits.
As of March 2015, 6,874 beneficiaries have been recruited to participate in the program and attended at least one session. And of those beneficiaries, 5,696 have attended at least four sessions, according to the CMS actuaries report. Enrollment for the pilot, which began in February 2013, included beneficiaries in Arizona, Delaware, Florida, Indiana, Minnesota, New York, Ohio and Texas.
While the program results "look promising" so far, "the results are very preliminary, and additional results would greatly reduce their uncertainty," the actuaries wrote.
CMS is now evaluating how best to expand the diabetes prevention program in Medicare and may do so through the federal rule-making process, Burwell said. Under the health law HHS can broaden innovations to government programs without seeking permission from Congress.