Margaret Fisher is among the millions of seniors with private, supplemental health insurance that takes care of most of the medical bills Medicare doesn't cover. If she has a health crisis, she reasons, it won't become a financial crisis, too.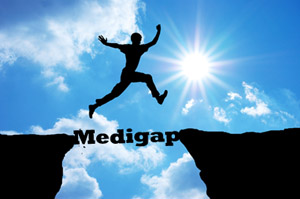 But officials looking for ways to cut the federal deficit are suggesting that these Medigap policies help explain why the government's Medicare bill is rising so fast. If these private policies were less generous, they figure, seniors might reduce their trips to the doctor or find cheaper care, which in turn would save the government money.
Fisher, 86, a cancer survivor from Gaithersburg, Md. who has had two hip replacements, says that strategy could backfire.
"Some people might really need to go to the doctor and they couldn't afford it," she said. "That would be the kicker."
Medigap insurance is popular because it protects beneficiaries from Medicare's out-of-pocket expenses that have no cap. During an extended or serious illness, they can run into thousands of dollars. These expenses could include a $1,156 deductible for each hospital stay in 2012 and 20 percent co-payments for outpatient services such as doctor visits.
But some budget experts say "first-dollar" Medigap plans like the one Fisher has, which cover nearly all such deductibles and co-payments, may make it too easy for seniors to decide to seek medical care they may not need. The thinking goes that, for example, instead of waiting to see if their condition gets better or if a nonprescription medicine might help, seniors with these Medigap policies seek more care than those without the coverage. Getting seniors to delay or forgo some care or find cheaper alternatives could save the government billions of dollars — as much as $53 billion over 10 years, according to the Congressional Budget Office.
For that reason, Medigap has been, and will continue to be, a focus of attention for those seeking to cut the federal deficit.
Here's a look at some of the issues involved:
What is Medigap?
More than 8 million people rely on Medigap policies. The plans are sold by companies that can offer up to 10 standard benefit packages set by the federal government and identified by letters (Plans A, B, C etc.). This means that benefits for, say, a Medigap Plan F policy will be the same no matter which company sells the plan, although the costs can vary depending on location and insurers.
More than half of the people who buy Medigap coverage choose one of the two most generous plans. Called C and F policies, they have much higher premiums than the others but pay nearly all of the beneficiaries' costs. For example, an F plan in Maryland can cost $2,400 in 2011 for a non-smoking 65-year-old, while skimpier plans would be half that.
Who buys Medigap coverage?
About 20 percent of Medicare beneficiaries purchase Medigap policies. Another 70 percent also get protection through Medicare Advantage managed care plans, retiree health benefits or Medicaid, which picks up most out-of-pocket costs for the poorest Medicare beneficiaries.  Another 10 percent have no protection against costs Medicare won't pay.
Many people purchasing Medigap coverage are not wealthy; two-thirds have incomes of $40,000 or below, and 31 percent have incomes of $20,000 per year or less, according to a September analysis by the Kaiser Family Foundation. (KHN is an editorially-independent program of the foundation.)
The number of Medigap policyholders varies sharply from state to state, depending largely on the availability of alternative coverage to state residents.  At one extreme, only 2 percent of Hawaiian beneficiaries purchase any type of Medigap plan. At the other end, 50 percent of all North Dakota seniors do so.  "First-dollar" plans also are more common in some states than others; such plans are most prevalent in Iowa, Kansas, Nebraska, North Dakota and South Dakota and least common in Hawaii, Massachusetts, Minnesota and Wisconsin.
Why go after Medigap plans?
Medigap was targeted because studies have shown that Medicare spends 25 percent more for beneficiaries who have these policies.
Advocates of shifting more costs to seniors suggest that Medicare beneficiaries who are responsible for picking up a portion of the costs will choose the most economical option. For example, a 70-year-old woman with a Medigap plan that doesn't cover all her costs might take some over-the-counter heartburn medication for stomach pain before seeing a doctor. If that works, she would have saved the federal government money because it would not have paid Medicare's share of the doctor visit. But if her condition gets worse, Medicare may spend more for her treatment.
What changes have been proposed?
Congress began looking for Medicare savings through Medigap in last year's health law. One provision of the law directs federal officials to ask the nation's insurance commissioners to come up with basic cost-sharing changes to C and F plans purchased after 2014 that will encourage the use of "appropriate" doctor services.
In addition, as pressure increases to reduce overall federal spending, President Barack Obama and Congress are trying to wring more savings from Medicare.
Obama's proposal would have seniors who join Medicare starting in 2017 and buy C or F plans pay a surcharge. It would be added to their Medicare monthly premium and equal to 30 percent of that premium, administration officials said. Premiums currently run from $96.40 to $369.10.
A more far-reaching option was suggested last December by the president's deficit reduction panel: It would prohibit Medigap policies from covering the first $500 of a beneficiary's share of Medicare medical bills and require them to pay half of the next $5,000 in costs. That means seniors would have to spend up to $3,000 in addition to their Medigap monthly premiums before the policy pays.
What is the argument for change?
It's simple: Money.
The deficit reduction commission's proposal was estimated to save the federal government $38 billion through 2020. The Congressional Budget Office looked at three similar scenarios in a report last summer and found that one would generate more than $53 billion over a decade.
The White House says the president's surcharge plan would generate $2.5 billion in savings over a decade. Administration officials stressed that the president's proposal would apply to a relatively small portion of new Medicare beneficiaries and not affect the program's current 47 million members.
"This is about trying to make some modest changes that will help ensure we bring costs more in line and strengthen the Medicare program," an administration source said.
What do opponents say?
Many are concerned that seniors faced with medical expenses would put off getting necessary treatment.
Bonnie Burns, a policy specialist at California Health Advocates, a nonprofit advocacy group, and a member since 1990 of a Medigap task force created by the association of state insurance commissioners, says Medigap attracts seniors with modest incomes who may be sicker than the average beneficiary and less likely to be able to afford more out-of-pocket costs. And it's unreasonable to ask them to shop for cheaper providers, she said, when doctors don't know the cost of treatment before they examine patients.
Some also point out that seniors with Medigap have already assumed extra expenses by buying their plans.
The nation's state insurance commissioners have also raised concerns.  In a recent letter to congressional leaders, they said applying cost-sharing to existing Medigap policies would violate state and federal laws guaranteeing renewable benefits. It could also disrupt seniors in the middle of medical treatment who could not afford the new costs and discourage others from seeking care.
Increasing cost-sharing for Medigap policies would raise out-of-pocket spending for about 20 percent of beneficiaries, primarily those with health problems and low incomes, according to the Kaiser Family Foundation study.
In Maryland, Annette Thompson, 71, a retired Gaithersburg psychologist who also attended the Medicare meeting, thinks budget cutters are missing an important point. Thompson has osteoarthritis, a chronic joint disease that can make walking painful. Because her Medigap plan covers physical therapy and other treatment, she has been able to postpone costly knee replacement surgery.
"I'm not going to the doctor more often because I have a Medigap policy," she said. "I have it because I knew I would be going to the doctor."
KHN staff writer Julie Appleby contributed to this article.