This week, we address readers' questions about health insurance coverage and costs.
My son was denied coverage on the basis that he had been drinking before going to the ER with a broken shoulder. Is drinking a legitimate reason for denial of coverage? John Johnson, Tucson, Ariz.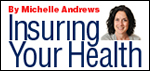 As of 2008, 36 states allowed insurers to exclude coverage for injuries related to alcohol and/or drug consumption, according to research from George Washington University's Department of Health Policy at the School of Public Health and Health Services.
The practice dates to 1947 when, as a way to discourage drinking, the National Association of Insurance Commissioners adopted a model statute that excluded coverage of alcohol-related health claims. More than 40 states and the District subsequently passed such laws.
But as the benefits of drug and alcohol treatment programs became apparent, these laws were recognized as counterproductive, since they discouraged emergency department and other medical personnel from screening people for and counseling them about drug and alcohol abuse. In 2001, the NAIC reversed course and recommended that such laws be scrapped.
My husband had a stroke in December, and the insurance reps refused to discuss his account with me because they didn't have his signature on a form, and he couldn't tell them over the phone it was okay to talk to me. And it is MY insurance! They said they had to follow HIPAA [the Health Insurance Portability and Accountability Act, which protects patients' medical privacy]. Is this true? Name withheld, Lawrenceville, Ga.
It's a common misperception by health-care providers and insurers that HIPAA prohibits them from discussing patients' medical information with family members, says Deven McGraw, director of the health privacy project at the Center for Democracy and Technology, a civil liberties group that promotes health privacy. "It's not true; it has never been true," she says. Unless the patient objects, such information can be shared with family members.
Advance planning documents can help avoid confusion and heartache, say experts. A living will spells out what if any measures you wish to have taken to prolong your life — being put on a breathing machine or on dialysis, for example. A health care proxy names the person you choose to make medical decisions for you in the event that you can't do so yourself.
In addition, most states have surrogacy laws that assign decision-making responsibility to family members based on their relationship to the patient. Typically, if someone is incapacitated, state law would assign decision-making to the patient's spouse, says Jay Horton, clinical program manager at the Lilian and Benjamin Hertzberg Palliative Care Institute at Mount Sinai School of Medicine in New York. If there is no spouse, the laws spell out who would be assigned to make decisions instead, based on their relationship to the patient.
Our doctor recommended that my husband get a preventive colonoscopy since it had been five years since his last one. The doctor found two benign polyps and removed them. Our [health] plan was to cover 100 percent for a preventive colonoscopy. Because the doctor removed the polyps during the procedure, it is now not covered. We have to pay the deductible, and the balance owed. I can assure you that many, many people will not have this procedure done (as I will not) when they are made aware of the additional costs involved. Pam Nevin, Rutherfordton, N.C.
Under the new federal health law, Medicare beneficiaries and members of new private health plans starting this year can generally receive free colonoscopies to screen for colon cancer if they meet age and other criteria.
Unfortunately, like you, others have been hit with sometimes substantial charges if a growth or mass called a polyp is discovered during a routine screening colonoscopy they thought would be free. Once a preventive procedure turns into a diagnostic procedure or other type of treatment, providers can charge you for it under the new law. According to the interim final rules: "A plan or issuer may impose cost-sharing requirements for a treatment that is not a recommended preventive service, even if the treatment
results from a recommended preventive service."
Some experts have expressed concern that colonoscopy charges raise questions about what other newly free preventive services might incur similar hidden costs. Fortunately, it doesn't appear that it will be a widespread problem, says Stephen Finan, senior director of policy for the American Cancer Society's Cancer Action Network. The reason: Colonoscopies appear to be the only procedure covered under the new guidelines for free preventive care where both prevention and diagnosis happen during
the same procedure. Usually they're separate, as when something suspicious turns up on a woman's mammogram. In that case, a separate procedure such as a biopsy would be scheduled to diagnose the problem, says Finan. "Colonoscopy is a very unique scenario," he says.
Got a question for Michelle Andrews to answer in a future column? khnquestions@kff.org