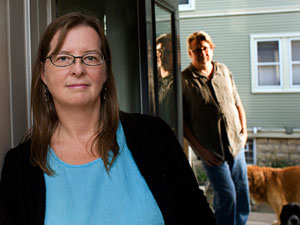 Like many teenage boys, Evan Fisher, 15, does some things that make his mom more than a little anxious. One of them is participating in a sport called "aggressive skating," which means he races down a sidewalk, street or driveway on in-line skates, and then jumps up onto a railing or other obstacle to perform tricks. Evan explains that it is similar to skate-boarding, and he admits it can be dangerous.
Evan wears pads when at the skate park in his home town of Oak Park, Ill., just west of Chicago, but not very often when skating other places, and says he probably should wear pads more often.
"I'm proud of what he does and he works really, really hard at it," says Evans mother, Cindy Richards. "But I wish he would wear pads; I wish he wore a helmet. I wish he had a safer sport," she adds with a nervous laugh.
Cindy's worries are well founded. Last summer, while skating near his high school a few blocks away. Evan tried a trick on a railing on some stairs and fell hard. Even though he was wearing a wrist pads, he broke his arm badly, above where the pad ended.
Related Content
"Are You Covered?"
"I got to the emergency room and they took the air cast off of it and I looked at it and I burst into tears and he said, 'Why are you crying, Mom? It's my arm.' And I said, 'Because it's your arm.'"
Though broken in two places, Evan's arm did heal. But then came something else that almost made this mom cry again: the bills. Evan's trip to the ER and subsequent doctors' bills added up to around $4,000, and Richards had to pay it all out of pocket.
'Adrift In The Sea' Searching For Health Coverage
Richards is a free-lance writer and editor. Her husband, Scott Fisher, is a self-employed carpenter. Since they are both self-employed they must buy their own health insurance. They currently have one policy for Cindy and the kids, which has a high deductible of $5,200 each year. Because Scott takes anti-depressants, that preexisting condition forced them to find and purchase a separate policy for him. It, too, has a $5,200 annual deductible, and, combined, the premiums for these policies cost this suburban family more $500 a month.
"We are not big users of health care because fortunately, we are pretty healthy people," says Richards. "Having said that, the way that we pay for our health insurance means that we do ration our own care. I certainly ration my own care. I don't ration the kids' care, because as any mom would, if there's really something wrong with the kids, they're going to the doctor."
For example, Richards says after Evan broke his arm, she realized the family was close to hitting that high $5,200 deductible and that health care expenses above that amount would be covered. So she rushed to schedule a bunch of examinations she had been putting off.
"I got a mammogram, I got a colonoscopy, I got a physical," Richards said. "I took the kids in for annual physicals early and it got paid for. And that was a really good feeling to get a letter from your insurance company that says, 'We paid your claim'."
Though this policy is far from ideal, Richards says she is relieved and grateful to have any coverage at all. She had worked at two Chicago newspapers in the 1980s and '90s and always had decent employer-paid coverage. When she decided to strike out on her own as a free-lancer, she was shocked to discover just how difficult it is for the self-employed to find any health insurance, let alone affordable coverage.
"I covered health insurance for years," says Richards, who reported on the health care industry and health care policy for the Chicago Sun-Times and the Chicago Tribune. "I understood how health insurance worked, or at least I thought I did. So, leaving the Tribune and finding myself sort of cast adrift in the sea to get my own health insurance."
"It was a real eye opener for me about how difficult it is to figure out," Richards added. "I thought I understood the language, (but) I would read these policies and not understand. It really made my heart go out to people who have no health insurance who get stuck trying to find this on their own."
Desperate For Health Insurance
Richards says she first went on COBRA – a law which requires most employers with group health plans to allow employees to temporarily keep the same coverage by paying the premiums themselves – for 18 months. When that expired, she looked around and could find no policies to cover her family, so she joined a writer's union for its health care coverage. She paid $1,200 a month, but after 3 years, Richards found out the union plan went bankrupt without paying any of the bills. Even though she lost tens of thousands of dollars, she ended up paying her doctors herself.
Still unable to find any coverage, out of desperation, Cindy says she bought a temporary plan, "because we really needed emergency care. My husband's a carpenter and if he cuts off a finger at work, you'd be talking thousands and thousands in health care costs," Richards said.
That temporary plan was much less expensive, about $600 a month, "But it covered nothing. It was a huge deductible and literally, the first time you filed a claim you would be dropped."
After doing that for a year, Richards took a part time job as a magazine editor, mostly because it offered health insurance. But the job was much closer to full time hours, so after a couple of years, Richard struck out on her own again. And the task of finding health insurance became almost a full time job itself.
"When I was looking for this insurance, there were many days when I got no work done. And if don't work, I don't get paid. Being on the phone with insurance companies, being on the computer trying to research things, it was all encompassing and the fear of having no insurance can be quite paralyzing."
Still Worried
Through a friend, Cindy Richards finally found a broker who was able to get her the health insurance policies she and her family have today. But with their income varying year to year from about $50,000 to $120,000 a year (and this is turning out to bit of a little slower year for them both) their health care costs could eat up 10 to 20 percent of their income.
Even though she is covered now, Richards says, she is not without nagging questions about her health care future.
"What if I lose the policy is a big one," Richards said. "Finding this policy was a huge deal for me. Being able to have my entire family covered was a huge weight on my mind. The idea that we might get sick and they might cancel us, just like if you have a bad car accident and the auto insurance company will cancel you, the idea that that could happen with our health insurance is really terrifying, because what are you supposed to do then?"