When he was 44, Ben Achord recently recalled, he was "the picture of success."  Married with three kids, he was a manager at a Charlotte, N.C., manufacturing company and owned a handsome four-bedroom house.
What he didn't know was he was suffering from schizoaffective disorder, a serious mental illness that can cause severe depression, delusions and hallucinations. Unaware of his condition, he self-medicated with alcohol, and before his 45th birthday he had lost everything—his family, his job and his house. He lived on the streets, twice attempted suicide and spent several months in a mental hospital in Georgia.
Twenty-five years later, Achord is helping others with mental illness as a "certified peer specialist" licensed by the state of Georgia. Armed with non-clinical training from the state, Achord helps people with mental illness stay on their medications, find jobs and housing and build social support networks.
Peer programs such as Georgia's could become especially important once the Affordable Care Act takes effect early next year.
The federal health law will require Medicaid and all other health plans to cover mental health services on par with insurance coverage of physical illnesses. It also will add an estimated 8 million people to the Medicaid rolls in the first year, many of whom will have untreated mental illnesses. Another 7 million people are expected to get federal tax subsidies to purchase health insurance, many for the first time.
That surge in demand, combined with an already severe shortage of mental health workers, has many worried there won't be enough providers to serve everyone in need. States have deployed a variety of strategies to alleviate the longstanding shortage of mental health professionals. But experts agree peer specialists are the most successful.
Research shows that by using peer specialists, states can save mental health money by reducing hospitalizations and other emergency interventions. And people with mental illness who are helped by peers tend to experience more thorough and longer-lasting recoveries.
"They are a terribly important new addition to the workforce," says Bob Glover, director of the National Association of State Mental Health Program Directors. "When peers are involved, outcomes are dramatically better across the board," he says.
Achord believes that if it weren't for his 23-year-old daughter, who retrieved him from Georgia's Central State Hospital and took custody of him, he would still be hospitalized — or dead. "It only takes one person," Achord says, "to make a difference in someone's life."
Made in Georgia
For hundreds of years, peer support has been a recovery strategy for people wrestling with alcoholism or post-traumatic stress — Native Americans were utilizing it as far back as the 18th century. But the U.S. health system didn't fully embrace peer support for people suffering from mental illness until less than a decade ago, when multiple state-run Medicaid programs began to pay for it (see map, below).
In 1999, Georgia became the first state to get federal approval to pay for peer services through Medicaid. The program was such a success that by 2007, the federal Centers for Medicare and Medicaid Services (CMS) urged other states to follow Georgia's lead. Since then, at least 30 states and the District of Columbia have launched peer programs. Several others are seeking federal approval.
Beyond Medicaid, at least as many states are spending scarce mental health dollars to train and certify peer specialists to work in a variety of public and private settings. One such program, called peer mentoring, assigns a peer specialist to an individual who is discharged after a long-term stay in a state mental hospital. By helping discharged patients find housing, employment and social support, peer specialists have succeeded in lowering readmissions. 
Private insurers and other public programs such as the Veterans Administration are also ramping up their use of peers, in part to fill a widening gap in the number of clinically trained mental health workers.
"Peer support is absolutely part of a national strategy to get more boots on the ground quickly," says Sita Diehl, who heads state policy for the National Alliance on Mental Illness. "Because of their life experience and their relatively low cost, they can provide more face time for people with serious mental illness."
Diehl cautions that peers should not be placed into volatile situations without being backed up by medical professionals. But she says the concern is only theoretical so far: CMS rules require peers to work under the supervision of mental health professionals.
In Georgia, a 2003 study compared patients diagnosed with schizophrenia, bipolar disorder and major depression whose treatment had included peer support, with patients who received traditional day treatment services without peers.  The patients who had peer support had better health outcomes—and at a lower cost. The average annual cost of day treatment services is $6,400 per person, while support services cost about $1,000.
Whole Health
The next step is to train peer specialists to help people in recovery improve and maintain their physical health. On average, people with serious mental illness die 25 years earlier than the general population, largely due to preventable conditions such as diabetes and cardiovascular disease, according to a 2006 study by medical directors in state Medicaid programs.
"I've never seen anything like it," says consultant Larry Fricks, who is credited with starting the peer program in Georgia.  The peer program caught on pretty quickly, he says, "but this is where the workforce is really going to take off."
Last June, Georgia got federal approval to bill Medicaid for peer support specialists who provide health coaching. Since then, Fricks and his colleagues have been travelling across the country training peers on what is known as Whole Health Action Management or WHAM.
Achord and most of the peers he works with at Benchmark Human Services in Georgia have completed the WHAM training. "We work with nurses in clinics to do preliminary checks," he says. "If their blood pressure is real high, we make sure they see a physician."  He said all of his clients have a physical exam once a year and receive advice about weight gain, smoking cessation, exercise, stress reduction and healthy diets.
In working with medical professionals, Achord says he's found that most are receptive to the peer program. A few, he says, aren't so sure they want to work on a team with "crazy" people. "But once they see the doors we can open, they're amazed."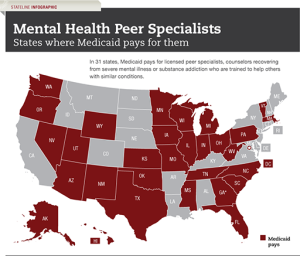 Source: OptumHealth and Appalachian Consulting Group
NOTE: In Georgia, Medicaid pays peer specialists to provide "whole health" counseling.
Stateline infographic by Adam Rotmil and Christine Vestal