A 30-second television ad shows off Poplar Bluff's sparkling new medical center as a narrator says, "Welcome … to the future of health care."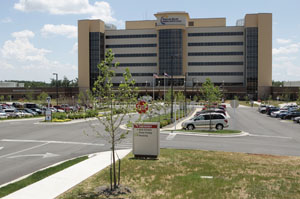 Robotic surgery systems. High-tech diagnostic equipment. State-of-the-art birthing suites. Poplar Bluff Regional Medical Center, which opened earlier this year, was built at a cost of $173 million by its parent, for-profit Health Management Associates Inc. of Naples, Fla.
But this jewel of a hospital on the edge of a faded factory town of 17,023 residents is only one link in the health care chain's efforts to serve the region's rural population. The hospital also operates seven family clinics in four counties of southeast Missouri.
The Affordable Care Act's success or failure will depend in large part on the efforts of rural hospitals such as Poplar Bluff to treat the poor. It may be in a shiny new building, but it has a long way to go to provide efficient, low-cost medical care in its market. And like other rural hospitals, Poplar Bluff has special challenges.
According to state and regional studies, residents of southeast Missouri face huge obstacles, including some of the state's highest rates of obesity, diabetes, heart failure and smoking. Many residents have multiple chronic conditions.
Health officials categorize the city of Poplar Bluff and its environs as a medically underserved and high-poverty area with a high proportion of unemployed and uninsured patients. The hospital is considered the remote region's "sole provider" for certain medical services.
But treating this population isn't getting any easier. About 70 percent of Poplar Bluff's patients are Medicare or Medicaid patients, and the number of uninsured and underinsured patients is growing.
The health reform law promised hospitals a windfall of expanded Medicaid coverage, but that has proven to be illusive. Missouri and half the other states have so far balked at broadening their Medicaid programs, resulting in more sick people in hospital emergency rooms without the means to pay.
Story Components
Hospital In Rural Missouri Faces Tough Challenges
Poplar Bluff Regional Medical Center has annual revenue exceeding $720 million and a net income of about $24 million, according to the American Hospital Directory. But the hospital's charity care and bad debt also have climbed significantly in recent years.
"We're not your typical rural hospital, because of the breadth of our services, from oncology to cardiac surgery and the 1,300 babies we deliver each year," said Charles Stewart, the hospital's chief executive. "Our goal is to offer as wide a range of services that it makes sense for the size population that we have here."
Poplar Bluff's new acute care hospital has 250 licensed beds, but its top floor is not yet occupied. The hospital delivers more babies than its two nonprofit rivals in Cape Girardeau: Southeast Hospital and St. Francis Medical Center.
Poplar Bluff has three interventional cardiologists and between 35 and 40 additional specialists. It recently began a bariatric surgery program. And hospital executives hope to hire a neurologist and open a neonatal intensive care unit.
"It's a good hospital," Ronald Bilbrey, of Poplar Bluff, said recently. "I was out there last night at the emergency department and I got in and out in 20 minutes. At the old hospital, sometimes you'd have to wait four or five hours."
But some residents still need to be won over by the new facility, which was built to replace Health Management Associates' dilapidated, crowded hospital across town.
According to the "Hospital Compare" website sponsored by the federal Centers for Medicare & Medicaid Services, only 38 percent of Poplar Bluff's patients said they would "definitely recommend" the predecessor hospital — even though the Joint Commission rated the hospital in 2010 and 2011 as among the "top performers on key quality measures." That survey was taken before the new hospital opened in late January.
Similarly, the Joint Commission — which inspects and accredits hospitals — published the results of a 2011-2012 patient survey for the Poplar Bluff hospital which indicated problems in communication, cleanliness and pain management. Only 37 percent of its patients said they would "definitely recommend" the hospital — compared to a state average of 69 percent and a national average of 70 percent.
Some local residents, when they or their loved ones need surgery, have grown into the habit of making the hourlong drive to Cape Girardeau.
"A pig's a pig, no matter what kind of face you put on it," said Debbie Sliger, a co-owner of Myrtle's Place, a busy diner in downtown Poplar Bluff. "We used to have two good hospitals here — with competition."
AMENITIES, HIGH COSTS
Poplar Bluff's new seven-story hospital is a refuge of sorts in a town that has been pummeled repeatedly by factory closings and layoffs. It has all private rooms with views of nearby tree lines and plenty of elbow room at nurses' stations. What's more, the hospital's front lobby boasts the town's only Starbucks coffee shop.
"The views are soothing. It's very therapeutic, and it's unique. … It's very calming," said Melissa Samuelson, the hospital's chief nursing executive. The hospital is close to Mark Twain National Forest and not far from the Ozarks' lakes and rivers.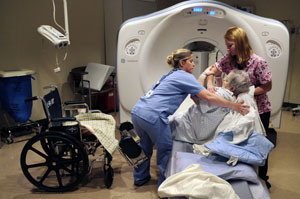 The hospital is accredited to deal with chest pain cases, and working toward certification as a stroke center and, eventually, as a certified trauma center. A helicopter pad can be used to transport severely injured patients to other hospitals.
A hybrid operating room can morph from cardiac catheterization to open-heart surgery, depending on a patient's needs. The hospital's top-shelf technology includes two da Vinci robotic surgery systems and one of the state's few MAKOplasty systems for partial knee replacement and full hip replacements. Robotic devices make smaller incisions, usually resulting in less healing time.
But such amenities aren't cheap. Similar to other rural hospitals, Poplar Bluff has some of the highest medical charges in Missouri for various common procedures.
Poplar Bluff's average charges for cardiovascular surgery are $159,957, compared to $94,118 at Mercy Hospital St. Louis, according to the American Hospital Directory. Poplar Bluff's average charges for orthopedic surgery are $70,495, compared to $46,900 at Mercy St. Louis; its average charges for vascular surgery are $96,912, compared to $55,671 at Mercy; and its average charges for surgery are $130,404, compared to $106,506 at Mercy.
And according to newly released CMS Medicare data, the Poplar Bluff hospital's charges for heart attack care, pacemaker implants and fractures of the hip and pelvis are among the highest in Missouri.
When asked about the hospital's pricing, Stewart said that its rates are discounted heavily for those who cannot afford to pay. He also said that a major factor in the hospital's pricing is high labor costs, especially the difficulty of recruiting high-end specialists as well as primary care physicians.
"We still have to pay salaries that are competitive with urban centers," he said, noting that some physicians feel they are making sacrifices by living and working far from a city.
"Sometimes we have to offer quite an extensive package to get a physician to consider coming to Poplar Bluff, Missouri," Stewart said. "It takes a special physician who wants to come to a rural area and make a difference. We have one of the sickest populations in the state when it comes to obesity, diabetes and heart conditions. … It takes someone who wants to make things better."
THE IMPACT OF HEALTH REFORM
The Affordable Care Act is pressing rural hospitals to focus on efficiency, convert to electronic health records, and collaborate with more specialized institutions to increase quality of care.
Quality of Care
The Joint Commission, which inspects and accredits hospitals, lists Poplar Bluff Regional Medical Center as "above the target range value" — statewide and nationally — for treatment of key conditions, including heart attack, heart failure and pneumonia; infection prevention; and four specific procedures, namely blood vessel surgery, coronary artery bypass, hysterectomy, and knee replacement. The hospital is rated as "similar to the target range value" for hip joint replacement and colon/large intestine surgery.
The Hospital Compare website, sponsored by the federal Centers for Medicare & Medicaid Services, gives the hospital generally positive marks but lists its death rate for heart failure and pneumonia patients as "worse than U.S. national rate." Hospital Compare also indicates that Poplar Bluff relies more than leading hospitals on medical imaging, including CT scans and follow-up mammograms, which can increase patients' exposure to radiation.
Poplar Bluff has received positive reviews from the Joint Commission for its quality of services, including its heart attack and pneumonia care. But the federal Hospital Compare website points out areas for improvement, including that its death rate for heart failure and pneumonia patients is worse than the national benchmark.
To improve its care, the hospital is using "telemedicine" to hook up with neurologists at Barnes-Jewish Hospital in St. Louis to diagnose and treat high-risk pregnancies. Poplar Bluff will soon finish converting its old medical file system to electronic health records that can be easily accessed by doctors and nurses. Federal regulators also will have access to such data and make comparisons between health providers to further assess efficiency and quality of care — and penalize hospitals that fail to meet industry norms.
Still, the Poplar Bluff hospital is being squeezed by the private market. Insurers have pressed it and other hospitals to cap or lower their charges. Employer health plans are increasingly requiring that employees pay high deductibles, which results in people putting off elective procedures and diagnostic tests due to the high cost of care.
"Our whole model in health care is changing — going from volume-based to quality-based," Stewart said. "We're moving into uncharted territory, and it's becoming tougher for independent hospitals to survive."
Poplar Bluff's parent, Health Management Associates, operates 70 hospitals nationwide — and presumably has the chops to decipher a changing regulatory scheme and the muscle to exploit economies of scale and negotiate lower rates in buying hospital equipment, medical supplies and pharmaceuticals.
But the Affordable Care Act, with its goal of better medicine for less money, is also nudging hospitals to take greater responsibility and economic accountability for the health of populations they serve. For a rural hospital, that can be doubly difficult.
Stewart said that a first step is education: People need to understand how lifestyle choices and preventive care can affect long-term health. But reaching a rural population is not easy. Poplar Bluff does not have a local TV station nor a single cable network that serves nearby communities. Many residents don't read a daily newspaper.
There's also force of habit for a region known for its independent-mindedness.
"We're talking about a huge cultural change," Stewart said. "It's not as simple as telling someone you shouldn't smoke. It's going to take incentives by the payers like Medicare and the Medicaid and the insurers to stimulate change. … It's going to take getting out and trying to make the human connections. It may not be as flashy (as TV, radio, billboards, direct mail and newspapers), but it has a longer-lasting impact."
If the Legislature expands Medicaid, federal health officials will send billions of dollars to Missouri to help cover medical costs of the poor. But that could simply mean shifting some Medicare dollars to the Medicaid program.
If Medicaid is not expanded, charity care and bad debt will continue to proliferate. Poplar Bluff and other hospitals will need to find new ways to triage their services for the poor and uninsured. To bridge that gap, hospital charges would surely increase for self-pay patients, and individuals covered by an employer's health plan would need to chip in higher insurance premiums.
"We're going to be taking care of more people with fewer resources," Stewart said.