Requiring patients to get blood work and other tests before undergoing cataract surgery hasn't been recommended for more than a dozen years. There's good reason for that: The eye surgery generally takes less time than watching a rerun of "Marcus Welby, MD" — just 18 minutes, on average. It's also incredibly safe, with a less than 1 percent risk of major cardiac problems or death.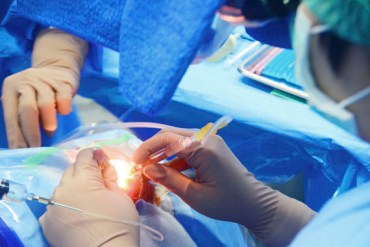 Yet more than half of Medicare patients received at least one pre-operative test in the month before undergoing surgery to remove cataracts in 2011, a recent study found.
Some doctors were much more likely than others to order a complete blood count, urinalysis, cardiac stress test and the like. Thirty-six percent of ophthalmologists ordered pre-operative tests for more than 75 percent of their patients, according to the study, which was published last month in the New England Journal of Medicine.
"Their patients were no sicker or older," says Catherine Chen, an anesthesiologist at the University of California, San Francisco, and the lead author of the study. "It suggests that it's habit or practice patterns."
The study compared the prevalence and cost of pre-operative testing in the month before 440,857 Medicare beneficiaries had cataract surgery. Testing expenditures for Medicare patients during the 30 days prior to cataract surgery were 42 percent higher than the average monthly Medicare spending for testing on those patients during the previous 11 months, a difference of $4.8 million.
Cataract surgery used to take a few hours and require general anesthesia. In those days, preoperative testing made more sense, says Chen. Now people often receive only a topical anesthetic eye drop to numb the eye or sometimes a local anesthetic that may include a sedative for relaxation.
But research shows that today, pre-operative testing for cataract surgery doesn't result in fewer adverse events or better surgical outcomes, regardless of a patient's health, says Chen.
"It's so low risk it's almost like saying you're going to get your nails done," she says. "There's always a chance you'll get hit by a car or have a heart attack on the way," but it's unlikely to happen at the nail salon.
Please contact Kaiser Health News to send comments or ideas for future topics for the Insuring Your Health column.