Marilyn Tavenner, who has an extensive health background as a nurse, a health care official at both the state and federal level and a hospital chain executive, was tapped by President Barack Obama Wednesday to succeed Dr. Donald M. Berwick as administrator of the Centers for Medicare and Medicaid Services.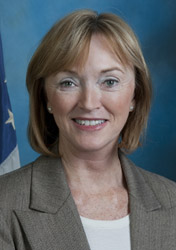 Tavenner, who is the agency's principal deputy administrator, will serve on an acting basis as administrator during the confirmation process, according to an announcement to CMS staff.
Berwick was not confirmed by the Senate and instead got a recess appointment from Obama. His appointment expires Dec. 31 and he will be stepping down Dec. 2.
Tavenner has played a key role in overseeing Medicare, Medicaid and the Children's Health Insurance Program. In remarks to the National Association of Medicaid Directors earlier this month, Tavenner shared her thoughts on how to control health care costs, themes that are very similar to ideas Berwick has expressed repeatedly throughout his tenure.
"The only way to stabilize costs without cutting benefits or provider fees is to improve care to those with the highest health care costs," she said. Tavenner also said she opposed Republican efforts to turn Medicaid into a block grant that would limit the amount of federal funding states can receive for the program. "That approach would simply dump the problem on states and force them to dump patients, benefits or make provider cuts or all the above," she said.
Analysts predicted that Tavenner would not make major changes to the agency's daily operations.  "She brings continuity in terms of implementing the mission," said Len Nichols, director of George Mason University's Center for Health Policy Research and Ethics.
In an announcement to staff, Department of Health and Human Services Secretary Kathleen Sebelius said Tavenner's "distinguished career in health care and deep knowledge of our efforts to implement health reform make her the right person for this job at this moment in history."
Berwick said Tavenner has been "a tremendous partner in our work together and is well prepared to take on this role in her own right at this important moment."
News of Tavenner's appointment was first reported by CQ HealthBeat.
Before coming to CMS, Tavenner served as secretary of Virginia's Health and Human Services where she oversaw 12 agencies that employed 18,000 people. Her career also included 25 years working for the Hospital Corporation of America where she started as a staff nurse and became president of outpatient services, according to an alumni profile posted on the Virginia Commonwealth University's web site. She has also previously served as acting CMS administrator.
American Hospital Association President and CEO Rich Umbdenstock said Tavenner's "varied and rich background as a former nurse, health care executive, and government official at the state level gives her a very unique perspective in understanding both the implications of public policy and their implementation. We have no doubt that she will provide strong leadership in these challenging times."
Deep partisan divides have stopped Congress from confirming a CMS director since mid-October 2009, creating instability in the agency.  Obama installed Berwick in July 2010 as a recess appointment, which was heavily criticized by Republicans who accused the pediatrician of favoring health care rationing — a charge Democrats dismissed as nonsense.
The current political climate on Capitol Hill may mean that Tavenner is just as likely to see her nomination stall. A bipartisan panel charged with finding $1.2 trillion in budget savings over the next decade deadlocked with members unable to bridge differences over the difficult issues of taxes and entitlement spending and rancor between the parties is only expected to grow heading into the 2012 elections.
In a 2008 Journal of Health Care Management article, Tavenner said that her career has been built on embracing opportunities "outside of my comfort zone."
"When I reflect on my career, I am reminded of my favorite Dr. Seuss saying, 'Oh the places we will go.' I certainly had no idea what lay in store for me. When I finished nursing school, my goal was to be the best nurse manager ever. When I completed graduate school, my goal was to be the best hospital executive ever," she said. "I never thought beyond those goals or where the future would take me. Along the way, however, I embraced new experiences and accepted responsibilities outside of my comfort zone. All of those experiences led me to a career path that took me from nursing to hospital administration to this current arena of public policy."
Staff writers Sarah Barr and Christian Torres contributed to this article.