Even with just two congressional supporters, a new Medicare overhaul plan could have big implications for next year's congressional election.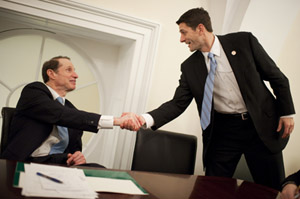 Indeed, it could neutralize a political problem that has been plaguing Republicans since April, argues Robert Blendon, a professor of health policy and political analysis at the Harvard School of Public Health.
Last spring, the GOP-controlled House passed a budget resolution that proved unpopular with Americans, and in particular seniors. That proposal, sponsored by House Budget Committee Chairman Paul Ryan, R-Wis., would have limited the government's spending on Medicare, eliminated the traditional fee-for-service option and potentially required future seniors to pay more for their coverage. 
A Congressional Budget Office analysis projected that by 2030 a typical 65-year old would be required to pay 68 percent of the total cost of his or her Medicare-covered services. That compares with the 25 percent they would pay under current law. Democrats assailed the Ryan proposal and charged that Republicans were trying to erode the security provided by the entitlement program that provides coverage to 48 million elderly and disabled Americans.
Although the proposal never went further than the House, Republicans have worried that it may have hurt their standing with seniors. In a May special House election in a historically Republic district that includes portions of Buffalo, N.Y., the Democratic candidate who won, Kathy Hochul, opposed overhauling Medicare, which her opponent favored. A Siena College Research Institute poll in May showed that Medicare was the top issue for those who voted for the Democrat.
Ryan's proposal left seniors "very worried about the future of Medicare, even though they were assured it wouldn't affect them," said Blendon.
Thursday's announcement could help Republicans, he said. Ryan and Sen. Ron Wyden, D-Ore., unveiled a new Medicare overhaul plan, which they said would give beneficiaries a fixed amount of money to buy private coverage or to pay for a traditional fee-for-service plan. Under the proposal, if Medicare spending rises beyond a certain level, and Congress does not intercede, seniors would be forced to pick up more of the costs. But the legislators are convinced that Congress would step in with more palatable alternatives. The legislators were vague on the details.
Blendon says that supporting this new proposal will help congressional Republicans to distance themselves from Ryan's earlier, controversial plan.
To be sure, the mood of senior voters has been vacillating, and seniors promise to be an important voting bloc in the 2012 election.
Before the House approved Ryan's plan in April, Republicans had been steadily siphoning the support of seniors from Democrats. A key Republican campaign message in the 2010 congressional elections was that the health care law, which most Democrats backed, cut $500 billion from Medicare over 10 years. Democrats countered that the law would only slow spending increases, at the expense of payments to medical providers, not seniors. Republicans did well enough to win control of the House. Indeed, they received the largest share of votes from people over the age of 60 in any election since the 1980s, according to Blendon. "In 2008, and particularly in 2010, [seniors] shifted to the Republican view," he said.
Now, both parties are vying for the important senior vote. In the 2010 congressional elections, senior voters turned out in much larger numbers than younger Americans. Thirty-four percent of voters were age 60 or older, even though this age group accounts for only 24 percent of the adult population, Blendon wrote in a July article in the New England Journal of Medicine.
Still, some believe that the new Ryan-Wyden proposal will anger Republicans in the House who had already stuck their necks out to vote for the old Ryan proposal.
"By coming on board with Wyden, Ryan has all but conceded his first proposal wasn't politically acceptable," Robert Laszewski, president of the consulting firm Health Policy and Strategy Associates, wrote in a blog post Wednesday. "Ryan has given all of those Republicans in the House, who have already voted for his first Medicare plan, a severe case of heartburn. … To say Ryan's first Medicare plan was controversial and a huge political risk is a pretty big understatement."
Marilyn Werber Serafini is the Kaiser Family Foundation's Robin Toner Distinguished Fellow based at Kaiser Health News. The fellowship honors the late Robin Toner, The New York Times' long-time health and politics reporter whose work often framed the public debate on health issues. KHN is an editorially independent news service of the foundation.