About half of Americans say they don't know how the Affordable Care Act will affect them. Four in 10 think it has been repealed or overturned, or they are unsure where it stands. So chances are good that when the major provisions kick in next year, including online health insurance marketplaces and new standards for health plan costs and coverage, people are going to have questions. Lots of questions. When they do, the biggest one of all may be where to turn for answers.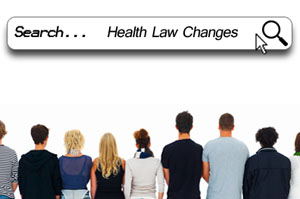 There may not be a simple solution. Depending on where people live and the type of coverage they have, the assistance that's available and where to find it may vary considerably.
Health policy experts and consumer advocates "are concerned about consumers falling through the cracks and not having clear information about where to go for what," says Sabrina Corlette, a research professor who directs Georgetown University's Center on Health Insurance Reforms.
It wasn't supposed to be this way. The health-care overhaul envisioned a nationwide network of state-run Consumer Assistance Programs, or CAPs, supported by federal funds. Building on existing state insurance department programs and community-based services, the CAPs would provide one-stop health insurance assistance for people with private coverage and would advocate on their behalf with insurers.
In the politically charged atmosphere surrounding the passage of the health-care law, however, 15 states with Republican governors refused to apply for CAP grants, and two more returned their funding after Republican governors were elected, according to a Health Affairs study published in February.
Program funding has been inadequate, experts say. Following an initial $30 million appropriation for CAP in 2010, the Department of Health and Human Resources awarded nearly $20 million two years later, in August 2012. In contrast, the annual budget for the Medicare program's help line is $250 million, the Health Affairs study noted.
Some states have been creative about patching together CAP funding, says Karen Pollitz, a research fellow at the Kaiser Family Foundation. But funding uncertainty continues.
Consumer Assistance Programs are operating in 21 states, including Maryland, and in the District. The quality of the assistance provided through these and other assistance programs varies widely, says Mark Schlesinger, a professor of health policy at Yale who co-authored the Health Affairs study. Some of the programs are aggressive advocates for consumers, he says. In other states, however, "they're explaining the law rather than advocating for people."
Angela Gavin of Troy, N.Y., turned to the program for guidance sorting through an insurance dispute and found the program helpful. When Gavin, 58, had a colonoscopy in February to screen for colorectal cancer, her insurer said she owed $1,150 of the $4,745 bill. The insurer said that because the doctor had found and removed a polyp, the procedure was no longer a routine screening and she would have to pay a portion of the cost.
But under the ACA, preventive cancer screenings such as colonoscopies are covered without patient cost-sharing even if a polyp is found.
Gavin noticed an 800 number at the bottom of her insurance form for Community Health Advocates, which runs New York's CAP. An advocate at the program worked with Gavin to file an appeal. She's awaiting the result.
"Thank God for that 1-800 number at the bottom of the form, because otherwise I would probably just have paid the bill," Gavin says. "I wouldn't have known what to do."
Consumers can check the federal government's healthcare.gov Web site for links to CAPs and other insurance assistance programs in their state. State insurance departments can help consumers with questions. But they often see their role as mediating between insurers and consumers rather than advocating for individuals, experts say. In some states, community-based organizations
also offer insurance help.
Individuals and small businesses that are considering seeking coverage from state-based health insurance marketplaces can contact those exchanges directly with questions about plans or eligibility for subsidies. The ACA requires all exchanges to have community-based "Navigator" programs to help people learn about plans offered through the exchanges and about eligibility for subsidies. Grants for these programs will be announced later this summer.
In addition, each exchange is required to operate a toll-free call center. Some exchanges, like the one planned for the District, aim to provide comprehensive health insurance assistance.
"We are building our call center to handle all sorts of questions," says Mila Kofman, executive director of the District's Health Benefit Exchange Authority. "Whether it's about enrollment through the exchanges, tax credits, Medicaid or a problem with their health plan, we'll be a one-stop shop where consumers can come."
The assistance available at other exchanges may be more bare-bones, experts say.
Pollitz suggests that people shopping for insurance on an exchange start investigating plans and applying for coverage in October, the first month people can sign up for exchange coverage that will begin Jan. 1. "You don't want to wait until the last minute."
Please send comments or ideas for future topics for the Insuring Your Health column to questions@kffhealthnews.org.