That was the day he realized he was addicted to opioids.
Hampton, now 36 and living in Los Angeles, said the prescription for his pain medication had run out and he didn't realize he would face withdrawal problems.
"I hadn't made this connection yet because I really didn't know what was going on with my body," he recalled of that day in 2004. His doctors, he said, never discussed possible side effects of the drugs they prescribed for him after he broke his ankle the year before, nor did they offer a plan to wean him off the drugs. He described his doctors' prescribing behavior as "increase, increase, increase."
Frightened and unable to kick his habit, he turned to heroin before finally getting treatment and dealing with his addiction.
Hampton's experience is all too familiar for many people prescribed opioids for pain. But federal researchers reported Thursday they are seeing an important change in the trend lines for these potent drugs.
The amount of opioids prescribed in the United States peaked in 2010 and has been declining gradually since then as public health and law enforcement officials raised alarms about growing numbers of overdoses and offered new guidance to doctors about dispensing the drugs, according to a study from the Centers for Disease Control and Prevention.
Still, the amount in 2015 is three times higher than at the turn of the century, they said.
The study analyzed morphine milligram equivalents (MME) per capita and found that the metric — which accounts for differences in opioid drug type and strength — reached 782 MME in 2010 and fell to 640 MME in 2015.
The report, which analyzes prescription data from 2006 to 2015, also shows the wide disparities in opioid use across counties in the U.S.: Six times more opioids per resident were dispensed in the highest-prescribing counties than in the lowest-prescribing counties. The researchers found that the hardest-hit areas were non-urban counties with larger percentages of white residents, high numbers of diabetes and arthritis patients and high unemployment and Medicaid rates.
For instance, a CDC map showing prescription rates per person revealed that rates in California's more rural and less populated northern counties dwarfed those in almost all other parts of the state.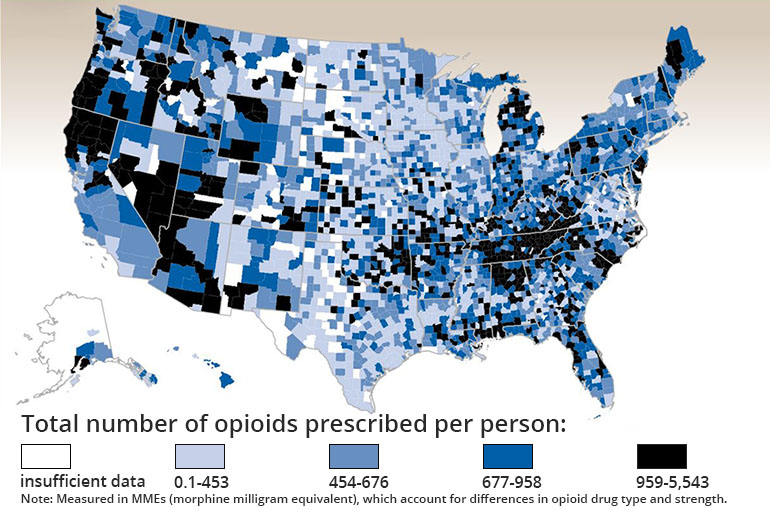 "The amount of opioids prescribed in the U.S. is still too high, with too many opioid prescriptions for too many days at too high a dosage," said the CDC's acting director, Dr. Anne Schuchat.
Researchers said they did not yet have data for 2016 or 2017.
Among the significant findings, researchers said, was that the number of days an opioid prescription was supposed to last increased 33 percent in recent years. In 2006, the average supply was about 13 days, while in 2015 it was nearly 18.
According to the report, the decrease in opioid use may be related to publication of national guidelines in 2008 and 2010 that drew attention to increased dangers of high-dosage opioids. Prescription rates began to drop after that, which "might reflect growing awareness among clinicians and patients of the risks associated with opioids."
Still, the variations in prescription practices across the country suggest better guidance is needed, the researchers wrote.
While the research shows progress, opioids are still being massively over-prescribed, said Dr. Andrew Kolodny, co-director of opioid policy research at the Heller School for Social Policy and Management at Brandeis University.
"Opioid prescribing has not come down that much," Kolodny said. "We are just now beginning to see intervention."
The study pointed out that efforts by Ohio, Kentucky and Florida to more closely regulate opioid prescriptions have helped drive down use.
Nationally, however, overdose death rates continue to climb, the study noted.
"Health care providers have an important role in offering safer and more effective pain management while reducing risks of opioid addiction and overdose." Schuchat said.
Greg Williams, co-founder of Facing Addiction, agreed. Williams supports making education for providers mandatory, to ensure appropriate prescribing. And he said it is necessary for physicians to talk about addiction as a possible side effect with their patients.
This was something never done in Hampton's case.
"The report is showing us that we have made very little progress," Kolodny said. "We still have a very long way to go."
Ryan Hampton was sitting at his computer at work when he began sweating, feeling sick and unable to concentrate. He went to the bathroom, splashed water on his face and called his friend for help.