The Obama administration wanted Republican states to accept the health law's Medicaid expansion pretty much as is. Republicans wanted Medicaid money in no-strings block grants.
Arkansas has broached what could be a deal-making compromise, giving Washington the increased coverage for the poor it wants and Republicans something that looks less like government and more like business.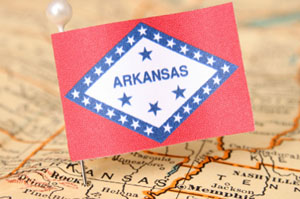 Florida, Nebraska and other Republican-heavy states have taken a look. Some think the Arkansas model, passed by a Republican legislature and signed by Democratic Gov. Mike Beebe last week, could erode resistance in some 30 red states and eventually prompt similar programs elsewhere. And because the federal government has put no deadlines on Medicaid expansion, other states will be able to watch what happens in Arkansas and see if they want to adopt a similar idea.
While the plan brings what many see as advantages for patients, it also raises difficult questions of cost and implementation. KHN reporter Jay Hancock talked to experts to learn the implications for consumers and taxpayers.
Q:  What's the Medicaid expansion and what is the Arkansas plan?
A: Expanding the Medicaid program accounted for more than half of the 30 million or so uninsured people who were supposed gain coverage through the Affordable Care Act. The Supreme Court's decision making Medicaid expansion optional, combined with red-state reluctance, have reduced chances of reaching the coverage targets.
Arkansas would let newly eligible Medicaid beneficiaries shop for insurance policies along with other consumers in the online marketplaces, also known as exchanges, created by the health law. Arkansas House Speaker Davy Carter, a Republican, called the idea "a conservative alternative to the policy forced upon us by the federal government."
Q: How is the Arkansas proposal different from traditional Medicaid?
A: Medicaid is a combined federal and state program for low-income and disabled people that for many years paid health care providers for each procedure as well as each doctor and hospital visit. Recently most Medicaid treatment has shifted to managed-care plans run by private insurance companies with incentives to keep costs down. Arkansas takes the privatization idea a step further by letting many Medicaid consumers shop for the same commercial insurance available to those who aren't eligible for the program.
"The menu of options is going to look the same" for eligible Medicaid consumers as for anybody else buying through the online marketplaces, said Matt Salo, executive director of the National Association of Medicaid Directors. "Access to physicians is going to look the same."
Q: What are the advantages?
Commercial insurers' doctor networks are generally wider than Medicaid networks. Entrée for Medicaid patients could improve access to care and prevent minor illnesses from spiraling into expensive hospitalizations.
It could also reduce care disruptions for those whose incomes fluctuate, shifting them between Medicaid and the subsidized exchanges.
At the same time, adding thousands of Medicaid members to the exchanges could reduce the risk that a few chronically ill patients would sharply drive up exchange premiums. With proper software, exchanges could determine people's eligibility for Medicaid and pay federal and state Medicaid dollars directly to their insurance plans.
Q: Will the Arkansas model automatically be implemented?
A: No. The Department of Health and Human Services has said it will consider "a limited number" of Arkansas-style plans in which Medicaid beneficiaries would use federal dollars to buy private policies.  Arkansas must give HHS a detailed proposal.  A federal green light is no sure thing, given the plan's departure from traditional practice and a requirement that it be cost effective. "We haven't approved anything," Marilyn Tavenner, acting administrator of HHS's Centers for Medicare and Medicaid Services, said at a confirmation hearing in April.
Q: What are the disadvantages?
A: Cost might be a big one or even a deal breaker for HHS. Medicaid typically pays hospitals and doctors much less than average. A beneficiary costing the government $6,000 a year for Medicaid would cost $9,000 on a private plan on the exchange, the Congressional Budget Office has estimated. In an era of tight budgets, it's hard to imagine who would pay the higher cost of letting Medicaid members buy on the exchanges.
On the other hand, Arkansas officials have suggested that competition among insurers and providers for Medicaid patients could keep the cost from being prohibitive or even save money eventually.
There would also be challenges to harmonizing Medicaid plan designs with those of policies sold on the exchanges. Private coverage on the exchanges is expected to come with large deductibles and co-payments for consumers, but Medicaid strictly limits such cost sharing.
For a Medicaid patient, "if you're going to go to the pharmacy counter and pick up your prescription, are you going to have to come up with this 15 or 20 percent copay out of your pocket?" said MaryBeth Musumeci, a senior analyst at the Kaiser Family Foundation's Commission on Medicaid and the Uninsured. (Kaiser Health News is an editorially independent program of the foundation.)
Q: Would all Arkansas Medicaid members be able to shop on the exchanges?
A: No. The law would keep most of Arkansas' existing Medicaid beneficiaries — mainly children — in the state's regular Medicaid program. To avoid potential cost shocks to the exchanges, the very sickest of patients in the Medicaid expansion would also be placed in traditional Medicaid.