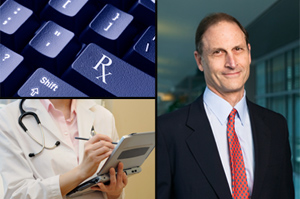 Dr. David Blumenthal, appointed by President Barack Obama to speed the health care system's switch from paper to electronic records, announced Thursday that he is stepping down this spring to return to his teaching post at Harvard University.
As the national coordinator for health information technology since March 2009, Blumenthal, 62, spearheaded an ambitious effort to prod doctors and hospitals to adopt electronic systems that are capable both of communicating with each other and protecting patients' privacy.
His office developed many of the rules for health providers to qualify for $27 billion in incentive payments to automate their records, money Congress made available in the 2009 economic stimulus measure. The first checks were sent to doctors in January.
David Merritt, executive vice president of the Center for Health Transformation, a Washington think tank, said Blumenthal's departure does not mean the job is done.  Among those remaining challenges, he said, are  making sure doctors and hospitals work together on electronic systems. "There's still a heck of a lot of heavy lifting yet to go with implementing the federal incentives for health IT," he said.
Fred Trotter, a healthcare software activist in Houston, also noted the timing. "Changing horses in midstream is not a good idea right now," he said.
Blumenthal's efforts have been lauded in the health IT industry. "He's helped bring the industry back to life when it seemed to be failing, and he gave the industry a jolt of energy it lacked," said Betty Otter-Nickerson, president of Tampa-based Sage Health, an IT company.
But some of his decisions have raised complaints among hospitals and doctors who say they complicated efforts to qualify for the incentive checks.
"He has served the cause very well," said Linda Fishman, senior vice president for public policy at the American Hospital Association. But she noted less than 2 percent of hospitals currently can qualify for the incentive payments because of the stringent rules put in place to make sure the technology is used in ways that improve patient care. For example, she said, AHA disagreed with the provision that requires hospitals seeking the federal funding to have computerized systems for doctors to order tests and drugs online.
An official at Ohio State University Medical Center said that it is hoping to qualify for federal money next year but to do that it had to scrap its old electronic records system and install a new one at a cost of $100 million. Phyllis Teater, the hospital's chief information officer, said she doesn't expect to recoup the full investment. "The system won't pay for itself but it was the right thing to do to improve care for patients."
Health and Human Services Secretary Kathleen Sebelius praised Blumenthal's contributions in a memo today.
"David will leave his post having built a strong foundation, created real momentum for (health information technology) adoption, charted a course for the meaningful use of (electronic health records) and launched a new phase of cooperative and supportive work with the health care community, states, and cities across the nation," she said.
Blumenthal, in a memo to his staff, wrote: "We are already seeing results that indicate that the national shift to (electronic health records) and (health information technology)-assisted care is finally underway." He noted the proportion of primary care physicians who had adopted a basic electronic health record increased from 19.6 percent in 2008 to 29.6 percent in 2010.
David Brailer, who was the first health IT "czar" after President George W. Bush's created the position in 2004, was complimentary of Blumenthal. "He's taken all the good things that we got started and laid it into a very durable, much more sophisticated framework. We had an upstart insurgent group and he turned it into a standing, legitimate agency."
Blumenthal is the second top Obama administration official to recently announce plans to return to Harvard, where rules require faculty to return within two years to retain tenure. Top White House economic adviser Lawrence Summers stepped down at the end of 2010. 
Before joining the Obama administration, Blumenthal was a physician and director of the Institute for Health Policy at The Massachusetts General Hospital/Partners HealthCare System in Boston. He also was professor of medicine and health care policy at Harvard Medical School.