For many patients, getting information on various treatment options for a medical condition isn't hard. Finding out which ones are the best bets for the money can be more difficult.
A new collaboration between the consumers group Families USA and the Institute for Clinical and Economic Review (ICER), an independent nonprofit research organization, released two guides Thursday to help patients and their health care providers decide which screenings and treatments offer the best value in terms of clinical and cost effectiveness for two types of cancer.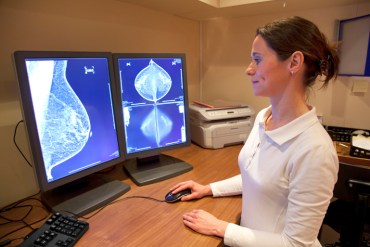 The groups plan to produce about six reports each year. Future topics will include lower back pain, ADHD and type 2 diabetes.
The "Proven Best Choices" guides rate how well one option works compared to others based on scientific evidence and how a treatment's cost compares to its long-term benefits.
"These publications will help patients and consumers work with their physicians to think through what is the best course of treatment when you have a significant illness," said Ron Pollack, executive director of Families USA.  "For many health problems, particularly severe health problems, the choices can be bewildering and they can be very difficult for patients to really think through what's in their best interest."
In a report on treatment options for men with low-risk prostate cancer, proton beam therapy — a high-tech radiation treatment for cancer — is rated as a lower-value option than monitoring the condition, removing the prostate gland through surgery or undergoing radiation.
In a guide covering breast cancer screening options for women with dense breast tissue, digital breast tomosynthesis, a newer type of mammogram, is a lower-value option than a digital mammogram or an MRI, depending on whether the woman has a low or high overall risk of breast cancer.
The collaboration will help ICER, which produces reports analyzing evidence on the effectiveness and value of drugs and medical services, to distribute its research more broadly.  "We wanted to figure out a better way to have evidence we worked on help patients," said Steve Pearson, president of ICER and primary author of the guides. "If a patient knows that the evidence says that these two treatment options offer me the same potential benefits, and one's a lot more expensive than the other one, then I want to pick the less expensive option."
For Families USA, the new venture will build upon the coverage gains the group won under the 2010 health care law. "Good care really is a question of 'Can you get good value care, care that is effective in terms of treating an illness and care that is affordable?'" Pollack said.
Initial funding for the venture comes from the Kaiser Permanente National Community Benefit Fund at the East Bay Community Foundation.