Doctor-owned hospitals are earning many of the largest bonuses from the federal health law's new quality programs, even as the law halts their growth.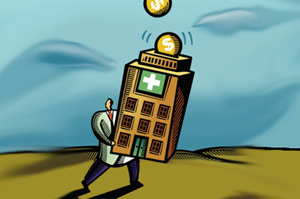 The hospitals, many of which specialize in heart or orthopedic surgeries, have long drawn the ire of federal lawmakers and competitors. They say physicians often direct the best-insured and more lucrative cases to their own facilities, while leaving the most severely ill patients to others.
Some researchers say the doctors' financial interests encourage them to perform more tests and procedures, driving up the cost of care. The health law banned construction or expansion of these hospitals except in unusual circumstances.
But physician-owned hospitals have emerged as among the biggest winners under two programs in the health law. One rewards or penalizes hospitals based on how well they score on quality measures. The other penalizes hospitals where too many patients are readmitted after they leave. There are more than 260 hospitals owned by doctors scattered around 33 states, according to Physician Hospitals of America, a trade group. They are especially prevalent in Texas, Louisiana, Oklahoma, California and Kansas.
Of 161 physician-owned hospitals eligible to participate in the health law's quality programs, 122 are getting extra money and 39 are losing funds, a Kaiser Health News analysis shows. That's a stark contrast with other hospitals — 74 percent of which are being penalized.
Largest Bonuses
Medicare is paying the average physician-owned hospital bonuses of 0.21 percent more for each patient during the fiscal year that runs through September, the analysis found. Meanwhile, the average hospital not run by doctors is losing 0.30 percent per Medicare patient.
Doctor-owned hospitals comprise nine of the 10 hospitals getting the largest bonuses in the fiscal year that begin last October, the data show. The top one is Treasure Valley Hospital in Boise, Idaho, a 10-bed hospital that boasts a low patient-to-nurse ratio and extra attention, right down to thank-you notes sent to each discharged patient.
Physicians who own their own hospitals say they are not surprised they have done so well under the program. "From our hospital, which did pretty well, the single-minded obsession with quality has been the hallmark of our success, and the value-based purchasing just reflects that," said Dr. John Dietz, an orthopedist and part owner of Indiana Orthopaedic Hospital in Indianapolis, which is getting a 0.72 percent bonus. "It's the difference between renting a home and owning a home: the pride of physicians in owning the hospital."
But Jean Mitchell, an economist at Georgetown University's Public Policy Institute who has examined patterns of patient cherry-picking among these hospitals, said Congress should have excluded them from the program. "This is a disgrace," she said. "Talk about a law that's backfired."
Physician-owned hospitals are less likely to face penalties for high readmission rates, because many do not take the heart failure and heart attack cases that Medicare analyzes when determining whether to levy a penalty. They also tend to have far fewer low-income patients, KHN's analysis shows. It's a population that is generally less able to buy medications, pursue follow-up appointments and find help while recuperating – problems that often send patients back to the hospital.
"These hospitals are on balance not seeing the same population," said Dr. Daniel Podolsky, president of UT Southwestern Medical Center, a teaching hospital in Dallas. "A lot of that is the demographics and the geography."
'Just Seems Unfair'?
Dr. Ashish Jha, a professor at the Harvard School of Public Health, has documented how the readmission penalties are hitting safety net hospitals particularly hard. "Providing extra rewards for hospitals that treat the healthiest, wealthiest patients just seems unfair," he said.
Past research has shown that physician-owned hospitals score highly in following basic clinical guidelines and pleasing patients — the factors that Medicare is using to determine bonuses and penalties in its "value-based purchasing" program. Those successes are made easier by the fact that many of their patients come in for elective surgeries rather than emergencies, allowing for more orderly preparations than at a typical acute-care hospital.
"We do surgery and we do surgery well," said Dr. Robb Linafelter, chief executive of Lincoln Surgical Hospital in Nebraska, which is getting a bonus of 0.78 percent on each Medicare patient payment. He said because the doctors own the hospital, they can direct resources to best serve patients. His hospital offers single-bed rooms, interactive TVs and allows patients to order food from outside restaurants. "Those things are going to make the patient experience so much better," he said. "At a community hospital, doctors don't have control over where the dollars are spent."
The narrow focus on these specialty hospitals also helps them excel, said Stacie Vance, chief of nursing operations at Indiana Orthopedic. "You don't get too many athletes who play more than one sport," she said. "It's the same way with hospitals. If you're allowed to specialize in something you can do one thing great. If you want to specialize in four or five things, you can probably do them okay."
It's unclear whether physician-owned hospitals will continue to benefit under the health law's quality programs. Most were eligible to participate in the value-based program this year, but by some estimates, two-thirds or more of the physician-owned hospitals probably will not qualify for inclusion in the next fiscal year, which begins in October. That's because they may not have enough cases to have their mortality rates evaluated, a mandatory part of the program. However, almost all of the doctor-owned hospitals that were eligible this year are on track to regain eligibility in the third year of the program, which begins in October 2014, because the rules change again.
The actual amount of money involved for many of these hospitals this year is not substantial, because many have small caseloads of Medicare patients and the maximum bonuses are not enormous. "It's not a significant amount, but I'll take it," Linafelter said. "It's more of a recognition that we are a facility that is doing things right."