Dr. Thomas Gallagher has been through many tough conversations with patients. He remembers once standing in front of a patient and the patient's family, preparing to tell them about a mistake that had occurred.
"This is a topic I think about all the time and it was still very nerve-racking and embarrassing," said Gallagher, an internist and a professor at the University of Washington's medical school specializing in quality and patient safety issues. The patient had been sent to another clinic an hour away to get an MRI, but because of a miscommunication, the MRI was done in the wrong area of the body and would have to be repeated.
"The patient was disgusted," Gallagher recalled about the event that occurred before he came to Washington. "His family was furious … that after all the patient had gone through to get this test … we still couldn't even figure out something this basic."
Medical mistakes often happen. National guidelines call for doctors to provide full disclosure about adverse events, and studies have shown that those discussions benefit patients. But new research finds that the act of disclosure, combined with stress from the procedure gone wrong, can be an anxious experience for some doctors — and more training is needed to help them engage in these difficult conversations.
The study, published in JAMA Surgery Wednesday, examines what surgeons tell patients and what effect those discussion can have on the doctor.
"For a long time in the field, people thought that the primary reason that physicians have trouble reporting adverse events is that they were worried about being sued, but there are other barriers that are more important," said Gallagher, one of the authors of the study. "This paper helps highlight how embarrassing and upsetting these events are for clinicians … (and) makes it difficult for the physician to admit to the patient, 'Here is exactly what happened.'"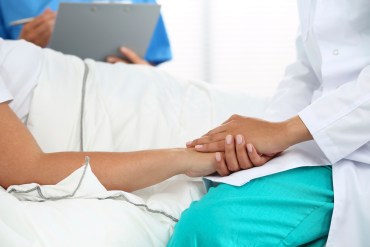 The researchers used surveys of surgeons who reported adverse events at three Veterans Affairs medical centers. They found that about 90 percent of the surveys showed that doctors said they had disclosed the event to patients or their families within 24 hours, expressed concern for the patient's welfare, explained why the event happened, expressed regret and discussed with patients steps to treat subsequent problems.
But only about half showed the doctors discussed whether the event was preventable and a third reported they talked about how it could be avoided in the future. Just over half apologized to the patient.
The study also reported that those surgeons who find an event very or extremely serious and who had difficulty discussing that event are more likely to suffer anxiety over the experience. That was also true of surgeons who feared negative reaction from patients, an impact on their reputations, bad publicity or a malpractice suit.
"These surgeons who have volunteered to participate probably feel very comfortable talking to patients compared to those who didn't participate, and even among these surgeons there was a lot of anxiety," said A. Rani Elwy, an associate professor at Boston University and an investigator and researcher at the VA Boston Healthcare System who was the lead author of the study. "I can only imagine it is much more accentuated among the bigger population."
Initial questionnaires were administered to 67 surgeons between January 2011 and December 2013. Of those doctors, 35 contacted the researchers during the study period to report adverse events and filled out 62 individual surveys on those events. Surgeons could complete up to three surveys for the study.
Elwy said that the VA surgeons who participated in the study had not been taught how to deal with patients in these situations and the study called for more training to create a "culture of professionalism" that will help surgeons better handle patients' needs and allow for "self-care following disclosures [that] may also increase surgeons' well-being."
"Lots of clinicians don't feel comfortable about these conversations, and doctors say they don't know what to say, they don't know how to say it," Gallagher said. "I've had no training on having these conversations in medical school or residency."
That's also a concern of Dr. Marjorie Stiegler, an associate professor of anesthesiology at University of North Carolina at Chapel Hill who was not associated with the study.
"Every physician, perhaps every clinician, at some point will have some kind of adverse event," she said, adding, "It's never easy to break bad news to a family member of a loved one."
She wrote an article in JAMA in 2015 arguing for more awareness of physicians' well-being when faced with clinical adverse events. She noted a study that found physicians were twice as likely to commit suicide than the general population and a survey documenting post-traumatic stress disorder symptoms among anesthesiologists involved in surgical deaths.
Gallagher said that in the case of the botched MRI he apologized to the patient and tried to help the family figure out the next steps.
"At the end of the conversation, while they were unhappy, they felt like they were getting care at an organization that would tell them if there was a problem," he said.