Updated 5:30 p.m. on Feb. 9.
The Obama administration Thursday unveiled final regulations detailing the new health insurance summaries that the federal health law requires plans to give to consumers to help them make informed coverage choices.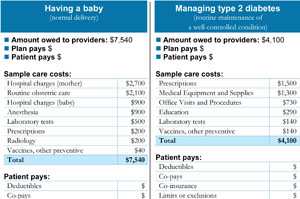 "For too many Americans today, choosing a health plan means reading through a human resources book usually the size of a small phone book and important information about eligibility and benefits is often buried in the fine print," said Marilyn Tavenner, the acting head of the Centers for Medicare and Medicaid Services, the agency within the Department of Health and Human Services overseeing the effort. "With these new rules we're making it easier for consumers to find the plan that is right for them."
All insurers and employers offering group and individual policies must distribute the forms for policies that take effect Sept. 23 or later. More than 160 million Americans with private health insurance will receive the forms, federal health officials said. The rules are nearly a year late and under the law the benefit forms were supposed to be available next month. Industry groups had asked the government to delay the requirement until 2014, to give companies more time to comply but the government opted for September instead.
View the labels
View the plan summary that insurers and employers will give consumers to help the compare plans:
Source: Department of Health and Human Services
The rules set the design for easy-to-understand forms describing health insurance benefits. The forms are intended to provide the same details on all policies using the same plain-English terms – defined in an accompanying glossary – so consumers can easily compare policies. The law also mandates that the forms give examples of specific coverage explaining how much a plan pays on average for common medical conditions. It even eliminates "fine print" by requiring that information be printed in 12-point type, which is larger than the print in a typical newspaper article.
But the bottom line – a policy's price – is missing from the requirements issued Thursday because the goal of the health law was to focus on coverage and benefits, said Steve Larsen, director of Center for Consumer Information and Insurance Oversight. Although an estimated premium price was included in the draft rules announced last August, it has been dropped and won't be required for the form. Other changes from the earlier rules include reducing the number of coverage examples from three to two kinds of medical care–having a baby and diabetes treatment.
Two weeks ago consumer groups told President Barack Obama in a letter that premium information was essential. But Lynn Quincy, a senior health policy analyst at Consumers Union, said consumer groups will work to restore premium information to the forms in 2014 when there should be less variation in rates because insurers will not be allowed to charge higher premiums based on preexisting medical conditions.
Quincy also said that in a briefing for consumer groups Thursday, federal officials said they would conduct focus group testing to improve the forms over time. Drafts of the forms were tested by Consumers Union last spring and by America's Health Insurance Plans, the insurance trade association.
AHIP President and CEO Karen Ignagni said in a statement that the final regulation "makes some important improvements over the preliminary rule, but additional time and flexibility are needed to avoid imposing costs that outweigh the benefits to consumers."
"The benefits of providing a new summary of coverage document must be balanced against the increased administrative burden and higher costs to consumers and employers," Ignagni said. "Requiring a separate document for each coverage scenario will significantly increase administrative costs and potentially result in consumers having to sort through scores of pages of coverage information."
The forms were drafted by a group assembled by the National Association of Insurance Commissioners that included state insurance regulators, and insurance, consumer and patient advocacy representatives.
Mila Kofman, a research professor at Georgetown University who co-chaired the group when she was Maine's superintendent of insurance, said that when consumers shop for insurance now, "co-insurance" or "annual deductible" may mean different things depending on the policy. Providing uniform information that's easy to understand will empower consumers, she said.
"This will fundamentally change the way insurance is sold and the way is bought, and will make it much easier for consumers," she said.
But Steve Wojcik, vice president at the National Business Group on Health, a Washington advocacy for 340 of the country's largest employers, was among those who were less enthusiastic. He said the forms duplicate what is already required by Labor Department rules.
"Our preference was to be exempt," said Wojcik. "This is just going to be confusing and just adds costs for the plans and ultimately the plans' participants."
Although the new forms haven't received as much attention as other provisions of the law, the effort is popular with the public. Some 84 percent of adults surveyed view the benefits summary requirement somewhat or very favorably, better than any of the other 15 provisions of the health law rated, according to the November Kaiser Health Tracking Poll. (The tracking poll is produced by the Kaiser Family Foundation. KHN is a project of the foundation.)
Contact Susan Jaffe at Jaffe.khn@gmail.com