Children's health advocates were overjoyed when they learned that dental care for kids would be one of the "essential benefits" in the insurance policies on the Affordable Care Act health exchanges.  Suddenly, it appeared possible that combined with other ACA-related changes, as many as 8.7 million children would gain dental coverage by the year 2018.
That was before they read the fine print.
It turns out states will have a lot of leeway in determining exactly what dental services are offered, and they could be quite limited. Advocates also are concerned that states have wide latitude in the setting of deductibles, co-payments and co-insurance. That means that families that opt for low-premium dental plans could end up paying thousands of dollars for dental care even though have insurance.
In Utah, for example, insurers on the state's exchange have to cover dental cleanings and sealants for children, but they don't have to pay for any restorative work, such as fillings for cavities. Utah parents buying medical plans on the exchange will likely have to dig deep into their own pockets to pay for those services.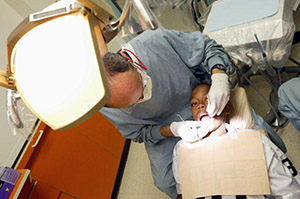 "When your kid has a cavity, you're probably not going to want to say suck it up," said Lincoln Nehring, a senior analyst with Voices for Utah Children.
Utah state Rep. Jim Dunnigan, a Republican, defended the choices Utah has made. "The ACA is putting on tremendous pressure to increase premiums, and we did not want to aggravate that by mandating additional benefits," Dunnigan said. If consumers feel the dental coverage sold on the Utah exchange is too slight, they can buy supplemental insurance. "But we're giving them that choice," he added.
According to a report released earlier this year by the American Dental Association, about a third of the 8.7 million children who might gain dental coverage through ACA will get it through Medicaid, about a third through their parents' employer-provided insurance and about a third through the exchanges.  Overall, the report says, the ACA could reduce the number of children without dental benefits by about 55 percent compared to 2010.
The ADA report also estimates that the new health care law will increase U.S. dental spending by about $4 billion, less than 4 percent of the current total.
"Essential" But Not Mandatory
Under the ACA, states were supposed to select existing insurance policies in their states to serve as benchmarks for the plans they include on their exchanges. Because most medical plans do not include dental coverage, some of those benchmark plans don't either.
But because the ACA requires pediatric dental care, states either will graft dental coverage into the medical plans on the exchanges or offer customers the opportunity to buy separate stand-alone dental policies.
There's a hitch, advocates say: States that opt to offer stand-alone dental policies do not have to require parents to purchase them. While some states, such as Washington and Nevada, are making it a requirement, others are not, according to Colin Reusch, a senior policy analyst with the Children's Dental Health Project.  So in effect, although pediatric dental benefits are "essential," they will not be mandatory in all states.
The stand-alone pediatric dental plans sold on the exchanges also will not be eligible for federal tax credits that are available for the medical plans sold on the exchanges. So those with dental plans rolled into their exchange medical plans will receive a federal subsidy to help them purchase dental coverage, but those buying stand-alone policies will not.
Finally, the stand-alone plans also do not have the consumer protections and appeals procedures that are required for medical insurance plans. Stand-alone dental plans, for example, are not required to offer an external review of their denials of claims.
Defining "Adequate"
The ACA also requires dental plans to offer an "adequate" selection of dentists, but how far a person should be expected to travel to see a dentist, or how long is reasonable to wait for an appointment, is up to each state to determine. The Pew Charitable Trusts in a report earlier this year described a dramatic shortage of dentists in many parts of the United States. Pew found that 45 million Americans lived in areas with a shortage of dentists.
Computer problems continue to afflict the health exchanges, and policy details are sketchy even on the websites that are working. So for now, advocacy groups are keeping a close watch on the plans as they roll out.