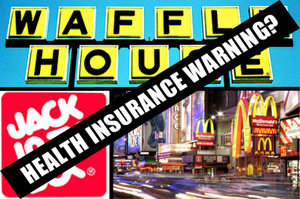 At least 1.5 million people will soon receive notices from employers or insurers that their health plans fall short of meeting a key standard in the new health overhaul law – and by how much.
The Obama administration on Thursday outlined what must be in the notices sent to people with limited-benefit plans, which cap coverage for medical care, sometimes to as little as $2,000 a year.
The law bans annual limits entirely in 2014, but restricts them in the meantime: the current limit is $750,000 annually.
Under the law, the Department of Health and Human Services can grant waivers for some policies if meeting the new limits would lead to significant premium increases or cause substantial numbers of workers to lose their insurance. Already, 222 insurers, unions and employers with policies covering 1.5 million people have been granted such waivers, including insurers Aetna and Cigna, and employers such as McDonald's, Waffle House and Darden Restaurants.
In addition to information on caps, other dollar limits in the policies – such as restrictions on the amount of physician office care or hospitalization coverage – must be detailed in letters and enrollment materials, says Steve Larsen, deputy director for oversight in HHS' Office of Consumer information and Insurance Oversight.
"This is clear notice that you have a policy that does not comply with the Affordable Care Act," says Larsen.
The notices must go out within 60 days. The new guidance from HHS comes as the Obama administration continues to approve waivers, which officials say are necessary to prevent some policyholders and workers from losing coverage altogether.
Proponents say limited benefit plans offer low-wage workers and policyholders seeking lower premiums at least a little coverage, which they say is better than none at all. Critics and federal regulators say such limits can leave policyholders "virtually uninsured" for the rest of the year once caps are hit.
Sen. Jay Rockefeller, D-W.Va., held a hearing last week in which he said that those enrolled in such coverage often mistakenly think they have financial protection. "It gives people a false sense of security – it lets them think they have health insurance when they really don't. By the time they realize they don't have real health insurance, it's too late," he said.
The new notices should help people understand the limits of their policies. That could help them avoid surprises – or possibly shop for better coverage or a job with better benefits, says law professor Timothy Jost, who also serves as a consumer representative at the National Association of Insurance Commissioners.
"Letting people know you sort of have benefits, but they're not worth very much, is important," says Jost.