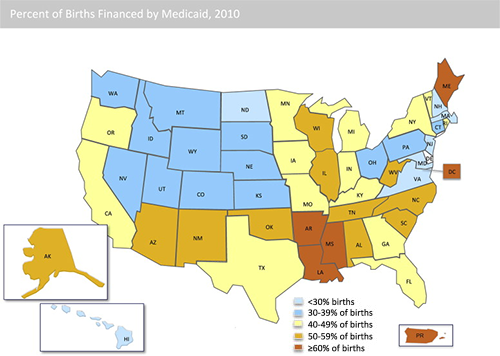 About half the births in the United States are paid for by Medicaid — a figure higher than previous estimates — and the numbers could increase as the state-federal health insurance program expands under the Affordable Care Act, according to a study released Tuesday.
All pregnant women with incomes below 133 percent of the federal poverty level, just below $15,300 for an individual, are eligible for Medicaid, and many states provide coverage to women earning well above that amount.
While previous research has estimated about 40 percent of the nearly 4 million annual births in the United States were paid for by Medicaid, the latest study by researchers at George Washington University and the March of Dimes looked at individual state data and estimated that in 2010 about 45 percent of births were covered by Medicaid. Researchers say they hope to use the figure as a baseline to determine the impact of the federal health law that expands Medicaid starting in January. Under the health law, about half the states are expanding Medicaid to cover everyone under 138 percent of the federal poverty level.
The percent of births paid for by Medicaid varied widely from a high of nearly 70 percent in Louisiana to below 30 percent in New Hampshire and Massachusetts, the study found (see chart for individual state data).
Cynthia Pellegrini, senior vice president of public policy at the March of Dimes and a co-author of the study, said while poor women can access Medicaid when they are pregnant, the health law will help improve birth outcomes because women will be able to get the coverage before becoming pregnant. She said if women are healthier before they get pregnant, that will increase the chances of having a healthier baby. Women who gain Medicaid coverage when they are pregnant typically lose the coverage 60 days after giving birth. The health law could make some of them eligible to maintain coverage.
"We hope to see a gigantic improvement in birth outomes," Pellegrini said.
The study was published in the September 2013 issue of the peer-reviewed journal Women's Health Issues.
NOTE: The percent of births covered by Medicaid was changed from an earlier version of this story after The March of Dimes reported it had made an error  in its calculation.