Saying Congress "should not walk away" from health reform, President Barack Obama reiterated his belief that the country still needs a health care system overhaul and described his determination to make it happen. He said "I take my share of the blame for not explaining it more clearly to the American people" and concluded: "Let us find a way to come together and finish the job for the American people. Let's get it done."  
Less than one year ago, about a month after he took office, the president spoke to a joint session of Congress in what the

American Presidency Project

calls a "non-State of the Union address."  The project adds "the impact of such a speech on public, media, and congressional perceptions of presidential leadership and power" were similar to an official State of the Union.
Related Content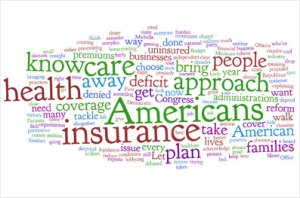 Here are excerpts of both speeches, with the 2010 address first: 
And it is precisely to relieve the burden on middle-class families that we still need health insurance reform. Yes we do.
Now, let's clear a few things up.  I did not choose to tackle this issue to get some legislative victory under my belt. And by now it should be fairly obvious that I didn't take on health care because it was good politics.
I took on health care because of the stories I've heard from Americans with pre-existing conditions whose lives depend on getting coverage; patients who've been denied coverage; and families – even those with insurance – who are just one illness away from financial ruin.
After nearly a century of trying –  Democratic administrations, Republican administrations – we are closer than ever to bringing more security to the lives of so many Americans. The approach we've taken would protect every American from the worst practices of the insurance industry. It would give small businesses and uninsured Americans a chance to choose an affordable health care plan in a competitive market. It would require every insurance plan to cover preventive care. And by the way, I want to acknowledge our First Lady, Michelle Obama, who this year is creating a national movement to tackle the epidemic of childhood obesity and make kids healthier. She gets embarrassed.
Our approach would preserve the right of Americans who have insurance to keep their doctor and their plan. It would reduce costs and premiums for millions of families and businesses. And according to the Congressional Budget Office – the independent organization that both parties have cited as the official scorekeeper for Congress – our approach would bring down the deficit by as much as $1 trillion over the next two decades.
Still, this is a complex issue, and the longer it was debated, the more skeptical people became. I take my share of the blame for not explaining it more clearly to the American people. And I know that with all the lobbying and horse-trading, the process left most Americans wondering 'what's in it for me?'
But I also know this problem is not going away. By the time I'm finished speaking tonight, more Americans will have lost their health insurance. Millions will lose it this year. Our deficit will grow. Premiums will go up. Patients will be denied the care they need. Small business owners will continue to drop coverage altogether. I will not walk away from these Americans, and neither should the people in this chamber.
So, as temperatures cool, I want everyone to take another look at the plan we've proposed. There's a reason why many doctors, nurses, and health care experts who know our system best consider this approach a vast improvement over the status quo. But if anyone from either party has a better approach that will bring down premiums, bring down the deficit, cover the uninsured, strengthen Medicare for seniors, and stop insurance company abuses, let me know. Let me know. I'm eager to see it. Here's what I ask of Congress, though: Don't walk away from reform. Not now. Not when we are so close. Let us find a way to come together and finish the job for the American people. Let's get it done. Let's get it done.
President Obama's remarks before a joint session of Congress, Feb. 24, 2009:
The cost of health care eats up more and more of our savings each year, yet we keep delaying reform. …
The only way this century will be another American century is if we confront at last the price of our dependence on oil and the high cost of health care, the schools that aren't preparing our children and the mountain of debt they stand to inherit. That is our responsibility….
Now, none of this will come without cost, nor will it be easy. But this is America. We don't do what's easy. We do what's necessary to move this country forward.
And for that same reason, we must also address the crushing cost of health care. This is a cost that now causes a bankruptcy in America every 30 seconds. By the end of the year, it could cause 1.5 million Americans to lose their homes. In the last 8 years, premiums have grown four times faster than wages. And in each of these years, 1 million more Americans have lost their health insurance. It is one of the major reasons why small businesses close their doors and corporations ship jobs overseas. And it's one of the largest and fastest growing parts of our budget. Given these facts, we can no longer afford to put health care reform on hold. We can't afford to do it. It's time.
Already, we've done more to advance the cause of health care reform in the last 30 days than we've done in the last decade. When it was days old, this Congress passed a law to provide and protect health insurance for 11 million American children whose parents work full time. Our recovery plan will invest in electronic health records, a new technology that will reduce errors, bring down costs, ensure privacy, and save lives. It will launch a new effort to conquer a disease that has touched the life of nearly every American, including me, by seeking a cure for cancer in our time. And it makes the largest investment ever in preventive care, because that's one of the best ways to keep our people healthy and our costs under control.
This budget builds on these reforms. It includes a historic commitment to comprehensive health care reform, a down payment on the principle that we must have quality, affordable health care for every American. It's a commitment that's paid for in part by efficiencies in our system that are long overdue. And it's a step we must take if we hope to bring down our deficit in the years to come.
Now, there will be many different opinions and ideas about how to achieve reform, and that's why I'm bringing together businesses and workers, doctors and health care providers, Democrats and Republicans to begin work on this issue next week.
I suffer no illusions that this will be an easy process. Once again, it will be hard. But I also know that nearly a century after Teddy Roosevelt first called for reform, the cost of our health care has weighed down our economy and our conscience long enough. So let there be no doubt: Health care reform cannot wait, it must not wait, and it will not wait another year…
Now, to preserve our long-term fiscal health, we must also address the growing costs in Medicare and Social Security. Comprehensive health care reform is the best way to strengthen Medicare for years to come.