David P. Blom is one of thousands of hospital executives across the country who are bracing for a reduction in Medicare payments as part of a series of federal spending cuts that begin Friday. Blom, 58, is president and chief executive officer of OhioHealth, a Columbus, Ohio, based not-for-profit health care system that includes 18 hospitals, 23 health and surgery centers, home-health providers and other facilities.
He talked with KHN's Mary Agnes Carey about how his company is preparing to deal with sequestration. This is an edited transcript of that conversation.
Q: Automatic spending cuts known as "sequestration" are kicking in Friday, although by law reductions in Medicare won't start until April 1. Medicare providers, including hospitals, will see 2 percent cuts as part of the process. What does that mean for OhioHealth?
A: It's a $12 million number for us out of $2.5 billion in revenue on an annual basis.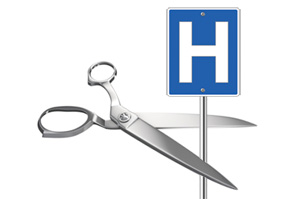 Q: How do you prepare your staff and patients for this?
A: I don't have to worry about the public too much because I think the local media has a done a good job of that. Inside the organization, we've not really made a big deal of this because we actually budgeted for it. Last year when we did our budget, one of the assumptions was for sequestration to occur.
Q: What changes did you make in your budget to accommodate sequestration?
A: We're very cost-efficient as an organization. It was just one other element as we were preparing for this fiscal year. We've got Medicaid cuts coming [from the 2010 health care law reductions to Medicaid disproportionate share payments] too, so you just throw all of that into the mix and you just prepare.
We do a five-year financial forecast every year, and we take very conservative assumptions on that forecast.  So we've been thinking about Medicare cuts, Medicaid cuts, employers being a lot more cognizant of their own health care spending as we do our own planning.
Q: How do you live within these budget constraints?
A: There are several things. We're blessed to have several hospitals in one market. So we've become much more system-like in how we operate. As a result, we've taken about $132 million out of our expense structure through that process over the last three years.  We're just leveraging the scale of the system to become more cost-efficient [and] to be more nimble in the services we offer. We've seen nice growth in our market share over the last several years. We've leveraged the size of the system to achieve efficiency as well as growth.
We went to one common, high-production lab and became much more efficient. We leave some laboratory functions at each hospital that need to be there but the common high-production lab is at one place and that act alone saved $14 million on an annual basis. We've done the same thing with pharmacy–a common formulary, standardized the drug selections, put in some technology, centralized what we could and saved a lot of money.
Our real focus, and this is known by everyone in the organization, is to be very high quality, by which we have the metrics to actually demonstrate that, but we also want to be a very low-cost health system.
Q: It sounds like you can easily accommodate the sequestration reductions.
A: I don't know if I'd use the word easy. Let me say this about sequestration: I fully understand how the national debt reduction needs to be really high on our agenda. Sequestration is unfortunate, in my opinion, to be making across-the-board cuts without really redesigning the system or just reforming the system.  Can we live with it? Yes. I think we're able to live with it because we've anticipated it for some time.  What I'm concerned about is even this sequestration won't be enough. So what is the next thing we'll be living with to deal with this national debt situation?
To deal with the national debt, we need to deal with Medicare. I'm talking about Medicare incentives to focus on wellness and chronic disease management, coordinating the care for the dual eligibles  (a costly population of low-income elderly and disabled people who qualify for both Medicare and Medicaid). There is a whole variety of things that can have an impact on Medicare and the federal deficit.
The 2010 health care law didn't solve the problem. It solved part of the problem with coverage, but it hasn't dealt with the cost issues. It really didn't reform health care.  It reformed coverage, but it really didn't reform the health care system.
Q: What about items in the law that are designed to link Medicare payment to the quality of care provided rather than the number of services delivered? The provisions dealing with bundled payments, accountable care organizations or reducing unnecessary hospital readmissions?
A:  They're pilot projects, and they're not sufficiently scaled to get the job done. You're not going to change the actual trajectory of health spend without changing the behavior of everyone who is responsible for that spending.  So to reform health care you have to change the behavior of everyone that it touches. Sequestration just takes an across-the-board cut without really changing the way the system works.
Right now, we're working on a whole variety of projects for what's next, because I know that this change to Medicare won't be the last time that we're dealing with cuts. It's coming.  Now we're working with our doctors to improve the quality of health care and actually reduce the cost. We've got groups of doctors in orthopedics and neurosurgery and primary care, emergency room, we call these clinical guidance councils, and they're all working on reengineering health care.
Q: The president and congressional leaders are scheduled to meet at the White House today to discuss sequestration. If you were invited to attend, what would you tell them?
A: There are a lot of good ideas out there. I don't know why they aren't being discussed, debated and modified in a bipartisan fashion just to get them done.  You're not going to reform health care without reforming the system. And they haven't reformed the system. You have to change incentives for the system to change.
Patients need to take responsibility for their health. They need to focus on prevention, there have to be consequences for their behavior. The doctors need to be incented for prevention and wellness, not just more procedures. Hospitals need to be incented to care for a person's health, not just treat their illness. Insurance companies need to help us align those incentives with their payment structure to allow these things to occur. If we do that, health care costs can drop.