The nation's largest and most intensive study of how to best prevent seniors' injuries from falling will begin next year under a $30 million grant announced Wednesday by the Patient-Centered Outcomes Research Institute and the National Institutes of Health.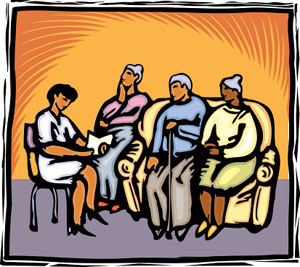 A diverse group of 6,000 adults over age 75 or their caregivers will be recruited around the country to participate in the study.
More than 18,000 seniors died as the result of falls in 2010, and thousands more are injured every year, according to the  federal Centers for Disease Control and Prevention.
"A serious fall that leads to a bone fracture or hospitalization has been demonstrated to be one of the most devastating events in the life of an older person, comparable to a serious stroke," said Dr. Thomas Gill, a geriatrician and professor at Yale School of Medicine and one of the study's three principal investigators.
While previous studies have identified those older adults most at risk for serious falls and how to prevent them in an experimental setting, Dr. Richard Hodes, director of the National Institute on Aging, said this new research goes several steps further.
"We think this study will be unique and play a very critical role in taking the research that has existed to date and translating it to a real advantage to the public," he said.
The Patient-Centered Outcomes Research Institute, which is providing the funding for the study, is an independent organization created by the federal health law to provide strict research on the efficacy of care options to help patients and their health care providers make informed decisions.
At New York City's  Mount Sinai Health System, one of the study sites, about 600 patients over 75 years old who are living in the community and are at risk for a fall-related injury will test a range of prevention techniques including medication management, physical therapy, home evaluation and referral to community social services, said Dr. Albert Siu, chairman of the Department of Geriatrics and Palliative Care at  Mount Sinai's Icahn School of Medicine.
After a year of preparations, the research will be launched next June, explained Dr. Evan Hadley, the NIA's director of geriatrics and clinical gerontology. Seniors who have risk factors for possible falls, such as poor vision or gait or balance problems, will be divided into several groups at each study site.  Some groups will receive the usual care for these symptoms, which could include, for example, physical therapy.
But patients in the test groups will receive a thorough assessment of all their risk factors. A "falls care manager," a registered nurse, will coordinate a care plan for that patient that includes a range of treatments.  Participants will be observed for three years.
Contact Susan Jaffe at Jaffe.KHN@gmail.com