The New Year's Day "fiscal cliff" deal means at least an extra $450,000 this year to tiny Jones Memorial Hospital in rural upstate New York.
"It's very good news," said Eva Benedict, CEO of the 70-bed hospital in Wellsville, N.Y., a town of 7,000 people near the Pennsylvania border.
While much of the hospital industry has lamented the deal reached between Congress and the White House because it will pay about half the $30 billion bill to avert a 27 percent Medicare fee cut for physicians, the agreement was cause for celebration for about 200 small, rural hospitals.  That's because it also extended for one year a program that pays hospitals such as Jones Memorial up to several millions of dollars each year because they have fewer than 100 beds, are located in rural areas and treat a high proportion of Medicare patients. 
"It was a pleasant surprise," said Michael Clifford, chief financial officer of Wayne Memorial Hospital in Honesdale, Pa., in the rural northeastern corner of that state. "We are looking forward to being in the black from operations because of the money."
The hospital expects to retain about $2 million in extra Medicare funding because of the program was extended, he said.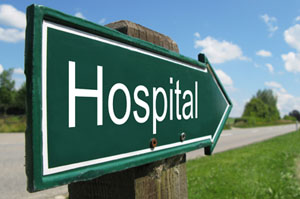 The Medicare Dependent Hospital Program, created in 1990, is one of several payment programs designed to help small rural hospitals deal with financial challenges that larger more urban facilities don't face.
The theory is that some rural hospitals have such a high percentage of Medicare patients they are unable to get enough money from higher paying privately insured patients to make up for the lower government reimbursements, said Eric Zimmerman, a health lawyer with McDermott Will & Emery in Washington.
But the funding has come under scrutiny in recent years as deficit hawks try to scale back federal health spending, and some also question whether the money rewards inefficiency.
See a list of hospitals that receive funding from the Medicare Dependent Hospital Program
Congress had let the program expire at the end of September 2012. But two powerful senators, Democrat Charles Schumer of New York and Republican Charles Grassley of Iowa, helped make sure $100 million for the program made it into the budget deal, according to Maggie Elehwany, a vice president of the National Rural Health Association. 
The lawmakers' home states have more than a dozen hospitals funded through it. One of the ironies of the deal is that Grassley ultimately voted against the final package.  In a statement, he said: "This legislation contains a lot of things I support ….  Nevertheless, the fiasco was a major missed opportunity to take on Washington's spending problem."
The program is one of several that aid rural hospitals. The congressional Medicare Payment Advisory Commission said hospitals in the program get about 25 percent higher reimbursements as a result of the funding. A report last June by the commission said eliminating the payments could improve hospitals' efficiency because they would get paid fixed fees based on patients' diagnoses, rather than getting costs paid in full. But it also cautioned such a move might cause some hospitals to close.
Alan Sager, professor of health policy and management at Boston University School of Public Health, said programs like the Medicare Dependent Hospital Program were never designed to promote efficiency. Rather, they are intended to help hospitals survive in communities where patients have few if any other options, he said.
"Whether these hospitals are working as efficiently as can be needs to be determined on a case by case basis," Sager said.
Zimmerman said the program is a major revenue stream for some hospitals that "they are happy to have." But he said hospitals were disappointed to get only a one-year extension. "To live in a still uncertain future makes it difficult to plan and grow," he said.
Benedict has heard the critics' concerns, but argues they are wrongheaded, at least where her hospital is concerned.
"We already are very frugal," she said, noting 2011 was the first year Jones Memorial had a positive operating margin since 2000. It had a 1 percent operating margin in 2011 on $33 million in revenue, and she expects nearly the same for 2012 when the books are closed.
"It's been a long time to get to breaking even," she said.