And now, a word from the health care "Skutniks."
For decades, presidents have invited ordinary citizens to attend the State of the Union address. These human props are referred to as Skutniks; Lenny Skutnik was invited to President Ronald Reagan's 1982 speech a few weeks after rescuing a passenger from a plane crash in the icy Potomac River.
Given that President Barack Obama's health care law is under attack from congressional Republicans, it's not surprising this year's speech features two health care Skutniks – people who benefited from the new law. 
In interviews with KHN, they said they didn't feel like props – but neither did they expect to have much impact on the Republicans trying to repeal the law.
"My little story won't change how they feel about the whole bill," said James Howard, 28, of Katy, Texas. Howard, an automobile service company salesman, became uninsured shortly after being diagnosed with brain cancer. He managed to get coverage under the law's new high risk pools for people with pre-existing medical conditions.
He said he wanted opponents "to see the other side, that there are good parts, too."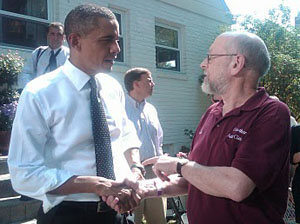 Also invited to the speech: Jim Houser, 64, who owns an auto repair shop in Portland, Ore. He's using tax credits created by the law to lower the cost of providing health coverage to his nine full-time employees by about $10,000 this year. He was a founding member of the Oregon chapter of the Main Street Alliance, which backs the health law, and met Obama at a health care event in September. 
Houser said he was "totally flabbergasted" about the repeal effort, adding "Health reform has far and away been a huge benefit to small business owners like myself."
This is one of KHN's "Short Takes" – brief items in the news. For the latest from KHN, check out our

News
section.