Specialty drug costs jumped 30 percent last year to $587 million for the California Public Employees' Retirement System, one of the nation's largest health care purchasers.
Though they amount to less than 1 percent of all prescriptions, specialty drugs accounted for more than a quarter of the state agency's $2.1 billion in total pharmacy costs. Those overall drug costs have climbed 40 percent since 2010.
The new figures show just how much financial pressure many employers and government agencies face from rising drug costs and why it's become such a hot topic in California politics and on the presidential campaign trail.
Hepatitis C drugs drove much of the increase for the state retirement system during 2015, as did two rheumatoid arthritis drugs. Drugs for cancer and multiple sclerosis were also among the top 10 specialty drugs for CalPERS.
CalPERS spent the most, $94.5 million, on Harvoni, a hepatitis C drug. It is sold by Gilead Sciences Inc., whose steep prices have drawn public outrage and government scrutiny. The agency spent an additional $16.6 million on Sovaldi, another Gilead drug for hepatitis C.
Apart from specialty medications, CalPERS' highest-cost drugs were Lantus, for diabetes; Advair, an asthma inhaler; and Crestor, a cholesterol medicine. Painkiller OxyContin rounded out the top 10 at $14.3 million, according to state data.
More than 5 percent of CalPERS' total drug spending — $118 million — went for Humira and Enbrel, two anti-inflammatory biotech drugs that don't face competition from lower-priced generics.
The U.S. Food and Drug Administration recently approved an alternate version of Humira known as a biosimilar, but it could still take years for it to reach the market due to industry litigation. Experts say the development of lower-cost biotech drugs could yield significant savings for the U.S. health care system.
CalPERS spends more than $8 billion annually on medical care for 1.4 million active and retired government employees and their family members. As with many big employers, the agency's rising pharmacy costs have been pushing up insurance premiums and sparking debate over how to combat high drug prices.
The latest uproar has focused on drug maker Mylan and its $600-plus price tag for a two-pack of EpiPens. Dr. Richard Sun, a medical consultant at CalPERS, said pharmaceutical companies are imposing huge price hikes on consumers and taxpayers without a clear rationale or explanation.
"What the Mylan CEO says is that the high cost of drugs is due to all the folks in the middle — the health plans, the distributors. OK, show us the actual data. We don't think the data support this," Sun said in an interview. "One would hope for more transparency."
In a recent survey, nearly a third of large employers said specialty pharmacy had become the biggest driver of health costs. That's up from only 6 percent who reported that in 2014, according to the National Business Group on Health.
The latest data, which CalPERS staff presented to a pension and health benefits committee last week, reflect 2015 results. More recently, there have been signs that drug costs nationwide may be leveling off.
Prescription drug spending grew 3.9 percent for the past 12 months through July, according to the Altarum Institute. That's down from 8.5 percent the previous year.
CalPERS officials said they're optimistic that their new pharmacy-benefit manager will help them control drug spending.
In May, the CalPERS board awarded a five-year contract to OptumRx, the pharmacy-benefit division of insurance giant UnitedHealth Group Inc. Optum beat out rivals Express Scripts and CVS Health, which is the current pharmacy-benefit manager. The new contract starts Jan. 1.
"One of the reasons we went with Optum was to get the best specialty drug deals," said Kathy Donneson, chief of the agency's health plan administration division.
She also warned that new, high-priced specialty drugs will be carefully scrutinized for the potential value to patients before they are made widely available. "New to market doesn't mean it will be put on the formulary," she said.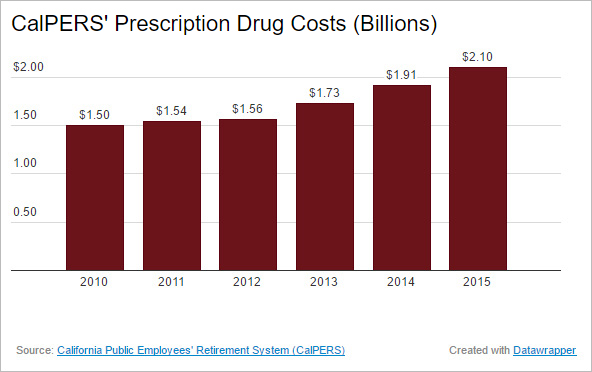 For the first time, CalPERS also reported spending data for drugs that are administered in physician offices and infusion centers without a prescription. Those drugs are typically covered under a health plan's medical benefits. That makes them harder to track and that spending isn't included in the figures CalPERS reports now for prescription drug costs.
Spending on those office-administered drugs climbed by 34 percent last year to $343.7 million. Chemotherapy accounted for nearly 40 percent of spending in that category.
Donneson said CalPERS is examining its use of office-administered drugs and looking at ways to shift certain infusions to a patient's home, where they might be cheaper to provide and equally safe.
Overall, 17.3 million prescriptions were filled for CalPERS members last year, and the average cost per prescription was $103.10. Employees or dependents were responsible for 8.6 percent of the cost, on average — less than $9 — as part of their insurance. That's more generous than what many U.S. businesses require. CalPERS said the average cost share was 20.4 percent among large employers nationally in 2014.
The new data could become another flash point in the fight over a November ballot measure in California.
Proposition 61, known as the California Drug Price Relief Act, would limit the amount state-funded health programs pay on prescription drugs to no more than what the U.S. Department of Veterans Affairs pays.
Supporters say the measure could save the state billions of dollars by reducing drug prices for CalPERS and Medi-Cal, the state's Medicaid program.
Opponents counter that the ballot measure would actually boost costs because drug makers would stop giving the VA program substantial discounts. They also warn that patients could lose access to crucial medicines. The pharmaceutical industry has contributed more than $86 million to defeat the proposal.
CalPERS has declined to take a position on Proposition 61, citing the uncertainty over how it would be implemented and what drug companies would do in response.
This story was produced by Kaiser Health News, which publishes California Healthline, an editorially independent service of the California Health Care Foundation.