Pharmacist Gina Upchurch knows all the ins and outs of the Medicare prescription drug benefit and was sure she discovered something very wrong:  using the government's online plan finder tool to help seniors compare dozens of 2014 drug policies, she noticed that some insurers charge higher prices for a prescription filled every two or three months compared to the same drug bought every month.
"You're buying less and paying more," said Upchurch, executive director of Senior PharmAssist, a nonprofit group in Durham, N.C.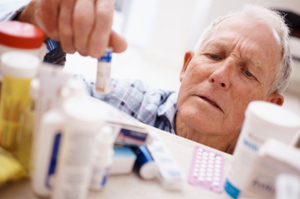 Seniors have until Dec. 7 to sign up for drug coverage next year. Medicare advocates urge beneficiaries to compare plans each year because they may find a way to save money, but many people find the process so complex that they don't switch plans.  Medicare's plan finder allows seniors to narrow their choices by entering their drugs, dosages and pharmacy preferences, to obtain a list of available plans and their premiums, deductibles and drug costs.
Eye drops, creams, or inhalers are drugs that can last more than a month, although some insurers don't offer discounted pricing for other than 30 days, said Upchurch.  For example, under one plan she reviewed, a beneficiary who has a monthly prescription for eye drops would pay $7 a month during the initial coverage period to get the drug, while another person who has a prescription for the drops to be filled every 60 days would pay $51.  She also said that two plans she compared charge $40 or $45 for three vials of insulin every month in the initial coverage period, and $575 every two months.
She noted that seniors sometimes can get the lower prices if they use pharmacies or mail order programs designated by the insurers, rather than just picking one themselves.
Although price disparities might be confusing, a Medicare spokesman said, they are aimed at providing more accurate information about the plans. "These features are not problems with the plan finder."
He pointed out that a footnote on a different web page with plan details explains why a small supply of a drug can cost more than a larger one: "This drug is covered by the plan, however, the plan does not offer a benefit for the frequency and pharmacy type you selected.  Therefore, the cost displayed is an estimate of the full cost of the drug for the frequency entered."
If seniors are taking a medication with a frequency other than once a month, they should call the drug plan to verify costs and ask if there is a lower price at the plan's preferred retail or mail order pharmacy, said Fred Riccardi, director of client services at the Medicare Rights Center, a consumer advocacy group in New York City.
"But people shouldn't have to run around to different pharmacies," said Upchurch.  "It would be better if Medicare required plans to cover whatever supply a provider prescribes."
Susan Jaffe can be contacted at Jaffe.KHN@gmail.com