Nearly 60 percent of Medicare beneficiary visits to emergency rooms and 25 percent of their hospital admissions were "potentially preventable"–  had patients received better care at home or in outpatient settings —  according to results of a study released Friday by a congressional advisory board.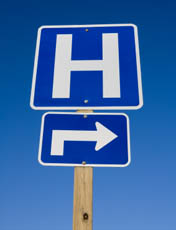 "These are spectacular rates," said Scott Armstrong, a member of the Medicare Payment Advisory Commission and CEO of Group Health Cooperative, a Seattle-based health plan.
The commission's preliminary study, released at their monthly meeting, found the most common diagnosis for preventable ER visits was upper respiratory infections. The most common diagnosis for preventable hospital admissions was congestive heart failure.
The potentially preventable admissions or ER visits do not indicate the hospital acted inappropriately. Instead, they are a measure of a community's outpatient care system that includes private physician offices, community health centers and urgent care centers, study co-author Nancy Ray, a MedPAC principal policy analyst, told commissioners. Ray said not every preventable ER visit or admission can be avoided. The study showed wide variation of these rates across the country and within cities.
Patients could avoid preventable ER visits by having health conditions treated by family doctors or urgent care centers or by making sure to take all their medicine. Hospital admissions could be prevented if conditions such as asthma, diabetes or heart failure were better monitored by patients and their doctors, commission staff said.
The study analyzed health services provided to 5 percent of all traditional Medicare program beneficiaries from 2006 to 2008.  It also looked at care provided to all Medicare beneficiaries in six markets: Boston, Phoenix, Miami, Minneapolis, Greenville, S.C., and Orange County, Calif. MedPAC officials said it would release marketplace details when the report is completed in a few months.
The study found hospitals that had lower occupancy rates had higher rates of preventable ER visits and admissions.  Medicare beneficiaries who also receive Medicaid— a category known as "dual eligibles" — also had higher rates.
Researchers have been looking at reducing preventable ER visits and hospital admissions for years, though this is one of the first large analyses of Medicare patients. Hospitals in 2006 spent $30.8 billion on 4.4 million hospital admissions that might have been avoidable, according to a report by the federal Agency for Healthcare Research and Quality.  A 2006 Rutgers University study found 47 percent of ER visits in New Jersey were potentially avoidable.