The deal that federal regulators struck with Texas this week to expand managed care coverage for the poor allows both Gov. Rick Perry, a Republican presidential contender, and a Democratic White House to claim victory for their very different healthcare agendas.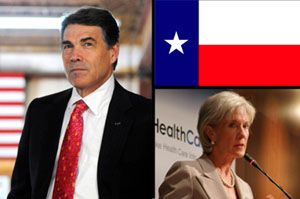 The five-year waiver from the Centers for Medicare and Medicaid Services (CMS) allows Perry to move almost 1 million additional Medicaid enrollees into privately run managed care plans, while still pulling down billions in federal matching funds for hospitals.
But the waiver also contains page after page of new requirements for tapping those federal funds. They reflect the Obama administration's demand that hospitals demonstrate better health outcomes and performance. And many observers say that those new rules will prepare Texas providers for the 2014 expansion of coverage required by the health care law.
"Considering that we have a governor that's actively opposing the Affordable Care Act, and legislative leadership who've taken the same kind of position, this is in some ways a remarkable compromise with the federal Medicaid authority," said Anne Dunkelberg, the associate director The Center for Public Policy Priorities, a left-leaning think tank in Austin.
"It reflects an unarticulated compromise in a time when we're not seeing much compromise at all," she added.
Perry claims the waiver gives his state more flexibility in running Medicaid – and that's definitely true when it comes to managed care expansion in the Lone Star state. Perry prevailed in another way as well: Unlike states such as California, Texas didn't use the waiver to expand Medicaid eligibility to uninsured adults; it simply moved those already enrolled in the fee-for-service program into managed care. So Perry can say that technically, he has not added to the rolls of a government entitlement program.
"He doesn't want to expand government healthcare and he says the states can do it, and this is a step in that direction, to do it better," said Lucy Nashed, a Perry spokeswoman.
Randall Ellis handles government relations for Legacy, a network of federally-qualified clinics in Houston. "You're not going to hear anything from Texas government that talks about expansion or increased access for the Medicaid population and you're not going to hear anything that says it prepares us for… health care reform. Because that's the bogeyman right now for our governor, who is running for president, and [for] the far right."
But Ellis, Dunkelberg, and other health policy observers say that's exactly what this waiver could do: help prepare Texas hospitals and clinics for a dramatic expansion in the number of people with health care coverage expected in 2014.  That's because the waiver shifts money that had previously gone to private hospitals' coffers into new shared "pools" to care for people in community settings. To tap into the pool money, hospitals will have to partner with community clinics or do other things to show they're increasing primary care access and health quality. 
Texas officials say the state's strategy will improve care and dismiss any tie-in to the health care law.
"You know, whatever happens with the Affordable Care Act, happens," said Thomas Suehs, Executive Commissioner for Texas Health and Human Services.
"But from my perspective it's the right thing to do," Suehs added. "To focus on making sure we have enough primary care physicians, making sure we have enough primary care doctors, clinics and everything and less focus on the big physical plant of the hospital."
The waiver keeps billions in federal matching dollars flowing to Texas hospitals. Without the waiver, Texas would have lost access to the so-called "upper payment limit" dollars (worth $3 billion in 2011) as a result of the switch to managed care.  The hospital industry expressed relief at the news. Some hospitals could even get more money under the change if they meet new performance goals.
Officials say the big winners in all this are the public hospitals. Under the waiver, they will have more power, because they will take the lead in deciding how the new "pools" of Medicaid money will get distributed to all the hospitals and clinics.
"That, to me, is exciting," said David Lopez, president of the Harris County Hospital District, the public hospital in Houston.  "It basically allows us to finally to say all these great ideas we have, now there's potential funding for that."
Another potential group of winners is the uninsured. The new pools of supplemental Medicaid money must support projects that increase primary care access, such as new clinics and urgent care centers, and access to specialists and mental health care.
"It definitely has the promise of building capacity for caring better for people who are uninsured, as well as for people who have insurance but may still have trouble getting into urgent care and find themselves using the emergency room," Dunkelberg said.
State Representative Garnet Coleman, a Houston Democrat, also likes the new "pool" system. "Most of that money is going to be pushed into non-hospital care…and it wasn't before," he said.  "It was only put into the coffers of the hospital and in a lot of places they built new wings with that money instead of providing care to patients with that money. So this creates a filter." 
Private hospitals have been nervous about the waiver, and for good reason, said Suehs, the Texas health commissioner. Those hospitals will now have to do a lot more to get access to the "pool" money. Previously, they took their supplementary Medicaid payments as quarterly lump sums, with few strings attached. Now they must cooperate with the public hospital districts to get the money.
"If they're not willing to provide care for the potential Medicaid eligibles or the indigent, they're not going to be in the plan, nor should they be in the plan," Suehs said.
John Hawkins, senior vice president for government relations at the Texas Hospital Association, acknowledged it would be "a challenge" for some hospitals to transition to the new system. But "ultimately the folks that are providing uncompensated care will have access to these funds," he said. "I don't think anyone that's out there providing that level of service needs to worry."
Hawkins said the real challenge for Texas hospitals will be coming up with enough local government funding to provide a match to draw down the federal money. "That will ultimately be a limiting factor."
Two big private hospital systems in Houston, Memorial Hermann and Methodist, said they weren't ready to comment on the new rules.