Dean Schillinger is a primary-care physician at San Francisco General Hospital. He first came to the city in 1990 at the peak of the AIDS epidemic. "At that point, one out of every two patients we admitted was a young man dying of AIDS," he says.
Today, that same ward is filled with diabetes patients.
"I feel like we are with diabetes where we were in 1990 with the AIDS epidemic," Schillinger said. "The ward is overwhelmed with diabetes — they're getting their limbs amputated, they're on dialysis. And these are young people. They are suffering the ravages of diabetes in the prime of their lives. We're at the point where we need a public health response to it."
Schillinger and other researchers at the University of California at San Francisco are setting up a project called Sugar Science, to spell out the health dangers of too much added sugar in our diets. The project aimed at consumers includes a user-friendly Web site and materials such as television commercials that public health officials can use for outreach. Health departments from San Francisco to New York City have agreed to participate.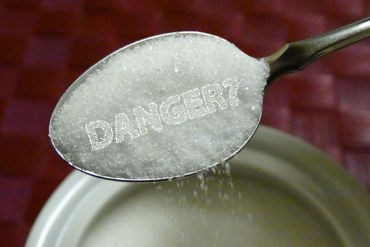 There's a reason the word "science" is part of the project's name. The UCSF team distilled 8,000 studies and research papers and found strong evidence that the consumption of too much added sugar overloads vital organs and contributes not just to Type 2 diabetes but also to heart disease and liver disease.
Although there are no federal guidelines that recommend a limit on sugar consumption, the American Heart Association (AHA) urges cutting back dramatically. The average American consumes the equivalent of 19.5 teaspoons a day in added sugar. The AHA says men should reduce that to no more than nine teaspoons and women should consume less than six teaspoons. The World Health Organization (WHO) is proposing similar limits.
Laura Schmidt, a professor of health policy at UCSF's medical school, is also part of the Sugar Science team. "Right now, the reality is that our consumption of sugar is out of whack," she says, "and until we bring things back into balance, we need to focus on helping people understand what the consequences are."
Schmidt is quick to point to the food environment as a driver of the increase in obesity over the past generation. "The only major change in the diet that explains the obesity epidemic is this steep rise in added sugar consumption that started in the 1980s," she says.
That sugar isn't just making us fat, she says, "it's making us sick."
The Sugar Association, however, says that some of the information presented by Sugar Science conflicts with a 2002 Institute of Medicine report and conclusions by the European Food Safety Authority in 2010. Andy Briscoe, president and chief executive of the association, notes that federal data shows that the per capita consumption of natural sugar, which comes from sugar cane or sugar beets and is called sucrose, is 34 percent lower than it was 40 years ago. He adds that sugar critics often lump together the consumption of sucrose and high-fructose corn syrup, which is used extensively in sugar-sweetened beverages, such as soda, sports drinks and energy drinks.
"Natural sugar in moderation can be part of a balanced, healthful diet and lifestyle — and has been safely used by our grandmothers and their grandmothers for decades," he said in a statement.
John Bode, president and chief executive of the Corn Refiners Association, said in a statement, "The focus on any one particular food or ingredient is a disservice to consumers and distracts from the broader need for balanced diet and exercise."
Although Schmidt says the Sugar Science team, which includes researchers from the University of California at Davis and Emory University, is not "anti-sugar," she says that it looked at all the evidence, including the reports cited by the Sugar Alliance. Schmidt says more recent reports from the AHA and the WHO reflect the newest health findings. Sugar Science is funded by a grant from the Laura and John Arnold Foundation, a Houston-based philanthropic organization.
Schillinger concurs, saying Sugar Science has no political agenda and wants to generate "credible science, what we understand and don't understand about sugar."
It's about knowing how much sugar is too much, researchers say.
But knowing how much sugar you're eating can be challenging. Some key facts on the Sugar Science Web site are these:
— Added sugar is hiding in 74 percent of packaged foods, including some products that are considered healthful and may not be viewed as sweet, such as yogurt, pasta sauce and salad dressing. (Proposed changes to nutrition labels would include a separate line for added sugars.)
— Overloading on fructose, a common type of added sugar, can damage your liver — just like too much alcohol.
— One 12-ounce can of soda a day can increase your risk of dying of heart disease by one-third. That same soda can have as many as nine teaspoons of sugar. (Sugar is listed by grams on nutrition labels; four grams of sugar equals one teaspoon.)
The site also includes tips for cutting down on sugar. The easiest way to do so, the researchers say, is to stop drinking sugar-sweetened beverages.
More than one-third of added sugar in the American diet comes from sugary drinks. The Sugar Science researchers also recommend reading nutrition labels. Although there are 61 names for sugar on ingredient labels, the UCSF team says that "if the chemical name has an 'ose' at the end — as in dextrose, fructose, lactose — it's likely to be added sugar."
Lisa Aliferis is editor of KQED's State of Health blog. This article, which was done in collaboration with The Washington Post, is part of a partnership that includes KQED, National Public Radio and Kaiser Health News.