Debbie Case held an insulated bag with two packaged meals — a sandwich wrap and fruit for lunch, a burrito and cauliflower for dinner.
"You're going to eat well today," Case told 75-year-old Dave Kelly as she handed him the meals. Kelly lost his sight about two years ago and reluctantly gave up cooking.
After putting the food away, Kelly chatted with Case about his experience as a folk musician. As they talked in his living room, Case, CEO of San Diego County's Meals on Wheels program, glanced around for hazards that could cause Kelly to fall.
Kelly said the homemade meals keep him from eating too much frozen food or take-out. But more than that, he said he appreciates someone coming by to check on him every day.
"Anything could happen," Kelly said, adding that he worries about falling. "I wouldn't want to lay around and suffer for days."
Meals on Wheels is undergoing a dramatic overhaul as government and philanthropic funding fails to keep pace with a rapidly growing elderly population. The increased demand has resulted in lengthy waitlists and a need to find other sources of funding. And at the same time, for-profit companies such as Mom's Meals are creating more competition.
Meals on Wheels, which has served seniors for more than 60 years through a network of independent nonprofits, is trying to formalize the health and safety checks its volunteers already conduct during their daily home visits to seniors. Through an ongoing campaign dubbed "More Than a Meal," the organization hopes to demonstrate that it can play a critical role in the health care system.
"We know we are keeping people out of the hospital," Case said. "Seven dollars a day is cheaper than $1,300 a day."
Meals on Wheels America and several of the local programs around the country have launched partnerships with insurers, hospitals and health systems. By reporting to providers any physical or mental changes they observe, volunteers can help improve seniors' health and reduce unnecessary emergency room visits and nursing home placements, said Ellie Hollander, CEO of Meals on Wheels America.
"It's a small investment for a big payoff," Hollander said.
Studies conducted by Brown University researchers have shown that meal deliveries can help elderly people stay out of nursing homes, reduce falls and save states money.
Kali Thomas, an assistant professor at Brown University School of Public Health, estimated that if all states increased the number of older people receiving the meals by 1 percent, they would save more than $100 million. Research also has shown that the daily meal deliveries helped seniors' mental health and eased their fears of being institutionalized.
Meals on Wheels can be the "eyes and ears" for health providers, especially in the case of seniors who are ill and don't have family nearby, said Thomas, who authored several studies of the organization.
Meals on Wheels has "the potential to capitalize on that," she said. "They realize they are doing something that is unique and needed in our current health care space."
Visitors from Meals on Wheels are the only people some seniors see all day. The volunteers get to know them and can quickly recognize problems.
"You notice if they are losing weight, if their house is a mess, if they are talking awkwardly," said Chris Baca, executive director of Meals on Wheels West in Santa Monica. "Our wellness check is critical and almost as important as the food itself."
The meal delivery and in-home visits also reduce isolation among residents, said Zia Agha, chief medical officer for West Health, which has organizations that provide and study senior services. Agha said that while numerous high-tech gadgets are available to keep an eye on seniors, they can't replace a volunteer's human touch.
Meals on Wheels, Brown University and the West Health Institute recently launched a two-year project in six states to formally build health and safety screenings into daily meal deliveries. The goal is to improve seniors' health and catch problems early.
"The fact that you don't have resources to feed yourself or you are so frail you can't cook is a very big marker that you are going to have high health care utilization," Agha said. "There is value in targeting these clients through this meal delivery service."
That's also what Meals on Wheels America is planning to do in a new partnership with Johns Hopkins Bayview Medical Center and Meals on Wheels of Central Maryland. The project aims to keep seniors at home and reduce their need for costly health services after hospitalization. The idea is to have trained volunteers report red flags and ensure, for example, that patients with congestive heart failure are weighing themselves regularly and eating properly.
Dan Hale, who is leading the project from the hospital, said the meal delivery volunteers can help track patients' health even months after discharge and keep them from returning to the hospital. "It makes sense financially," he said.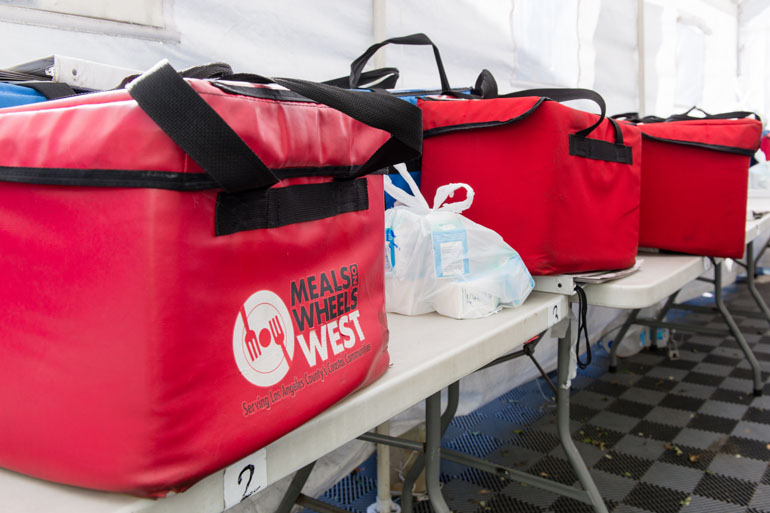 Funding for Meals on Wheels organizations primarily comes from the federal government, state organizations and donors.
The partnerships with health care organizations and insurers mean additional money for the Los Angeles County programs, said Baca, who heads a countywide association of local Meals on Wheels organizations.
On a recent day in Santa Monica, volunteers showed up just after 10 a.m., loaded up their cars with meals and headed out to deliver them. One of the clients, 58-year old Patrick Ward, receives daily meals at his apartment in Venice.
Ward, who has osteoarthritis and knee problems, said he has fallen numerous times and also had a heart attack this year. He said he can take care of himself pretty well, but his lack of mobility makes cooking difficult.
"It takes one thing out of the day that I don't have to worry about," Ward said. "I know they are going to be here every day."
KHN's coverage in California is funded in part by Blue Shield of California Foundation. Coverage related to aging & improving care of older adults is supported by The John A. Hartford Foundation.