Sweeping proposals disclosed Tuesday would create profit guidelines for private Medicaid plans as well as new standards for the plans' doctor and hospital networks and rules to coordinate Medicaid insurance more closely with other coverage.
"We are taking steps to align how these programs work," said Andy Slavitt, acting administrator of the Centers for Medicare & Medicaid Services, which proposed the rules.
Privatized Medicaid has grown rapidly as budget-pinched states have responded to commercial insurers' promise to deliver care for a fixed price. Most beneficiaries of Medicaid — state programs for the poor run partly with federal dollars — now get care through contracted insurers.
The 653-page rule, which also would require states to establish quality ratings for Medicaid plans, constitutes the biggest regulation change to Medicaid managed care in more than a decade. The National Association of Medicaid Directors, a group of state officials, called it a "milestone."
One proposal would require plans to assume, for rate-setting purposes, that they will spend at least 85 percent of their revenue on medical care.
Such a "medical loss ratio" target is similar to that required under the health law for other plans — but with a key difference. Unlike health plans sold through the law's online marketplaces and elsewhere, Medicaid plans wouldn't have to rebate the difference if they spend less than 85 percent.
But states would still "need to take that into account the next year" when they set new rates, thus limiting profits later, said Vikki Wachino, CMS deputy administrator. CMS is a division of the Department of Health and Human Services.
Jeff Myers, CEO of Medicaid Health Plans of America, an industry group, criticized the inclusion of the medical loss ratio standard, which supporters promote as ensuring plans spend a minimum amount on care instead of on executive salaries and shareholder profits.
"We don't believe a nationwide MLR is appropriate," Myers said. A uniform profit standard across diverse states could limit plans' ability to spend administrative dollars to fine-tune care coordination and quality, he said.
Generally, however, "we are very supportive of the direction they are going," he said of CMS. He particularly praised the proposal to better align the Children's Health Insurance Program, or CHIP, which aids families with children with moderate incomes, with Medicaid.
Led by giants such as UnitedHealthcare, Anthem, Aetna and Centene, private Medicaid plans generated nationwide operating profits of $2.4 billion last year, according to regulatory data compiled by Mark Farrah Associates and analyzed by Kaiser Health News.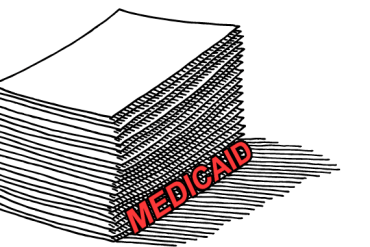 Advocates for the poor have complained that HHS' regulation of Medicaid managed care has lagged behind the industry's growth. Industry profits have sometimes come at the expense of denied care and inadequate doctor networks, they say.
A study last year by HHS' inspector general found that half the doctors listed in official plan directories weren't taking new Medicaid patients. Among doctors who were, one fourth couldn't see patients for a month.
In Tuesday's rules, CMS proposed new standards for network adequacy that also allow wide flexibility to states. States would have to certify at least annually that Medicaid managed-care patients have sufficient access to doctors and hospitals, based on standards for numbers of medical providers per member, maximum distances required to travel for care and other criteria.
"This latest proposed guidance ensures that health plans and states have the flexibility to structure their programs and benefits to meet the unique health needs of their enrollees," Dan Durham, interim CEO of America's Health Insurance Plans, an industry lobby, said in a prepared statement.
Sarah Somers, an attorney with the National Health Law Program, which has long urged updates to federal regulations, praised proposed safeguards for Medicaid members with disabilities and limited English ability.
"The regulations governing network adequacy have some positive aspects," she added. "But we are concerned that they do not contain the specificity that we recommended."
The proposal also would establish a quality-rating system, perhaps similar to the star scores assigned to Medicare coverage for seniors, so members could compare plan performance. However Wachino said it was too early to tell what the ratings would look like.
Margaret Murray, CEO of the Association for Community Affiliated Plans, a group of not-for-profit Medicaid companies, said she was disappointed the quality standards wouldn't apply to traditional Medicaid run by the states as well as to private Medicaid plans.
"We think that managed care will come out ahead in that comparison," she said.
In a victory for industry, the rules also propose to loosen marketing restrictions on insurers that offer Medicaid coverage as well as plans sold through the health-law marketplaces.
Some companies are counting on capturing customers moving from Medicaid to commercial plans or vice versa as the members' incomes fluctuate. The new regulation would make it easier for insurers to let Medicaid beneficiaries know that the same company sells a plan through the marketplace.
The rules published Tuesday are only proposals. HHS will take comments until late July and issue final rules later.