Hospitals, universities, Indian tribes, patient advocacy groups and local food banks were among organizations awarded $67 million in federal grants Thursday to help people sign up for coverage in new online health insurance marketplaces that open for enrollment Oct. 1.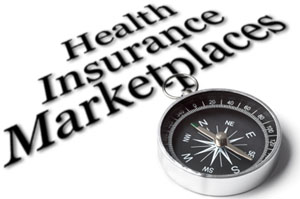 Planned Parenthood, the United Way and the National Urban League are some of the best known organizations among the 105 awarded "navigator" grants in 34 states that will rely on the federal government to operate all or part of their marketplaces. States setting up their own marketplaces are getting substantially more money in a separate funding pool created by the 2010 federal health law. The marketplaces will help small groups and individuals who don't receive insurance from an employer.
The amount is more than had been expected for these states and comes on top of the $150 million the government granted in July to nearly 1,200 community health centers nationwide to hire navigators.
"Navigators will be among the many resources available to help consumers understand their coverage options in the Marketplace," Health and Human Services Secretary Kathleen Sebelius said in a statement Thursday.
Navigators will provide assistance on the phone and in person to help people understand the health law's new benefits, including evaluating health plans for sale on the marketplaces, also known as exchanges. They have to balance explaining what's offered without expressly telling people which policy to choose.
Consumers will be directed to them from the healthcare.gov website (home of the federal marketplaces) as well as through national call centers. The organizations receiving grants will use staff as well as volunteers. (More information is available at http://www.healthcare.gov/ or by dialing 1-800-318-2596.)
The grant total awarded Thursday was $13 million more than had been anticipated. In April, the Department of Health and Human Services said $54 million would be available. Federal officials said they took the $67 million from the Prevention and Public Health Fund established by the health law, which started out with $15 billion but was cut by $6.5 billion last year as part of a deficit reduction package.
The largest navigator grants went largely to groups in states with the highest uninsured rates. Among the biggest grants were:
$5.9 million, United Way of Metropolitan Tarrant County, Texas
$4.2 million, University of South Florida in Tampa.
$2.2 million, Structured Employment Economic Development Corporation in Atlanta
$2.0 million, North Carolina Community Care Networks
$2.0 million, Ohio Association of Foodbanks
$1.3 million, Michigan Consumers for Healthcare
Planned Parenthood chapters in Montana, Iowa and New Hampshire received grants totaling about $654,000. Among hospitals getting awards are Ascension Health, the nation's largest Catholic hospital system, University of Mississippi Medical Center, Randolph Hospital in North Carolina and Children's Hospital Medical Center in Ohio.
With a nearly $199,000 grant, Wyoming Senior Citizens Inc. plans to hire three counselors to provide in-person assistance to people across the state. "We might be flooded with people seeking help or we may not see anyone," said Herb Wilcox, executive director of the group, which has experience helping people enroll in Medicare and Medicaid. His organization serves younger people as well as seniors. "There are a lot of people who have questions and we need to educate them and reach as many people as possible to let them know about their options."
Like some other components of Obamacare, the navigator grants are not without controversy. Critics see navigators as potential competitors to insurance brokers, and say they should be subject to more rigorous screening before they can work with consumers.  
As of July at least 19 states with federal exchanges (including state-federal partnership exchanges) had passed or were considering legislation setting requirements for navigators, according to the Commonwealth Fund. Among the 14 that had passed laws were Florida, Georgia, Ohio, Texas, Virginia and Wisconsin.
Navigators will be trained to provide unbiased information to consumers about health insurance, the marketplace and public programs including Medicaid and the Children's Health Insurance Program. They will receive 20 hours of online training and have to pass a test before they can start working.
According to HHS, navigators will be required to adhere to strict security and privacy standards, including how to safeguard a consumer's personal information.  All types of enrollment assisters – including navigators –are subject to federal criminal penalties for violations of privacy or fraud statutes, in addition to any relevant state penalties.
Backers of the health law are concerned that states with a federally-run marketplace will not have enough money for navigators and other consumer assistance. Congress didn't set aside money for them, requiring the Obama administration to find money.
States that received large amounts of federal funding to set up their own marketplaces may be able to spend much more on consumer assistance. For example, California, which is setting up its own marketplace, has budgeted more than $50 million for in-person help for consumers this year and next. By comparison, Florida and Texas, large states using a federal marketplace, will have about $8 million and $11 million, respectively.