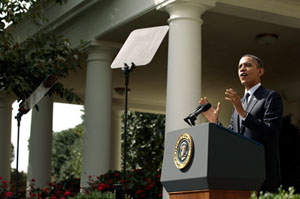 In his plan to trim the federal deficit, President Barack Obama Monday proposed $320 billion in cuts to Medicare and Medicaid, largely by changing how the federal government pays health providers, slashing payments to drug companies, and dramatically changing the way it splits the costs of Medicaid with the states, according to a fact sheet the White House released.
The biggest cut to Medicare requires pharmaceutical companies to lower their rates. The proposal would save Medicare an estimated $135 billion over 10 years starting in 2013. The change would allow the federal government to receive the same brand name and generic rebates for low-income Medicare patients as are provided to Medicaid beneficiaries.
The cuts to the major health entitlement programs are part of a White House plan to reduce the federal deficit by more than $3 trillion over the next 10 years. The plan is the administration's opening move in negotiations on deficit reduction to be taken up by the joint House-Senate "super committee." If a deal is not enacted by Dec. 23, cuts could take effect automatically across government agencies.
Watch excerpts from President Obama's speech about his federal deficit reduction plan.
Senate Republican Leader Mitch McConnell said in a statement Monday: "A massive tax hike, phantom savings, and punting on entitlement reform is not a recipe for economic or job growth-or even meaningful deficit reduction."
Many stakeholder groups representing seniors, drug companies and health providers denounced the plan.
AARP Executive Vice President Nancy LeaMond said she opposes any plan to make Medicare beneficiaries pay more for health care.
"AARP reiterates its strong opposition to any proposals that would raise costs or cut the hard earned Medicare benefits that millions of seniors depend upon every day for their health and retirement security," she said. AARP did credit the president for not cutting Social Security.
The administration also is proposing cutting $3.5 billion from a fund created by the health law to improve disease prevention and to promote public health while keeping $13.8 billion.
Some Medicare beneficiaries would see costs go up under the president's plan. For the first time, beneficiaries receiving home health services would pay a $100 co-payment per treatment episode starting in 2017, which would raise $400 million over 10 years.
Fact Sheet
Read a White House fact sheet on President Obama's plan to cut the deficit:
The deductible Medicare Part B (physician costs) would increase by $25 in 2017, 2019 and 2021 for new beneficiaries, raising $1 billion over the next decade.
Starting in 2017, new beneficiaries who buy a Medigap policy that leaves them with little out-of-pocket costs would pay a 15 percent surcharge on that policy. Critics have argued such Medigap plans lead to excess use of health services and raise health spending. The change would net the feds $2.5 billion over 10 years.
Higher income Medicare beneficiaries would pay higher premiums for Medicare Part B and Medicare prescription drug plans, raising $20 billion over 10 years.
One of the biggest changes proposed by Obama is how the federal government splits Medicaid spending with states, at a proposed savings of $14.9 billion over 10 years.
Currently, states and the federal government share the cost of Medicaid, with the federal government paying about two-thirds and the states one-third of the total. The percentage varies by state based on the wealth of each state, with poorer states getting a higher match rate. The state match rate also varies for both Medicaid and the Children's Health Insurance Program, which covers children from low-income households.
Obama is proposing that beginning in 2017, the matching rates from the two programs would be blended to a single rate, but from 2014 through 2016, states with a higher enrollment would get a higher federal match rate. The idea is to give states incentives to enroll more people starting in 2014 when the health overhaul law expands Medicaid. An additional 16 million people will be eligible for Medicaid starting in 2014. The federal government will still pay all the costs for the expansion of Medicaid coverage from 2014 through 2016, as promised in the health law.
Among the hardest hit providers in the Obama plan would be so-called post-acute health providers— nursing homes, long-term care hospitals, rehabilitation facilities and home health facilities—which would see $42 billion in cuts over 10 years.
Obama administration officials said its deficit reduction plan would extend the life of the Medicare Trust Fund from 2024 to 2027. The trust fund covers only Medicare Part A, the hospital costs portion of the program.
Matt Salo, executive director of the National Association of State Medicaid Directors, said simplifying the federal Medicaid rate is a good idea, "but not in the context of deficit reduction because it can mean only one thing: cost shifts to states who simply cannot shoulder any more burden in this area."
Even Families USA, the consumer advocacy group that's been a consistently strong supporter of Obama's health care platform, was critical of the deficit plan.
"The cuts to the Medicaid program in the president's proposal – which shifts the burden to states and ultimately onto the shoulders of seniors, people with disabilities, and low-income families who depend on the program as their lifeline – would be harmful," said Ron Pollack, executive director of Families USA.
Pharmaceutical Research and Manufacturers of America Senior Vice President Matt Bennett lashed out at the Obama administration proposal for adding what it calls "price controls" to the Medicare prescription drug plan, or Medicare Part D.
"PhRMA opposes implementing Medicaid's failed price controls in Medicare Part D," he said. "Such policies would fundamentally alter the competitive nature of the program, undermine its success and potentially cost hundreds of thousands of American jobs."
Dr. Georges C. Benjamin, executive director of the American Public Health Association, criticized the administration's decision to cut funding to prevention and public health, saying "it could effectively put the nation's health at risk, severely threatening ongoing efforts to reduce the burden of our nation's most feared and deadly diseases…Long-term and potentially life-threatening consequences of a compromised public health system will far outweigh the short-term savings." 
The American Hospital Association also blasted the Obama proposal to cut Medicaid and Medicare provider rates, saying they would lead to 200,000 job cuts to hospitals and businesses they support by 2012. "This is the wrong prescription to create a healthier America and sustain job growth in a sector of the economy that is actually adding jobs," said Rich Umbdenstock, president and CEO of the American Hospital Association.
The only major health provider group not to criticize the plan was the American Medical Association. The doctors' group was pleased the administration's proposal included the $300 billion needed to fix the flawed Medicare payment formula that threatens to slash fees to doctors each year. Since 2003, Congress has repeatedly stepped in at the last minute to avert the cuts from taking effect.
"Honest accounting of our nation's debt should not assume $300 billion in Medicare physician cuts, which Congress has rejected repeatedly because of the significant, detrimental impact those cuts would have on patients' access to care," said Dr. Peter W. Carmel, president of the AMA.