The federal government is open to expanding Medicaid coverage under the Affordable Care Act in a way that is more tailored to Texas' preferences, Health and Human Services Secretary Kathleen Sebelius said Thursday while visiting Austin City Hall.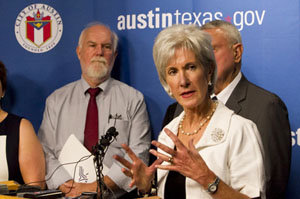 "We are eager to have discussions with Texas about a program that could look uniquely Texan," Sebelius said. "But as far as I know, those conversations, at least with the state officials, are not taking place right now."
The federal government has committed $90 billion to extend health benefits to adults below the federal poverty line through Texas' Medicaid program, which currently provides coverage to poor children, the disabled and extremely poor parents. But that money won't reach Texas unless Gov. Rick Perry and the state Legislature approve expanding Medicaid benefits to poor adults — a position that state leaders have consistently opposed.
If the state chose to expand Medicaid, the federal government would pay for coverage of the new beneficiaries for the first three years, then in subsequent years, require the state to pay for a portion of those benefits that would not exceed 10 percent.
In the 2013 legislative session, state Rep. John Zerwas, R-Simonton, pushed "a Texas solution" to health care expansion by pursuing authorization from the federal government to reform Medicaid while expanding coverage to poor adults. Under Zerwas' proposal, Texas would have leveraged tax revenue collected from premiums on health care plans to pay for the state's portion of the program's costs. It would also have allowed the state to save money by tailoring Medicaid recipients' benefits, implementing "personal responsibility" cost-sharing measures such as co-pays and deductibles, and prioritizing premium assistance for private market health plans.
Although the Senate adopted similar language in a budget rider, the House refused to endorse any form of Medicaid expansion. Instead, the lower chamber approved a measure that requires the Legislature to approve any expansion of Medicaid eligibility. As a result of the law, the Legislature would have to be called back in a special session or wait until at least 2015 to give consent to expand Medicaid coverage to poor adults.
"With due respect, the secretary and our president are missing the point: It's not that Americans don't understand Obamacare, it's that we understand it all too well," Gov. Rick Perry said in a statement on Sebelius' visit to Texas. He added that Texas refused to set up a state-run exchange or expand Medicaid in order to minimize the damage that the law would cause to the economy and state budget, "although we're all too aware Obamacare will still cause our state immense budgetary challenges in the years ahead, just like it will to families and small businesses across our country."
Before speaking with reporters Thursday, Sebelius met privately with Austin Mayor Lee Leffingwell and leaders from Austin's health care community to discuss the rollout of the federal health insurance exchange on Oct. 1. She also plans to meet with San Antonio Mayor Julián Castro and health leaders there Thursday afternoon.
The federal health insurance exchange will offer an online marketplace for individuals, families and employers to compare plans, apply for sliding-scale tax subsidies and purchase health insurance.
"In all due deference to Gov. Rick Perry … I think that what we're seeing is people are actually enthusiastically embracing the law," Sebelius said. She noted that under the Affordable Care Act, adults younger than 26 have been able to remain on their parents' health plans, women have taken advantage of preventive health screenings that must be covered at no charge and Medicare beneficiaries have saved an average of $700 on prescription drug plans. By combining individuals into a larger insurance pool, rates will also be lower in the exchange, and many will qualify for subsidies that will further reduce the cost of coverage, she said.
Only individuals who land somewhere between 100 and 400 percent of the federal poverty line will be eligible for subsidies to help them purchase health coverage, as the Affordable Care Act originally required individuals below the poverty line to be added to state Medicaid programs. The U.S. Supreme Court overturned that provision, and Texas chose not to expand Medicaid. As a result, individuals below the poverty line in Texas will not have public assistance to acquire health coverage when the individual mandate takes effect on Jan. 1.
"It's a real challenge," Sebelius said. "Unfortunately, there are lots of people in Texas who will still come through the doors of emergency rooms to access health care, leaving uncompensated care bills for those hospitals to deal with and less healthy conditions for individuals and their families."
State officials have criticized the federal government for its lack of transparency on what the federal exchange will look like and how it will operate.
Although it's still unclear, the federal government will begin releasing more than $8 million in "navigator" grants next week to Texas health care providers, so that they can educate staff on how to help patients enroll.
"Sometimes these questions can be emotional or political, I thought she stayed right on message as to what are the facts around the Affordable Health Care Act," said David Evans, chief executive officer of Austin Travis County Integral Care. Evans was among the stakeholders who met with Sebelius to discuss how providers could help navigate patients applying for health coverage in the federal exchange.
"For some individuals, it can be complex to find enrollment through the internet," Evans said. "The call to action is to really engage, starting next week, health navigation through the federal funding of health navigators in our community."