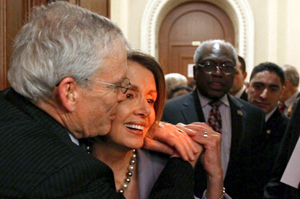 In the aftermath of Republicans' election victories, defenders of the health care law are huddling – once again – in an effort to thwart GOP efforts to eviscerate the sweeping measure.
Groups that back the law aren't likely to coalesce around a single message to increase public support. Some patient groups, for example, are likely to try to steer clear of partisan politics and focus instead on promoting the law and pressing for its full implementation. Other groups, however, are likely to champion the law to rally the Democratic base for the 2012 elections.
But one thing is clear: This time around, the stakes go beyond the fate of the law itself. Many Republicans are citing the law as the prime example of a government that's out of control and a reason to put the GOP in charge of the White House and Congress.
"A week ago Tuesday was like a cold shower for some of the organizations that felt that job had been done, that health reform was enacted into law and will be a reality," says Ron Pollack, executive director of Families USA, a consumer group. "If anything, the election results are re-energizing the many groups that worked hard to get the legislation enacted."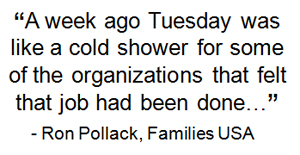 Pollack hosted a session Tuesday with about 20 groups representing patients, labor, consumers and health care providers, among others. It was one of many meetings that backers of the law have held since the elections, and more such sessions are anticipated in the coming weeks.
Among the ideas of how to respond:
—SEIU President Mary Kay Henry says supporters should promote items such as the law's small business tax credits and keeping adult children up to age 26 on their parents' health insurance and emphasize the law will "stop this trading of wages for health care that has been going on in the economy for decades." 
—Consumers Union's DeAnn Friedholm says helping states' implementation efforts – in particular their oversight of health insurance rates – is critical, as is helping consumers understand how the provisions work.
—Health Care for America Now Executive Director Ethan Rome says advocates must make it clear what repealing the law or its major provisions would really mean. "The law gets the insurance companies off the backs of the consumers," he says. "The Republican repeal mongers want to give health care back to the insurance industry. That is what it boils down do."
Republican opponents of the health law say such approaches aren't likely to succeed.
"I honestly don't think this bill will survive until 2014," says Douglas Holtz-Eakin, a former Congressional Budget Office director who is now president of the American Action Forum. "It will fall under its own fiscal weight if nothing else. We can't afford it."
Other Republicans say the problem isn't the messages Democrats have used to try to explain the law, but public opposition to the law itself.
For example, some advocates say that the benefits of the law – such as prohibitions on lifetime limits and cancellations of insurance once individuals get sick – got drowned out in a loud and nasty political season.
Others reject that analysis.
"It's baloney to say that they didn't explain things well enough," says Joseph Antos of the American Enterprise Institute. Antos says that one of the Democrats' main problems was that while some benefits took effect Sept. 23, they won't actually kick in until January, when most new insurance plan years start. So for most voters, he says, "almost nothing happened" before the election.
Backers of the law say they look forward to tackling Republicans' claims against the measure. Dropping the Medicaid expansion or reducing subsidies, for example, would leave millions of Americans without health care coverage, they say. Cutting off funding would hamper state implementation of the law, including review of health insurance premium increases.
Holtz-Eakin and other opponents of the law also welcome a closer look. "That's a lot of what oversight is. It's a chance to communicate about big flaws," he said.