Rising drug costs are often blamed for driving up health insurance premiums, but a major consumer group says the numbers don't add up — at least in California.
The advocacy group Consumers Union says two large Blue Cross Blue Shield insurers in the state may be exploiting the outrage over high drug prices to artificially inflate their premiums for individual coverage under the Affordable Care Act.
State regulators are independently examining the issue and pressing both Anthem Inc. and Blue Shield of California to justify their rate hikes of nearly 20 percent before open enrollment this fall. Together, the insurers cover more than half of enrollees in the state's insurance exchange, Covered California.
Despite the uproar over expensive hepatitis C pills and, more recently, the $600 price tag for EpiPens, the growth in spending on prescription drugs has been slowing. After a 12 percent jump in 2014, drug costs are expected to climb by roughly 7 percent next year, according to federal officials.
"The cost of prescription drugs is an issue," said Dena Mendelsohn, a staff attorney at Consumers Union in San Francisco. "But pharmaceutical expenses may be the factor most open to exploitation by health plans searching for a Trojan horse with which to usher in excessively priced insurance rates."
In detailed comments recently filed with the California Department of Managed Health Care, Consumers Union asked why the cost projections submitted by Anthem and Blue Shield are so much higher than some of their competitors and other industry-wide figures. (The Consumers Union comments are included in rate filing documents here and here.)
Separately, the managed care agency has requested more information from both companies ahead of an Oct. 3 deadline to finish its review into whether their premium increases are reasonable. Blue Shield has proposed an average 19.4 percent increase for about 550,000 individual policyholders, both in the Covered California exchange and outside the marketplace. Anthem, the nation's second-largest health insurer, wants a 17.2 percent increase for nearly 580,000 customers in and outside the exchange.
The state agency can pressure the insurers to reduce the increases by calling them into question, but it doesn't have the authority to block them.
"We are seeking additional information and clarity from Anthem and Blue Shield on their filings," said spokeswoman Rachel Arrezola. "We cannot discuss findings until we've completed our review."
To make the case for substantial rate hikes, both Anthem and Blue Shield cited higher drug spending as a major factor. Anthem forecast a 17.7 percent jump in prescription drug costs for 2017; Blue Shield was close behind at 15.2 percent.
Blue Shield said soaring drug costs are one reason it lost money on individual policies in the first half of this year. The company said pharmacy costs on a per-member basis rose more than 30 percent last year in the individual market.
"We are not using any sleight of hand to justify rate increases," said Steve Shivinsky, a spokesman for Blue Shield, a nonprofit health plan based in San Francisco. "Our numbers reflect what we're experiencing in the market, not some national average or trend. We're seeing a dramatic inflation in cost for run-of-the-mill drugs like EpiPen."
Anthem declined to answer specific questions about its rates while the state review is pending. In a statement, the company said "factors such as increased use of medical services and added costs of drugs and medical therapies put upward pressure on rates and underscore the additional work that needs to be done to moderate the growth in health care costs."
Two other big insurers in the California exchange saw things differently, according to their regulatory filings. HMO giant Kaiser Permanente predicts a 6 percent increase in drug costs next year and Health Net Inc. estimated 11 percent. Consumers Union asked regulators to seek a detailed justification for Health Net's average rate increase of 9.4 percent as well, documents show.
Other state exchanges are facing even steeper rate hikes, approaching 60 percent from some major insurers reporting heavy losses under the health law. Consumers Union said the questionable data it found in California may apply to insurers elsewhere and it urges all regulators to conduct a thorough review.
"We think it's likely happening across the country with insurers using this as an opportunity to raise rates more than they should," Mendelsohn said.
Many health insurers insist their losses in the individual market are substantial and higher rates are necessary to make the Obamacare marketplaces sustainable for the long term. In crafting 2017 rates, insurers said they had the benefit of detailed data on exchange customers for the first time, and it showed they had underpriced the coverage compared to the services used by members.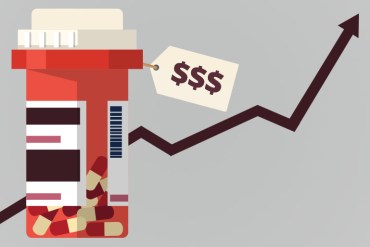 Drug costs are just one factor pushing up premiums. Another is the discontinuation of a federal reinsurance program later this year that helps insurers with large claims. Also, many companies have complained about higher than expected costs for people who sign up outside the regular open enrollment period, citing special circumstances such as a job loss.
Federal data and several industry reports suggest that drug costs are leveling off nationwide after a spike from several high-priced hepatitis C medications bursting on the market. Prescription drug spending grew 3.9 percent for the past 12 months through July, according to the Altarum Institute. That's down from 8.5 percent for the previous year.
"We are seeing a moderation of the cost trend," said Barbara Gniewek, a partner and health benefits expert at consulting firm PricewaterhouseCoopers. "The hepatitis C drugs were a tsunami and really caught people off guard. But I don't see those types of blockbusters in the pipeline right now."
Gniewek said the drug cost projections from Anthem and Blue Shield are outliers. "I haven't seen numbers that high," she said.
Other health policy experts, however, said there's ample evidence that drug costs are forcing premiums higher, particularly in the more volatile individual market, and insurers might have good reason to fear the worst from drug makers.
"Even though there has been some moderation in drug costs, I don't think insurers have any confidence it will last," said Paul Ginsburg, a health economist and professor at the University of Southern California. "They are waiting for the next major drug launch. They were burned by hepatitis C and might be more conservative now."
California's health exchange negotiated the rate increases with Blue Shield and Anthem, and the agency vetted them before they were announced in July. The two big insurers drove the statewide rate increase on the exchange to 13.2 percent for next year, a sharp uptick from 4 percent average increases the previous two years.
Mendelsohn questioned why large insurers such as Anthem and Blue Shield can't use their market power to better control pharmacy costs and whether the companies are fully accounting for the rebates they receive from drug manufacturers.
Shivinsky acknowledged that there's more Blue Shield could do to address drug prices. "We're looking at changes in our formulary and how we purchase drugs in the future," he said.
This story was produced by Kaiser Health News, which publishes California Healthline, a service of the California Health Care Foundation.
KHN's coverage of prescription drug development, costs and pricing is supported in part by the Laura and John Arnold Foundation.